<!TODAY'S TEXT STARTS HERE!>

Wine Advisor Express:
Tasting Note: Jumilla


Following up on yesterday's excellent Garnacha, let's stay in Spain for one more day with another first-rate Spanish red.

Today's wine comes from Jumilla ("Hoo-MEE-ya"), a smallish mountain region located not far inland from the Mediterranean near the city of Murcia, about halfway along the Spanish coast between Barcelona and Gibraltar.

An oak-aged blend of 40 percent Monastrell (the Spanish name for Mourvedre, an earthy red-grape variety that's among my favorites) and 60 percent Cabernet Sauvignon, this is a wine with real style and potential ageworthiness, not cheap but certainly competitive at this quality level in the under-$20 neighborhood.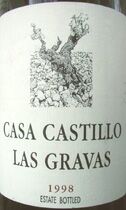 Casa Castillo 1998 "Las Gravas" Jumilla ($18.99)
Very dark blackish-purple, almost opaque. Peppery and earthy grace notes play over deep black fruit, with a leafy, loamy "forest floor" undertone. Ripe, tart and tannic, plummy flavors are consistent with the nose, full and astringent. It's a young wine that could stand some cellar time, but it wakes up with time in the glass, and really comes into its own with food to soften its youthful rough edges. U.S. importer: Cutting Edge Selections, Cincinnati, and other regional distributors. (Dec. 12, 2001)

FOOD MATCH: Goes well with Arroz con pollo, a simple dish of chicken and rice with tomatoes and peppers.


Oops! A correction


Yesterday's Wine Advisor contained the erroneous statement that the Spanish Airen is a red grape. As British reader A.E. Crookes gently pointed out, it's white, of course; it is the world's most widely planted wine-grape variety, irrespective of color. Garnacha/Grenache, as noted, ranks second.

2000 Years Ferreira's Vintage Port


A.A. Ferreira, S.A., is celebrating its 250th anniversary this year with the presentation of two limited collections of Vintage Port Wine. Essential for all collectors, scholars and lovers of Wine and Port Wine.

Come and visit these exclusive collections at www.2000yearsvintage.com. Click to http://www.wineloverspage.com/wineadvisor/porto.html.

Administrivia


This is Wine Advisor Express, daily edition of The 30 Second Wine Advisor, distributed Tuesdays through Fridays. For archives of previous articles, and to read more about wine, visit Wine Lovers' Page, http://www.wineloverspage.com.

To subscribe, change your E-mail address, switch from daily to the weekly (Mondays only) distribution, or for any other administrative matters, E-mail wine@wineloverspage.com. In the unhappy event that you must leave us, please take a moment to let us know how we could have served you better. In all administrative communications, please be sure to include the exact E-mail address that you used when you subscribed, so we can find your record.

Wednesday, Dec. 5, 2001
Copyright 2001 by Robin Garr. All rights reserved.

<!TODAY'S TEXT ENDS HERE!>

Subscribe (free) to The 30 Second Wine Advisor