<!TODAY'S TEXT STARTS HERE!>

Wine Advisor Express:
Grenache, Garnacha


Say it in French as "Greh-nahsh" or in Spanish as "Gar-nah-cha," there's a lot to like about this grape.

Many wine enthusiasts know Grenache without realizing it - it toils hidden behind the geographical place name in Chateauneuf-du-Pape (where, with rare exceptions, it's the workhorse in a blend that may bring together as many as 13 grapes) and in Spain's sought-after Priorat.

But that's not all. You'll find Garnacha grown just about everywhere in Spain (where it even turns up as an occasional element in the Rioja blend) and in Southern France from the Languedoc to the Rhone and Provence. According to Jancis Robinson, the British wine writer and authority on wine grapes, it's the world's second most widely planted red grape. (The first, as few would guess, is the Spanish Airen, rarely seen outside Spain.)

Outside Western Europe, Grenache is popular in Australia, where it's often found in an intriguing blend with Syrah and Mourvedre (often labeled with the monogram "GSM"); and California's growers are starting to pick up on this appealing Chateauneuf-like combo as well.

Today's tasting features a tasty and good-value rendition from the Campo de Borja region of Aragon, in northeastern Spain.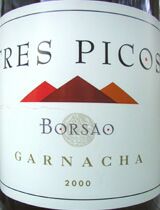 Borsao 2000 "Tres Picos" Campo de Borja Garnacha ($10.99)
Very dark reddish-purple in color, this fresh and appealing wine breathes the ripe raspberry scents that often give away Grenache/Garnacha in "blind" tasting. Round and ripe, fruity berries and soft but sufficient fresh-fruit acidity fill the palate in a wine that's easy to quaff but deserves a moment's contemplation. U.S. importer: Cutting Edge Selections, Cincinnati, and other regional distributors. (Dec. 12, 2001)

FOOD MATCH: Works very nicely with a Mediterranean-style dish of chicken cooked with red and green bell peppers, tomatoes, garlic and onions.


Today's sponsor:
Acker Merrall December auction, tastings


Acker Merrall is ending its record-breaking year with a bang! To give wine lovers around the country big reasons to celebrate, as well as encourage people to come out and play in this great city of ours, we have created an unprecedented, event-filled auction weekend Dec. 14-15, with 1,900-plus lots worth over $1.5 million at the Intercontinental Central Park South (at 59th Street).

The Mid-Auction tasting will be around 7:15, after the first auction closes. The format of this tasting is simple: open up 36 of the world's best wines in a standup, walkabout format! This incredible tasting is available at a holiday special price of $60 per person, and only limited reservations are available - don't wait!

After a full day of auctions on Saturday, we're having our first BYOB dinner in New York City, where we hope to match the success of the dinner in LA last month. Here's how it works: Tell us what you are bringing, and we seat you accordingly. You share your wine with your table and save some of it for bargaining! The exact location is top secret - but it is in Manhattan on Saturday, Dec. 15, at 7 p.m. This dinner is limited to approximately 60 people, so RSVP to Corrine at the numbers above while there's still space. We estimate dinner will be $100 per person.

There will be no online auction for December, but we will be ready when the ball drops on New Year's Eve with a new assortment of goodies for you online bidders Jan. 1! Visit our Website, http://www.ackerwines.com, to bid in advance on the live auction. For those looking to sell wine, our next live auction is Feb. 23 in NYC and March 23 in LA, with deadlines one month in advance to receive wines for those respective sales.

There is a lot to reflect upon this holiday season, and we hope that everyone experiences a healthy and happy one. We hope this auction weekend is a big part of it for many of you, and that we all continue to get back to doing what we do and enjoy best.

Administrivia


This is Wine Advisor Express, daily edition of The 30 Second Wine Advisor, distributed Tuesdays through Fridays. For archives of previous articles, and to read more about wine, visit Wine Lovers' Page, http://www.wineloverspage.com.

To subscribe, change your E-mail address, switch from daily to the weekly (Mondays only) distribution, or for any other administrative matters, E-mail wine@wineloverspage.com. In the unhappy event that you must leave us, please take a moment to let us know how we could have served you better. In all administrative communications, please be sure to include the exact E-mail address that you used when you subscribed, so we can find your record.

Tuesday, Dec. 4, 2001
Copyright 2001 by Robin Garr. All rights reserved.

<!TODAY'S TEXT ENDS HERE!>

Subscribe (free) to The 30 Second Wine Advisor