<!TODAY'S TEXT STARTS HERE!>

Wine Advisor Express:
Barbera: Old World meets the New


One of the more noteworthy recent trends in wine appreciation is the growing tendency to separate all wines into the two broad style categories of Old World (elegant and balanced, reflecting "terroir" - the soil and the place where the grapes are grown) and New World (fruit-forward and oaky, reflecting the wine maker's hand).

It's a useful form of shorthand, but as we discussed in the Wine Advisor on Sept. 10 ("Old World, New World," http://www.wineloverspage.com/wineadvisor/tswa010910.shtml), there are plenty of exceptions that complicate the rule. In that issue, I cited the wines of Edmunds St. John as delicious examples of earthy, complex "Old World" style coming from a California producer.

Today let's look at an exception from the other side of the Atlantic, traveling to Piemonte in Northwestern Italy to examine a delicious red wine that's big, fruity and oaky, a New World kind of wine coming from one of the most historic and traditional wine regions on Earth, where the ancient style of Barolo and Barbaresco finds plenty of sturdy defenders.

This Barbera d'Alba is a delicious wine, but it's far more "international" in quality than Italian, a wine that would be difficult to pick out from American or Australian competitors in a "blind" tasting.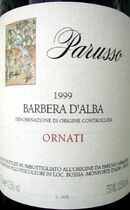 Parusso 1999 "Ornati" Barbera d'Alba ($16.99)
Inky dark-purple, almost opaque. Perfumed fruit aromas, plummy and ripe, add whiffs of menthol and spicy oak. Big and bold fruit flavors are tart and tannic, making for a wine that's extremely "New World" in style. It reminds me a great deal of a big, young Australian Shiraz (and one that would probably cost substantially more than this in the U.S.) U.S. importer: Michael Skurnik Wines, NYC. (Nov. 27, 2001)

FOOD MATCH: It takes robust food to stand up to a big red like this, and Marcella Hazan's Northern Italian dish of sausage and red cabbage is up to the task.

2000 Years Ferreira's Vintage Port Cabinet


Made up of 24 bottles of Vintage Ferreira Port Wine, whose summed ages amount to 2000 years, in 2001. The Vintages presented on this collection are from the harvest 1815, 1820, 1830, 1834, 1840, 1851, 1863, 1877, 1900, 1904, 1917, 1924, 1934, 1947, 1954, 1958, 1960, 1966, 1975, 1983, 1990, 1991, 1994, 1997.

Come and visit these exclusive collections at www.2000yearsvintage.com by clicking to http://www.wineloverspage.com/wineadvisor/porto.html.

Administrivia


This is Wine Advisor Express, daily edition of The 30 Second Wine Advisor, distributed Tuesdays through Fridays. For archives of previous articles, and to read more about wine, visit Wine Lovers' Page, http://www.wineloverspage.com.

To subscribe, change your E-mail address, switch from daily to the weekly (Mondays only) distribution, or for any other administrative matters, E-mail wine@wineloverspage.com. In the unhappy event that you must leave us, please take a moment to let us know how we could have served you better. In all administrative communications, please be sure to include the exact E-mail address that you used when you subscribed, so we can find your record.

Wednesday, Nov. 28, 2001
Copyright 2001 by Robin Garr. All rights reserved.

<!TODAY'S TEXT ENDS HERE!>

Subscribe (free) to The 30 Second Wine Advisor