<!TODAY'S TEXT STARTS HERE!>

Wine Advisor Express:
Tasting Note: Grüner Veltliner


Dominant in Austria but grown also in Hungary and Slovakia, this Central European grape (pronounced, approximately, "Green-er Felt-leener" and spelled with a two-dot umlaut over the "u") hasn't attracted much attention elsewhere.

Until recently, that is. The white wine that has been Austria's secret for generations is breaking out into the rest of the world, where wine lovers are learning to appreciate its ripe fruit, racy acidity and characteristic minerality that prompts some Austrian wine fanciers to joke, "Why drink fruit when we can taste rocks?" Its affinity for Asian fare is demonstrated by the surprising presence of a half-dozen selections on the wine list at Slanted Door, a deservedly popular modern Vietnamese-"fusion" restaurant in San Francisco's Mission district, where I enjoyed a great, lingering lunch with a group of wine buddies recently.

Here's a particularly good, reasonably affordable Grüner Veltliner that I tasted recently at home. The name "Terry Theise" on the import label of wines sold in the U.S. is about as good a guarantee as you can get that a German or Austrian wine will be a winner.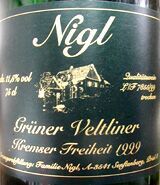 Nigl 1999 Kremser Freiheit Qualitatswein Trocken Grüner Veltliner ($11.99)
This very pale brass-color wine is anything but pale on the nose and palate. Delicate, fresh herbal scents mingle with tropical white fruit, starfruit and kiwi. Crisp acidity frames fresh, juicy fruit in the flavor, with the "stony" minerality that distinguishes Grüner Veltliner. Long and clean in the finish with a citric snap, the wine leaves a delicious, shimmering sense of white grapefruit that seems to linger for many minutes. U.S. importer: Michael Skurnik Wines, Syosset, N.Y., a Terry Theise Estate Selection. (Nov. 19, 2001)

FOOD MATCH: Perfect with an upscale take on "chicken pot pies," a down-home mix of chicken, peas and carrots in a thick eggy sauce, folded into squares of Greek puff pastry and served on a green-pea-and-garlic puree.

WEB LINK: Although it does not appear to have a page devoted to this wine or winery, the U.S. importer has a Website at http://www.skurnikwines.com/.

250 Years of A.A. Ferreira SA


A.A. Ferreira S.A. was founded in 1751 by a family of wine-growing landowners in the Douro region. It flourished especially under the leadership of Dona Antonia A. Ferreira (1811-1896), a legendary figure in the history of Port.

To commemorate its legacy of 250 years of history, A.A. Ferreira S.A. has marked its anniversary with the launch of two unique, limited collections of Ferreira Vintage Ports.

Come and visit these exclusive collections at www.2000yearsvintage.com by clicking to http://www.wineloverspage.com/wineadvisor/porto.html.

Administrivia


This is Wine Advisor Express, daily edition of The 30 Second Wine Advisor, distributed Tuesdays through Fridays. For archives of previous articles, and to read more about wine, visit Wine Lovers' Page, http://www.wineloverspage.com.

To subscribe, change your E-mail address, switch from daily to the weekly (Mondays only) distribution, or for any other administrative matters, E-mail wine@wineloverspage.com. In the unhappy event that you must leave us, please take a moment to let us know how we could have served you better. In all administrative communications, please be sure to include the exact E-mail address that you used when you subscribed, so we can find your record.

Wednesday, Nov. 21, 2001
Copyright 2001 by Robin Garr. All rights reserved.

<!TODAY'S TEXT ENDS HERE!>

Subscribe (free) to The 30 Second Wine Advisor