<!TODAY'S TEXT STARTS HERE!>

Wine Advisor Express:
Nouveau Report


The Beaujolais Nouveau has arrived, with the usual hype and hilarity. I know of at least three commercial Nouveau tastings in our town last night - one of them a fund-raiser for the local art museum - and I expect you had similar opportunities wherever you live.

As discussed in Monday's edition, Beaujolais Nouveau is the new wine of the just-picked harvest, traditionally released in mid-November. Never intended as a wine for deep and serious contemplation, it's more of an excuse for a party than a "serious" wine.

We tasted our way through four representative samples yesterday to give you this quick report, and frankly, the wines were pretty much as expected: Grapey and almost excessively fruity, light-bodied and tart. My advice? Enjoy the Beaujolais parties if you go, but don't bother to stock up unless you find you really enjoy them.

One other bit of advice: I generally go along with the conventional wisdom and recommend serving Beaujolais with a slight chill, an approach that's unusual for red wines but seems to make this style more refreshing. This year's sampling, though, seemed to respond poorly to chilling. After an hour in the refrigerator to bring them down to "cellar temperature," most of them seemed thin and overly tart, but rounded out and gained flavor as they warmed back toward room temperature.

Here are my brief notes on three brands that should be widely available and one (the last) that may be more difficult to find.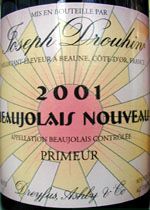 Joseph Drouhin 2001 Beaujolais Nouveau Primeur ($8.99)
Dark garnet. There seems to be a bit of gas pressure in the bottle; a few drops of wine spurt out of the bottle when the cork is pulled. There's no apparent carbonation in the wine, though, which offers aromas of grapey fruit and a whiff of bubble gum, along with just a hint of vinegar on the palate. U.S. importer: Dreyfus, Ashby & Co., NYC (Nov. 15, 2001)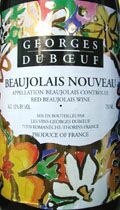 Georges Duboeuf 2001 Beaujolais Nouveau ($8.99)
Dark reddish-purple in color, this popular item demonstrates the intensely grapey candied banana and tutti-frutti aromas that are characteristic of Duboeuf's Beaujolais, making it easy to pick out in a "blind" tasting. Smooth and slightly sweet, I consider it a bit over-the-top, although many people do enjoy this very fruity style. U.S. importer: Winecellars Ltd., Skokie, Ill. (Nov. 15, 2001)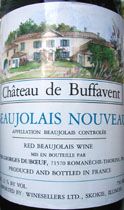 Chateau de Buffavent 2001 Beaujolais Nouveau ($8.99)
Another wine from Georges Duboeuf, this one is a bit more restrained than the standard bottling. Dark garnet in color, strawberry and banana aromas are typical of the producer, but the bubble-gum quality is toned down. Good berry fruit flavors and crisp acidity make for an enjoyable quaff. U.S. importer: Winecellars Ltd., Skokie, Ill. (Nov. 15, 2001)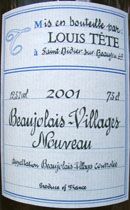 Louis Tete 2001 Beaujolais-Villages Nouveau ($9.99)
Clear ruby-red in color, this one shows bright fruit aromas, ripe strawberries and citrus. Its juicy and fresh flavors are berrylike and tart; although it's a bit thin, it's a relatively smooth and well-balanced wine. U.S. importer: Bercut-Vandervoort & Co., San Francisco (Nov. 15, 2001)


WEB LINK: Les Vins du Beaujolais, the official website of the Beaujolais region of France, is available in French and English at http://www.beaujolais-wines.com/.

Let California Wine Club
help with your holiday shopping!


No doubt turkey and holiday shopping are on your "To Do List" next week. You are on your own with the turkey, but we can help with your Holiday shopping!

Give a monthly subscription to The California Wine Club. No shopping, no shipping and no wrapping: No wonder it's the perfect gift! Your gift recipient will receive two bottles of award-winning wine, hand selected from the best of California's boutique wineries. Monthly subscriptions start at $32.95 plus shipping. Send as many months as you wish. Call (800) 777-4443 or visit http://www.cawineclub.com.

Delivery is limited to locations where interstate wine shipping is permitted by law.

Administrivia


This is Wine Advisor Express, daily edition of The 30 Second Wine Advisor, distributed Tuesdays through Fridays. For archives of previous articles, and to read more about wine, visit Wine Lovers' Page, http://www.wineloverspage.com.

To subscribe, change your E-mail address, switch from daily to the weekly (Mondays only) distribution, or for any other administrative matters, E-mail wine@wineloverspage.com. In the unhappy event that you must leave us, please take a moment to let us know how we could have served you better. In all administrative communications, please be sure to include the exact E-mail address that you used when you subscribed, so we can find your record.

Friday, Nov. 16, 2001
Copyright 2001 by Robin Garr. All rights reserved.

<!TODAY'S TEXT ENDS HERE!>

Subscribe (free) to The 30 Second Wine Advisor