<!TODAY'S TEXT STARTS HERE!>

Wine Advisor Express:
Port's baby brother?


The steep and rocky terraced slopes of the Douro River valley in Northern Portugal are best known as the source of Port, the powerful and sweet fortified wine that has earned a great reputation around the world.

Port is made in an unusual way: Grapes are crushed, then fermented to convert the natural fruit sugar into alcohol. But unlike "dry" table wines, Port is mixed with strong grape brandy ("fortified") before fermentation is complete. This arrests the process while the wine is still very sweet, and the potent brandy spirit makes the resulting beverage warm and strong, rising to 20 percent alcohol.

But what happens if the Douro grapes are made into traditional table wine, dry and unfortified? The result - at least in the case of Altano Douro, today's featured wine - is a fine and robust Portuguese red, with a full-bodied and earthy character.

Made from three of the traditional Port grapes - Tinta Roriz, Touriga Francesa and Barroca - Altano is produced by the Symington family, makers of Dow, Warre, Graham and other noteworthy Ports. At just under $10, it's a very good value indeed.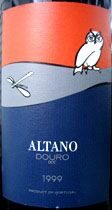 Altano 1999 Douro ($9.99)
Inky dark ruby in color, almost opaque, this wine looks a lot like a Port. But it's a dry table wine all right, with deep and intense aromas of black plums and dried fruit. Ripe and full in flavor, it's not heavy and sweet but robust and dry, offering black-fruit flavors with light, fragrant peppery notes, a lemon-squirt of fresh-fruit acidity and soft, "chewy" tannins. It's an impressive table wine, fine with red meat, enjoyable now but showing the balance and structure that suggests it will benefit from a few years' aging. U.S. importer: Vineyard Brands Inc., American Canyon, Calif. (Nov. 12, 2001).

FOOD MATCH: Its hearty fruit and acidity made it a natural with an offbeat ethnic dish, pljescavica, a lamb-and-beef meatball that bridges Northeastern Italy and Yugoslavia.

WEB LINKS: The producer's Website is http://www.symington.com/index.htm, with a fact sheet on the Altano at http://www.symington.com/altano.htm. The U.S. importer's Website is http://www.vineyardbrands.com/.

Join me on a trip to
the Rhone and Provence


I invite you to join me next June in a seven-day journey through the southern Rhone Valley and Provence, sponsored by French Wine Explorers, a high-quality American tour company that specializes in wine tours of France.

Lauriann Greene and Jean-Pierre Sollin, sommeliers-conseil who live in France, will join me to present this tour, which will feature a week of in-depth exploration of the wines of these two beautiful regions.

The tour is limited to 16 participants, so reservations will remain open only until these places are filled. For more information, click to the details at http://www.wineloverspage.com/tour.

Administrivia


This is Wine Advisor Express, daily edition of The 30 Second Wine Advisor, distributed Tuesdays through Fridays. For archives of previous articles, and to read more about wine, visit Wine Lovers' Page, http://www.wineloverspage.com.

To subscribe, change your E-mail address, switch from daily to the weekly (Mondays only) distribution, or for any other administrative matters, E-mail wine@wineloverspage.com. In the unhappy event that you must leave us, please take a moment to let us know how we could have served you better. In all administrative communications, please be sure to include the exact E-mail address that you used when you subscribed, so we can find your record.

Tuesday, Nov. 13, 2001
Copyright 2001 by Robin Garr. All rights reserved.

<!TODAY'S TEXT ENDS HERE!>

Subscribe (free) to The 30 Second Wine Advisor