<!TODAY'S TEXT STARTS HERE!>

Wine Advisor Express:
California "Port"


Let's get one thing straight: The only true "Port" is made in Oporto, Portugal, at the mouth of the Duoro River.

But Port's popularity throughout the English-speaking world has inspired much imitation, which is after all the sincerest form of flattery. Australia makes a wealth of excellent Port-type wines, many in the mellow, wood-aged "tawny" style. And there's more than a trickle of "Port" from the U.S., where the hotter reaches of California's Central Valley, much too warm to produce great grapes for dry table wines, are better suited for growing the grapes that make this kind of dessert wine, full of fresh-fruit sugar and fortified with warming brandy.

It is that warmth and strength that makes Port a particularly boon companion on chilly autumn and winter evenings, and a recent spate of blustery late-October conditions seemed like a good opportunity to pull the cork from an American "Port" by Quady, a well-regarded California producer.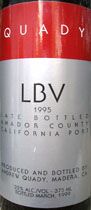 Quady 1995 LBV Late Bottled Amador County California Port ($9.99/375 ml)
This wine is very dark garnet in color, with an appealing scent of berries over more typical Portlike aromas of dried "stone fruits." Smooth and sweet in flavor, with sufficient acidic structure and soft, fuzzy tannins, it may be a bit more soft and mellow than the genuine article, but it's also more affordable. A pleasant after-dinner wine for a chilly autumn evening. (Oct. 21, 2001).

FOOD MATCH: It made a lovely dessert match with a bit of Humboldt Fog goat cheese from Northern California.

WINERY WEBSITE: Quady's Website is http://www.quadywinery.com/, with a fact sheet on the 1995 LBV at http://www.quadywinery.com/lbv.html.


Wine Toon Calendar 2002:
A year of wine and laughter


Wine lovers won't want to miss our new Wine Toon Calendar, only from Wine Lovers Page! This monthly wall calendar contains a chuckle-worthy collection of cartoonist Chuck Stoudt's zany wine 'toons ... plus dozens of favorite wine quotes for every season, AND more than 100 highlighted Wine Web Links, two every week!

Buy one for your wine cellar and another for your office ... and they make great gifts! Offer them in your wine store, your catalog, or your wine club (contact us by E-mail for information about wholesale prices for re-selling).

Order the Wine Toon Calendar at http://www.wineloverspage.com/calendar/2002toon.shtml. It's only $11.99 (plus $2 shipping and handling for U.S. shipments, $4 for all other countries). Buy one for yourself, and more for your wine-loving friends, and you'll be all set for holiday giving!

(Those of you who pre-ordered your calendars, by the way, should receive them soon: The first printing went out by first-class mail last week.)

Administrivia


This is Wine Advisor Express, daily edition of The 30 Second Wine Advisor, distributed Tuesdays through Fridays. For archives of previous articles, and to read more about wine, visit Wine Lovers' Page, http://www.wineloverspage.com.

To subscribe, change your E-mail address, switch from daily to the weekly (Mondays only) distribution, or for any other administrative matters, E-mail wine@wineloverspage.com. In the unhappy event that you must leave us, please take a moment to let us know how we could have served you better. In all administrative communications, please be sure to include the exact E-mail address that you used when you subscribed, so we can find your record.

Wednesday, Oct. 31, 2001
Copyright 2001 by Robin Garr. All rights reserved.

<!TODAY'S TEXT ENDS HERE!>

Subscribe (free) to The 30 Second Wine Advisor