<!TODAY'S TEXT STARTS HERE!>

Wine Advisor Express:
Vintage 2001 sighted


Wine lovers don't need calendars to know what year it is: We use vintage instead!

A slight exaggeration, perhaps, but for me, part of the enjoyment of wine is paying attention to the way old favorites vary from year to year, and taking note of the first arrival of wines made in recent years.

As a reminder, the year on the bottle, or "vintage," refers to the year in which the grapes were harvested. Depending on the specific wine and the rules and tradition that govern its production, wines may come to market as soon as two or three months after the harvest (like the Nouveau Beaujolais that you'll see next month), or as long as two or three years later (Bordeaux) or even longer for some ageworthy Italian and Spanish reds. The 1995 Italian Notarpanaro that I reviewed yesterday, for example, is the currently available vintage, six years after its harvest!

We'll see the first 2001 wines from the Northern Hemisphere in coming weeks. The Nouveau Beaujolais, under French law, is released on the third Thursday of November, which is the 15th this year. Other nouveau-style wines from Italy, France and the U.S., not bound by those regulations, may hit the marketplace a week or two sooner.

But Down Under, where the seasons are reversed and harvest-time comes in February through April, a few of this year's wines have been available for several months. I ran across one recently and opened it for tasting last night: The Sacred Hill 2001 New Zealand Sauvignon Blanc is the first wine of the new vintage that I've seen. Despite the speed of its production, it's a typical "Kiwi" Sauvignon Blanc, ripe and fruity and easy to drink.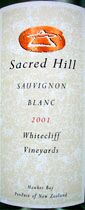 Sacred Hill 2001 Whitecliff Vineyards Hawkes Bay Sauvignon Blanc ($9.99)
A transparent straw color, this wine offers forward and ripe aromas of tropical fruit, pineapple and passionfruit, leading into a big white-fruit flavor, juicy and tart. It's on the simple side and a bit hot in the finish, but it's well-constructed for a wine so quickly moved into the retail market, and definitely reflects the bright and fruity New Zealand Sauvignon Blanc style. U.S. importer: Halby Marketing Inc., Sonoma, Calif. (Oct. 24, 2001)

FOOD MATCH: Crafting a simple meatless dinner to match, I came up with packaged cheese tortellini swimming in a thick soup of pureed broccoli and potatoes with garlic.

WINERY NOTE: Sacred Hill doesn't have a Website that I could find, but here's a fact sheet on the winery from the New Zealand news Website Scoop Media: "Sacred Hill Wines Ltd is a premium Hawke's Bay producer that specialises in chardonnay, merlot, and sauvignon blanc wines. The business is owned and operated by the Mason Family and produced its first vintage in 1986. In 1984, Ian Mason planted a river terrace with Sauvignon Blanc. The grapes produced were made into fume blanc by Ian's sons David and Mark and Tony Bish, and proved a sellout. Sacred Hill was born."


Administrivia


This is Wine Advisor Express, daily edition of The 30 Second Wine Advisor, distributed Tuesdays through Fridays. For archives of previous articles, and to read more about wine, visit Wine Lovers' Page, http://www.wineloverspage.com.

To subscribe, change your E-mail address, switch from daily to the weekly (Mondays only) distribution, or for any other administrative matters, E-mail wine@wineloverspage.com. In the unhappy event that you must leave us, please take a moment to let us know how we could have served you better. In all administrative communications, please be sure to include the exact E-mail address that you used when you subscribed, so we can find your record.

Thursday, Oct. 25, 2001
Copyright 2001 by Robin Garr. All rights reserved.

<!TODAY'S TEXT ENDS HERE!>

Subscribe (free) to The 30 Second Wine Advisor