<!TODAY'S TEXT STARTS HERE!>

Wine Advisor Express:
Escaping the "wine rut"


One of the greatest joys of wine is its near-infinite variety. So many grapes, so many wine regions, so many vintages ... so many different tasting experiences to try. A wine lover can literally open a bottle of something different every night of the year without running out of choices.

And yet, like most of us, I sometimes get into a "wine rut," returning day after day to wines made from favorite varieties or regions. Another Cabernet Sauvignon tonight? Oh, boy! (Yawn.)

So from time to time I make a conscious effort to break out of the rut by choosing a wine that's distinctly different. Try a wine from an unfamiliar producer, open a bottle from a less-traveled region, or maybe best of all, from the standpoint of your personal wine education, get to know an offbeat grape variety.

Last night, to accompany a Greek-inspired dinner, I opened two warm and approachable reds from the Mediterranean: A modest Greek wine made from the Agiorgitiko ("St. George") grape, and a bargain favorite from the heel of Italy's boot that's a blend of Negroamaro and Malvasia Nero.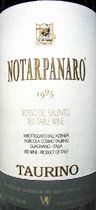 Taurino 1995 Notarpanaro Rosso del Salento ($9.99)
Dark ruby in color, it offers plummy fruit and spicy oak aromas with a hint of floral perfume. Flavors are consistent with the nose, black fruit and tart acidity with distinct tannins adding an astringent edge that's not unpleasant but suggests that the wine will benefit from aging. The sharp acidity adds a cleansing quality that makes it a winner with food. U.S. importer: Winebow Inc., NYC; a Leonardo Locascio Selection. (Oct. 24, 2001)
WEB LINKS: The importer has a fact sheet on Notarpanaro at http://www.winebow.com/shortdet.asp?ID=314.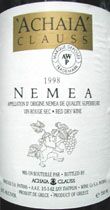 Achiaia Clauss 1998 Nemea ($8.99)
Clear ruby in color, this Greek wine shows appetizing red-berry fruit aromas with a distinct edge of brown sugar. Berrylike and fresh in flavor, it's crisp and quaffable, with clean red-fruit flavors and sufficient acidity for balance. U.S. importer: David Sherman Corp., St. Louis. (Oct. 24, 2001)

FOOD MATCH: Both wines went very well with a Greek-style dish of beef and artichoke hearts over orzo pasta in an egg-lemon sauce. This dish could have been challenging because of the tangy lemon flavors and because both artichokes and eggs are allegedly "difficult" wine companions; as it turned out, however, the bite-size chunks of sirloin and the herbal notes of oregano in the sauce made the match work in spite of these potential handicaps.

WINERY NOTE: I was unable to find a winery or importer Website, but a wine merchant's site offered the following bit of historical information about the winery: "Achaia Clauss (pronounced Ah-hi-ya Clauss) was founded in 1854 by Gustav Clauss. A native of Bavaria, Clauss was captivated by the beauty of the countryside surrounding the coastal town of Patras. With passion, wisdom and creativity, Clauss transformed the nearby hilltops into a wine estate."


Administrivia


This is Wine Advisor Express, daily edition of The 30 Second Wine Advisor, distributed Tuesdays through Fridays. For archives of previous articles, and to read more about wine, visit Wine Lovers' Page, http://www.wineloverspage.com.

To subscribe, change your E-mail address, switch from daily to the weekly (Mondays only) distribution, or for any other administrative matters, E-mail wine@wineloverspage.com. In the unhappy event that you must leave us, please take a moment to let us know how we could have served you better. In all administrative communications, please be sure to include the exact E-mail address that you used when you subscribed, so we can find your record.

Wednesday, Oct. 24, 2001
Copyright 2001 by Robin Garr. All rights reserved.

<!TODAY'S TEXT ENDS HERE!>

Subscribe (free) to The 30 Second Wine Advisor