<!TODAY'S TEXT STARTS HERE!>

Wine Advisor Express:
What wine goes with chicken?


Roast it, fry it, broil it or boil it, chicken is one dish that goes well with a broad variety of wines, while demolishing the old theory that limits red wines to red meat and white wines to white meat.

Although pallid preparations and delicate sauces might strongly suggest a white - most reds would overpower poached chicken breasts napped with bechamel, for instance - I find that roast, grilled or broiled chicken in particular, with its golden-brown, crispy skin, makes as good a match for reds as lamb or beef. Ditto for Southern Italian-style red-sauced preparations or even a bucket of the Colonel's finest.

Quality whites with some body and richness - Chardonnay, Pinot Blanc or Pinot Gris/Grigio for starters - will generally form good partnerships with any chicken dish, and they're the best choice with the lighter and more delicate preparations. But when you're in the mood for a red, try a light and fruity item like a Beaujolais with fried chicken (or enjoy it with an exuberantly berrylike Zinfandel). Match a Chianti or other tart-and-fruity Italian red with chicken Parmigiana or cacciatore. And bring out your good Cabernets, Merlots or Bordeaux blends and other complex Old World-style reds when a roast chicken is on your table, particularly when you've added herbs and garlic to give it flavor.

With an autumnal chill in the air the other day, we warmed up the house by firing up the oven and popping in a smallish "butterflied" chicken (split down the back and flattened) with lots of fresh sage and garlic slipped under the breast skin, letting it roast for an hour at high temperature (450F/230C), basting occasionally, until it was crisp and golden brown. It made a delicious autumn dinner with one of my favorite country-French reds, a Mourvedre-based Bandol.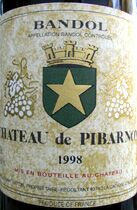 Chateau de Pibarnon 1998 Bandol ($22.99)
This inky dark-garnet wine's black-fruit aroma is deep and intense, without the "barnyard" scents that make some Bandols a "love 'em or hate 'em" proposition. Fresh and juicy black-cherry and plum flavors are structured on tart acidity, making it a fine food wine. It's still young, but not as fiercely tannic or closed as many of its Bandol brethren; it's drinking very well now but will gain even more complexity and flavor interest with time. U.S. importer: Vintner Select, Cincinnati, and other regional importers. (Oct. 15, 2001)

FOOD MATCH: As noted, it met its natural match in a roast chicken with plenty of garlic and sage.

WEBSITE: I was unable to find a winery Website, but here's a link to a British wine shop with an interesting report on the producer and its wines: http://www.gauntleywine.com/latestoffers/archive/sfrance/pibarnon.html.

Administrivia


This is Wine Advisor Express, daily edition of The 30 Second Wine Advisor, distributed Tuesdays through Fridays. For archives of previous articles, and to read more about wine, visit Wine Lovers' Page, http://www.wineloverspage.com.

To subscribe, change your E-mail address, switch from daily to the weekly (Mondays only) distribution, or for any other administrative matters, E-mail wine@wineloverspage.com. In the unhappy event that you must leave us, please take a moment to let us know how we could have served you better. In all administrative communications, please be sure to include the exact E-mail address that you used when you subscribed, so we can find your record.

Wednesday, Oct. 17, 2001
Copyright 2001 by Robin Garr. All rights reserved.

<!TODAY'S TEXT ENDS HERE!>

Subscribe (free) to The 30 Second Wine Advisor