<!TODAY'S TEXT STARTS HERE!>

Wine Advisor Express:
Wine from Lebanon: Chateau Musar


Devastated by a civil war that lasted through most of the 1970s and 1980s and located well east of traditional vine-growing European regions, Lebanon is probably not be the first place that comes to mind when we think of fine wine.

But Lebanon's wine history is almost as old as civilization: "The cultivation of the vine goes back to the Phoenicians who traded their wines along the Mediterranean trade routes, introducing viniculture into many parts of southern Europe," points out the Website of Chateau Musar, the noteworthy Lebanese wine producer we feature today.

"Some centuries later, the Romans chose Baalbek in the east of Lebanon as the site to build the Temple of Bacchus as their tribute to the god of wine, a Temple which still stands today," the Musar Website adds.

Throughout the fighting that all but destroyed the country's capital, Beirut, Chateau Musar's owner and wine maker Serge Hochar somehow managed to produce and export his excellent wine in all but two vintages (1976 and 1984). During the same period, he also sheltered refugees from the fighting in Beirut just 25 kilometers away.

The chateau occupies an 18th century castle called Mzar in the village of Ghazir in Lebanon's Bekaa Valley, a protected microclimate comparable to France's Rhone. Musar's trademark red wine seems French in style too; Hochar got his wine-making training in Bordeaux. It is made from a blend of Bordeaux grapes (Cabernet Sauvignon) and Rhone grapes (Cinsaut and Syrah) that varies in proportions from year to year. I generally find it much more Rhone-like than Bordeaux-style, with ripe fruit and obvious "barnyard" notes that signal a distinct "Old World" character. The wine is held for years of bottle age before release; the currently available vintage around the world is 1994.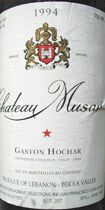 1994 Chateau Musar ($32.99)
Clear ruby, not too dark, with forward aromas of black cherries, herbs and fragrant pepper and a distinct but pleasant whiff of the barnyard. Full and complex, fruit and earthy flavors are consistent with the nose; zingy acidity and soft tannins set up a very long finish with fruity and floral notes that seem to last for minutes. Not cheap, but a very fine wine, capable of aging well for years. U.S. importer: Broadbent Selections Inc., San Francisco. (Sept. 25, 2001)

FOOD MATCH: Its earthy qualities make it an exceptional match with wild mushrooms, in the form of tortellini in a light porcini bechamel sauce.

WEB LINKS: The winery Website (in English and French) is at http://www.chateaumusar.com.lb/. The U.S. importer's Website is http://www.broadbent-wines.com, with a fact sheet on Chateau Musar at http://www.broadbent-wines.com/musar.html.

Administrivia


This is Wine Advisor Express, daily edition of The 30 Second Wine Advisor, distributed Tuesdays through Fridays. For archives of previous articles, and to read more about wine, visit Wine Lovers' Page, http://www.wineloverspage.com.

To subscribe, change your E-mail address, switch from daily to the weekly (Mondays only) distribution, or for any other administrative matters, E-mail wine@wineloverspage.com. In the unhappy event that you must leave us, please take a moment to let us know how we could have served you better. In all administrative communications, please be sure to include the exact E-mail address that you used when you subscribed, so we can find your record.

Wednesday, Sept. 26, 2001
Copyright 2001 by Robin Garr. All rights reserved.

<!TODAY'S TEXT ENDS HERE!>

Subscribe (free) to The 30 Second Wine Advisor