<!TODAY'S TEXT STARTS HERE!>

Wine Advisor Express:
Tasting Note: Est! Est!! Est!!!


What's this label with all the exclamation points? It's one of those regional items that comes with a legendary "history" that's arguably more interesting than the wine.

According to this tale, the wine got its name from a wine-loving German bishop of the 1300s who, while on pilgrimage to Rome, sent a minion riding ahead each day to scout out the inns in the next village and determine which had the best wine. He would then chalk "Est!" (Latin for "it is!") on the wall so the bishop would know where to stay.

When they got to Montefiascone, only about 80 kilometers north of Rome, the scout found the wine so excellent that he scribbled the enthusiastic recommendation - Est! Est!! Est!!! - that gave the wine its name. And the bishop, it is said, was so impressed that he gave up the pilgrimage and spent the rest of his days there on the shores of Lake Bolsena, sipping the local wine.

The hard truth is that this white blend of Trebbiano and Malvasia - at least in modern times - is usually a cheap, bland and forgettable wine. I wouldn't normally bother to report it here, preferring to save the daily space for something I think you're more likely to enjoy. But I was intrigued the other day to spot a new Est! Est!! Est!!! from Falesco, a maker that has impressed me with its red Vitiano, the good-value Sangiovese/Cabernet/Merlot blend that we featured in our Wine Tasting 101 program last month. Sure enough, Falesco rings the bell again with this one, a crisp and interesting white with a price tag that makes it a real bargain.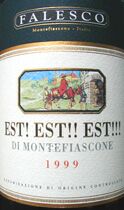 Falesco 1999 Est! Est!! Est!!! di Montefiascone ($6.99)
This pale, straw-colored wine shows light, appetizing aromas of ripe melons and citrus, lemons and limes. Crisp and tart on the palate, it's simple but clean and fresh when served quite cold; as it warms in the glass it adds good white-fruit flavors and a pleasant hint of peach-pit bitterness in the finish. U.S. importer: Winebow Inc., NYC. (Sept. 24, 2001)

FOOD MATCH: Its crisp fresh-fruit acidity makes it a perfect match with smoked salmon over a potato-cauliflower puree.

WEB LINKS: The importer's Website is at http://www.winebow.com/, with a report on this wine at http://www.winebow.com/shortdet.asp?ID=148

Administrivia


This is Wine Advisor Express, daily edition of The 30 Second Wine Advisor, distributed Tuesdays through Fridays. For archives of previous articles, and to read more about wine, visit Wine Lovers' Page, http://www.wineloverspage.com.

To subscribe, change your E-mail address, switch from daily to the weekly (Mondays only) distribution, or for any other administrative matters, E-mail wine@wineloverspage.com. In the unhappy event that you must leave us, please take a moment to let us know how we could have served you better. In all administrative communications, please be sure to include the exact E-mail address that you used when you subscribed, so we can find your record.

Tuesday, Sept. 25, 2001
Copyright 2001 by Robin Garr. All rights reserved.

<!TODAY'S TEXT ENDS HERE!>

Subscribe (free) to The 30 Second Wine Advisor