<!TODAY'S TEXT STARTS HERE!>

Wine Advisor Express:
"Comfort wine:" Lirac


Just as we use "comfort food" to describe the simple, hearty dishes that remind us of childhood, there's a category of wine that can only be defined as "comfort wine."

Some of my favorite comfort wines come from the Mediterranean rim - Southern France, Spain, and Italy of course. And after a long and awful day spent glued to the television on Tuesday, when nothing more than a simple, meatless dinner seemed right, naturally I gravitated instinctively toward a wine of this type to go with it.

My choice? A simple but deliciously quaffable Lirac, from the Southern Rhone across from Avignon, where the Rhone meets Languedoc. A ripe and peppery blend of Grenache, Syrah and a bit of Mourvedre and Cinsaut, it's another of those wines that blurs the distinction (as discussed in Monday's article) between the Old World and the New. The 1998 vintage is still on the shelves here in the Louisville area; I understand that the 1999 is in the distribution system now, and is reportedly just as appealing.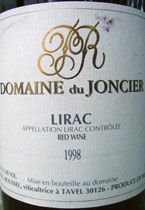 Domaine du Joncier 1998 Lirac ($12.99)
Very dark ruby, almost black, with forward aromas of fragrant black pepper and ripe, plummy fruit. Big, juicy and peppery flavors are mouth-filling and ripe, with lemon-squirt acidity and soft tannins that build a sturdy structure for appetizing fruit. U.S. importer: Kermit Lynch Wine Merchant, Berkeley, Calif. (Sept. 11, 2001)

FOOD MATCH: Although red meat would be its natural companion, it worked very well with a less-traditional vegetarian match, spinach-and-cheese tortelloni in a comforting sauce of pureed peas, limas and fresh basil with lots of Parmigiano Reggiano.

Administrivia


This is Wine Advisor Express, daily edition of The 30 Second Wine Advisor, distributed Tuesdays through Fridays. For archives of previous articles, and to read more about wine, visit Wine Lovers' Page, http://www.wineloverspage.com.

To subscribe, change your E-mail address, switch from daily to the weekly (Mondays only) distribution, or for any other administrative matters, E-mail wine@wineloverspage.com. Please be sure to include the exact E-mail address that you used when you subscribed, so we can find your record.

Thursday, Sept. 13, 2001
Copyright 2001 by Robin Garr. All rights reserved.

<!TODAY'S TEXT ENDS HERE!>

Subscribe (free) to The 30 Second Wine Advisor