<!TODAY'S TEXT STARTS HERE!>

Wine Advisor Express:
Right Bank bargains


Let's follow up on yesterday's chat about finding $6 bargains among "wines of the country" with a brief discussion of seeking wine value in somewhat more pricey realms.

This is a variation on a theme that I played in a column in June, in which I suggested shopping for wines from less-known regions close to more sought-after real estate - specifically, a $14 Lalande de Pomerol as an affordable alternative to a $50 bottle from Pomerol itself.

Today's strategy suggests taking note of the regions that performed well during vintages that were less than favorable for their neighbors: Specifically, 1998 in Bordeaux, when an exceptionally hot August fostered early ripening in the vineyards, but rain at harvest time - which prompts grapes to plump up with water, diluting the juice - turned smiles to frowns in some parts of the region. By and large, 1998 is now viewed as a lackluster vintage for Bordeaux.

But there's an interesting nuance: The rains fell more heavily on the "left bank" of the Gironde river and its tributaries - the Medoc region where Cabernet Sauvignon predominates - than on the other side of the rivers, where Merlot and Cabernet Franc are the primary grapes. By looking for fairly priced items from the "right bank" - St.-Emilion and Pomerol and their neighbors - you can often find flavorful and ready-to-drink 1998s like today's featured wine, at prices that, if not cheap, are at least attractive by the lofty standards of Bordeaux.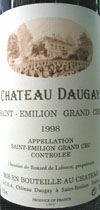 Chateau Daugay 1998 Saint-Emilion Grand Cru ($22.99)
Very dark garnet in color, this wine's aromas are typical of its region: blackcurrant with grace notes of herbal "lead pencil" and oregano with whiffs of cinnamon and spice. It's balanced and crisp, with elegant fruit flavors consistent with the nose, structured by fresh acidity and soft tannins. No heavyweight, it's more subtle than forward, a quality Bordeaux that's enjoyable now but worth cellaring for at least a few years. U.S. importer: The Stacole Co., Inc., Boca Raton, Fla. (Sept. 5, 2001)

FOOD MATCH: Very good indeed with chicken breasts wrapped in prosciutto with a bit of pesto and a lemon-saffron sauce.


Administrivia


This is Wine Advisor Express, daily edition of The 30 Second Wine Advisor, distributed Tuesdays through Fridays. For archives of previous articles, and to read more about wine, visit Wine Lovers' Page, http://www.wineloverspage.com.

To subscribe, change your E-mail address, switch from daily to the weekly (Mondays only) distribution, or for any other administrative matters, E-mail wine@wineloverspage.com. Please be sure to include the exact E-mail address that you used when you subscribed, so we can find your record.

Thursday, Sept. 6, 2001
Copyright 2001 by Robin Garr. All rights reserved.

<!TODAY'S TEXT ENDS HERE!>

Subscribe (free) to The 30 Second Wine Advisor