<!TODAY'S TEXT STARTS HERE!>

Wine Advisor Express:
Vin de Pays


Older wine-appreciation books seem to sniff a bit when they discuss Vin de Pays ("VaN duh Pa-yee" or "wine of the country").

As the legal classification for purportedly "lesser" wine regions that haven't been deemed significant enough for the more lofty "Appellation Controllee," Vins de Pays have long been considered "everyday" wines, drinkable but not worth much respect. "Vin de Pays at its worst is simply 'ordinaire' with a birth certificate ... always referred to as 'little'," Hugh Johnson wrote in his 1974 "Wine."

But times have changed, and while you'll still find few Vins de Pays in collector's cellars or commanding high prices on the auction market, the rising tide of technology has lifted many boats. And if you enjoy finding interesting wines of quality for reasonable prices as much as I do, you won't shun Vin de Pays simply because of its historic reputation.

Today's wine is a good example: A country wine from the Southern Rhone, the Coteaux ("hillsides") of the Pont du Gard. Available locally for $6, it could stand up to the competition at $10.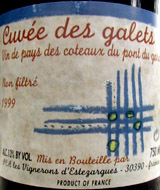 Cuvee des Galets 1999 Vin de Pays des Coteaux du Pont du Gard ($5.99)
Dark ruby in color, with fresh aromas of peppery red fruit. Crisp and tart, it's juicy and refreshing in flavor, cherry-berry fruit laced up with a lemon-squirt of acidity. A blend of Carignan, Cinsault and Grenache from old vines, the wine is unfiltered; simple but appealing, it may be a mere "wine of the country," but it's balanced and fresh, fine with food, and the price is right. U.S. importer: Hand Picked Selections, Warrenton, Va. (Sept. 3, 2001)

FOOD MATCH: Fine with a quick variation on pizza Margherita - savory corn-and-wheat pancakes topped with chopped fresh tomatoes, mild goat cheese and basil.

WEBSITE: http://perso.wanadoo.fr/estezargues/DOMMAINE%20D'ANDEZON.htm (French only)

Administrivia


This is Wine Advisor Express, daily edition of The 30 Second Wine Advisor, distributed Tuesdays through Fridays. For archives of previous articles, and to read more about wine, visit Wine Lovers' Page, http://www.wineloverspage.com.

To subscribe, change your E-mail address, switch from daily to the weekly (Mondays only) distribution, or for any other administrative matters, E-mail wine@wineloverspage.com. Please be sure to include the exact E-mail address that you used when you subscribed, so we can find your record.

Wednesday, Sept. 5, 2001
Copyright 2001 by Robin Garr. All rights reserved.

<!TODAY'S TEXT ENDS HERE!>

Subscribe (free) to The 30 Second Wine Advisor