<!TODAY'S TEXT STARTS HERE!>

Wine Advisor Express:
Wine Tasting 101 - Falesco Vitiano


At the start of August, I nominated Falesco "Vitiano," a good-value red wine from Umbria in central Italy, as the featured wine for the month in our interactive "Wine Tasting 101" feature, http://www.WineLoversPage.com/forum/wt101.shtml. A blend of the Italian Sangiovese with Cabernet Sauvignon and Merlot in equal proportions, the 2000 vintage received a 91 rating from the critic Robert M. Parker Jr.

Where I live, we're still waiting for the 2000 to arrive; but as the month ends, here's my report on the 1999, a fruity if rather earthy wine that goes well with food. We'll be announcing the featured wine for September in Monday's 30 Second Wine Advisor. I hope many of you will participate in this free online wine-tasting community. Click the WT101 link above for more details.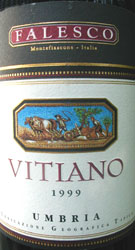 Falesco 1999 "Vitiano" Umbria ($9.99)
Clear but very dark ruby, clear red at the edge. Earthy dried-fruit aromas add a distinct mushroomy note that mimics "cork taint" at first but sorts itself out as natural earthy scents of mushroom, truffle and "forest-floor" that blend with dried-cherry fruit. Flavors are consistent with the nose, tart but ripe black-cherry structured with lemon-squirt acidity and perceptible tannins. Good with food, which brings up the fruit while "taming" the tannins and acidity. U.S. importer: Winebow Inc., NYC (Aug. 28, 2001)

FOOD MATCH: Fine with thin-sliced rare beef and onions on a summer-squash risotto.


Last day for pre-ordering our
Wine 'Toon Calendar 2002!

Today is the last day you'll be able to PRE-ORDER our Wine Lovers' Page Wine Toon Calendar for $9.99. Tomorrow, the price will go up to $11.99.

This fun 12-month calendar for 2002 features 12 of Chuck Stoudt's zany wine cartoons, a library of wine quotes, and more than 100 of our favorite wine Web links. This is an original product, and we think it's a good one. To be frank, it's also a small way to help us keep Wine Lovers' Page in the black!

Order one now for yourself and more for the wine lovers on your gift list, and you'll be all set for holiday giving! Click to http://www.wineloverspage.com/calendar/2002toon.shtml and order your Wine 'Toon Calendar 2002 today.

Another deadline:
The Great Sommelier Challenge!

Today's also the last day to enter our GREAT SOMMELIER CHALLENGE!

If you think you're good at matching great food and fine wine, you'll enjoy this free, fun competition. For details, click to http://www.wineloverspage.com/challenge.

Administrivia


This is Wine Advisor Express, daily edition of The 30 Second Wine Advisor, distributed Tuesdays through Fridays. For archives of previous articles, and to read more about wine, visit Wine Lovers' Page, http://www.wineloverspage.com.

To subscribe, change your E-mail address, switch from daily to the weekly (Mondays only) distribution, or for any other administrative matters, E-mail wine@wineloverspage.com. Please be sure to include the exact E-mail address that you used when you subscribed, so we can find your record.

Friday, Aug. 31, 2001
Copyright 2001 by Robin Garr. All rights reserved.

<!TODAY'S TEXT ENDS HERE!>

Subscribe (free) to The 30 Second Wine Advisor