<!TODAY'S TEXT STARTS HERE!>

Wine Advisor Express:
Tasting Note: Vouvray for the Dog Days


Welcome to the "Dog Days" of late summer, so called because the ancients attributed the season's stifling heat to the first annual appearance of the Dog Star, Sirius, at dawn.

In honor of the season, as I prepare to take a couple of days off for late-summer frivolity (see below), here's my report on a Vouvray, a Chenin Blanc from the Loire Valley of France. Although it's complex enough to invite contemplation (I'll refrain from calling it a "Sirius" wine), its tart, zingy fruitiness makes it a fair candidate as a "summer sipper," a wine to put a light chill on a sultry afternoon.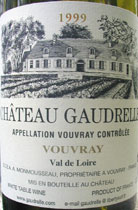 Chateau Gaudrelle 1999 Val de Loire Vouvray ($9.99)
Clear pale greenish-gold, this wine's aromas are vinous and pleasantly musky, with steely, mineral flavors, tart white fruit with elusive hints of bananas and kiwi fruit and a slight, pleasantly bitter edge that sharpens in the finish. "We're not in Chardonnay any more, Toto." U.S. importer: Kysela Pere et Fils Ltd., Winchester, Va. (July 24, 2001)

FOOD MATCH: Very good with a meatless summer meal of eggplant fritters on a cool Greek-style "tzatziki" sauce of yogurt and cucumbers.


Express Notes:
Time out for MoCool


There'll be no Wine Advisor Express edition tomorrow or Friday, as I take a couple of days off for "MoCool," the annual "Motown Cooperative Offline," the world's largest and oldest gathering of participants in online wine forums like our Wine Lovers' Discussion Groups, http://www.wineloverspage.com/forum.

Thursday through Sunday, several hundred 'net-wired wine lovers are expected to participate in four days of dinners, tasting events and a picnic in the Ann Arbor and Detroit areas in Michigan. For information about this annual event - and our "almost-live" coverage with event reports, wine-tasting notes and photos, click to http://www.wineloverspage.com/mocool throughout the weekend.

The 30 Second Wine Advisor will return with Monday's edition. See you then!

Express Notes:
Administrivia


This is Wine Advisor Express, daily edition of The 30 Second Wine Advisor, distributed Tuesdays through Fridays. For archives of previous articles, and to read more about wine, visit Wine Lovers' Page, http://www.wineloverspage.com.

To subscribe, change your E-mail address, switch from daily to the weekly (Mondays only) distribution, or for any other administrative matters, E-mail wine@wineloverspage.com. Please be sure to include the exact E-mail address that you used when you subscribed, so we can find your record.

Wednesday, Aug. 22, 2001
Copyright 2001 by Robin Garr. All rights reserved.

<!TODAY'S TEXT ENDS HERE!>

Subscribe (free) to The 30 Second Wine Advisor