<!TODAY'S TEXT STARTS HERE!>

Wine Advisor Express:
A rosé by any other name


A rose is a rose is a rose, as the poet said, whether you call it "rose" (with an acute accent over the 'e' that we'll leave off here because it causes problems for some E-mail software) or "vin gris" ("gray wine") or "blanc de noirs" ("white from blacks") or "blush" (a marketing term for soft, sweet California pink wines made from red grapes like Zinfandel), or even "oeil de perdrix" ("partridge's eye," although I've never been close enough to a patridge to check its eye color).

Some people can't warm up to pink wines. My wife, for instance, pushes back her glass as soon as she sees the pale color. But for most of us, a good pink wine - preferably crisp and bone-dry - makes a refreshing change of pace, particularly during the heat and humidity of summer.

Here's a report on two pleasant and rather different roses: a Bandol from Provence and a California pink wine that's said to be made in the style of Southern France: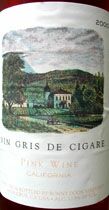 Bonny Doon 2000 Vin Gris de Cigare ($9.99)
Light cherry red, on the dark side for a rose. Pleasant berrylike scents lead into a flavor that's crisp and tart; fresh and juicy berries over a lemon-squirt of acidity, fruity but dry. In contrast with the usual advice about serving pink wines very cold, this actually improves and shows more fruit as the wine warms a little in the glass. (Aug. 16, 2001)
WINERY WEBSITE: http://www.bonnydoonvineyard.com.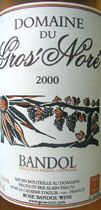 Domaine du Gros Nore 2000 Bandol rose ($13.99)
Very pale copper color, more tawny than pink. Its scent is faint and more akin to herbs than fruit, with a light, subtle scent of thyme. The flavor is herbal too, fresh thyme and oregano carried on simple, tart white fruit. An interesting wine, not nearly as fruity as the California wine but well matched with spicy fare. U.S. importer: Kermit Lynch Wine Merchant, Berkeley, Calif. (Aug. 16, 2001)

WINERY WEBSITE: http://www.gros-nore.com (in French).

FOOD MATCH: Both wines serve well with an aromatic but not overly fiery Thai lamb curry with coconut milk.


Sommelier Challenge


Thanks to the many of you who have already sent entries in our Great Sommelier Challenge. The numbers briefly overwhelmed our ability to respond quickly, but within the next few days I will send at least an acknowledgement so you will know your entry was received.

Full information about this fun food-and-wine-matching challenge, which continues through Sept. 1, is at http://www.wineloverspage.com/challenge.

Express Notes:
Administrivia


This is Wine Advisor Express, daily edition of The 30 Second Wine Advisor, distributed Tuesdays through Fridays. For archives of previous articles, and to read more about wine, visit Wine Lovers' Page, http://www.wineloverspage.com.

To subscribe, change your E-mail address, switch from daily to the weekly (Mondays only) distribution, or for any other administrative matters, E-mail wine@wineloverspage.com. Please be sure to include the exact E-mail address that you used when you subscribed, so we can find your record.

Friday, Aug. 17, 2001
Copyright 2001 by Robin Garr. All rights reserved.

<!TODAY'S TEXT ENDS HERE!>

Subscribe (free) to The 30 Second Wine Advisor