<!TODAY'S TEXT STARTS HERE!>

Wine Advisor Express:
Pinot's colors


Enjoying another Pinot Grigio from Italy's Collio last night - revisiting the same lovely Northeastern Italian wine region that I featured in a tasting note on Aug. 3 - led me to reflect on the many grapes that share the name "Pinot."

As the noble red-wine grape of Burgundy, Pinot Noir ("Pee-no Nwahr" or "Black Pinot") is certainly, and justifiably, the most noteworthy. Its vines grow in tight bunches that may have reminded an early vine grower of a pine cone, leading to the name "Pinot."

But there's also Pinot Blanc ("White Pinot," Italy's Pinot Bianco), Pinot Gris ("Gray Pinot," Pinot Grigio in Italian), and even such less-known but respected varieties as Pinot Meunier ("Miller's Pinot," used in the traditional Champagne blend, whose leaves have a white underside that looks like they're dusted with flour) and the rare Pinot Teinturier ("Dyer's Pinot," with its dark-red juice).

Where did all these Pinot colors come from? Perhaps surprisingly, wine-grape researchers have examined the DNA of many grapes and concluded that all Pinots are descendants (literally, "clonal mutants") of a single ancestor grapevine. One of the earliest cultivated wine grapes, Pinot has been known since ancient Roman times; when branches with different colored fruit occasionally appeared, they were propagated by cuttings, resulting eventually in the array of Pinot colors we know today.

Pinot Grigio doesn't generally get the respect accorded to the great Pinot Noir-based Burgundies. Much of it is made as a tart, simple white wine not intended for contemplation. But at its best, this Italian relative doesn't need to bow to its French cousins, producing a wine of balance, complexity and flavor interest. Like this one ...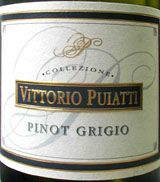 Vittorio Puiatti 2000 Collio Pinot Grigio ($16.99)
Pale straw color, with delicate aromas of fresh, ripe fruit, melons and peaches entwined with a sutble "mineral" note. Very good flavor, clean and fresh fruit perfectly balanced with crisp, citric acidity. A pleasant sensation of light peach-bit bitterness gains momentum in a very long finish. U.S. importer: Vin DiVino Ltd., Chicago. (Aug. 15, 2001)

FOOD MATCH: Perfect with Figa coi Fighi, a Veneto dish of calf's liver sauteed with figs and onions.


Sommelier Challenge


Thanks to the many of you who have already sent entries in our Great Sommelier Challenge. The numbers briefly overwhelmed our ability to respond quickly, but within the next few days I will send at least an acknowledgement so you will know your entry was received.

Full information about this fun food-and-wine-matching challenge, which continues through Sept. 1, is at http://www.wineloverspage.com/challenge.

Express Notes:
Administrivia


This is Wine Advisor Express, daily edition of The 30 Second Wine Advisor, distributed Tuesdays through Fridays. For archives of previous articles, and to read more about wine, visit Wine Lovers' Page, http://www.wineloverspage.com.

To subscribe, change your E-mail address, switch from daily to the weekly (Mondays only) distribution, or for any other administrative matters, E-mail wine@wineloverspage.com. Please be sure to include the exact E-mail address that you used when you subscribed, so we can find your record.

Thursday, Aug. 16, 2001
Copyright 2001 by Robin Garr. All rights reserved.

<!TODAY'S TEXT ENDS HERE!>

Subscribe (free) to The 30 Second Wine Advisor