<!TODAY'S TEXT STARTS HERE!>

Wine Advisor Express:
Everybody talks about it, but ...


First, let's get one thing clear: I love Penfolds Bin 389. Sometimes nicknamed "Baby Grange" because some of its components are aged in the same oak barrels that had held the previous vintage of Grange, Penfolds' flagship wine, this Cabernet-Shiraz blend is consistently a benchmark example of quality Australian red wine.

So when the 1998 vintage finally made its way down the long supply line to our local markets, naturally I had to try it.

But this year's $24 price tag did make me think twice between the shelf and the checkout lane. Looking over my notes for previous prices on Bin 389 over the past several years, an inexorable trend becomes clear:

The 1992 vintage was $13 in 1995.
The 1993 vintage was $15 in 1996.
The 1994 vintage was $17 in 1997.
The 1996 vintage was $22 in 1999.
And the 1998 vintage is $24 in 2001.
(The 1995 and 1997 vintages, both of which got lackluster reviews in the wine media, were either not available here, or I missed them.)

I'm not just picking on Penfolds. The same pattern is likely to appear for many of the wines that you enjoy enough to follow each year's new release. But I'm frankly hard pressed to think of any other consumer product but wine that has seen its prices almost double over the past six years.

Like the weather, skyrocketing wine prices may be one of those things that everybody talks about but nobody does anything about. In this case, other than giving up wine, I'm not sure there's much anyone can do. If you've got any ideas, though, I hope you'll share them. Send me E-mail at wine@wineloverspage.com or join an interactive discussion on our Wine Lovers' Discussion Group at
http://www.wineloverspage.com/cgi-bin/sb/index.cgi?fn=1&tid=19412.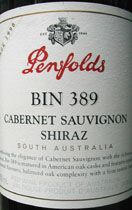 Penfolds 1998 Bin 389 South Australia Cabernet Sauvignon Shiraz ($23.99)
Inky garnet in color, almost opaque. Big minty and plummy aromas, full and ripe, characteristic of big Australian reds. It's just as brawny on the palate, peppery black fruit and lemony acidity in balance with distinct oak and substantial (14.5%) alcohol. A whack of astringent tannin shows its youth, but the forward fruit makes it easy drinking all the same. Good now, better later, and still a fair buy even at the inflated price. U.S. importer: Southcorp Wines North America, Monterey, Calif. (Aug. 9, 2001)

FOOD MATCH: Pairs well with red meat, the natural companion with big reds; specifically, a quick braise of lamb leg steak strips and onions.

WINERY WEBSITE: http://www.penfolds.com.

Express Notes:
Administrivia


This is Wine Advisor Express, daily edition of The 30 Second Wine Advisor, distributed Tuesdays through Fridays. For archives of previous articles, and to read more about wine, visit Wine Lovers' Page, http://www.wineloverspage.com.

To subscribe, change your E-mail address, switch from daily to the weekly (Mondays only) distribution, or for any other administrative matters, E-mail wine@wineloverspage.com. Please be sure to include the exact E-mail address that you used when you subscribed, so we can find your record.

Friday, Aug. 10, 2001
Copyright 2001 by Robin Garr. All rights reserved.

<!TODAY'S TEXT ENDS HERE!>

Subscribe (free) to The 30 Second Wine Advisor