<!TODAY'S TEXT STARTS HERE!>

Wine Advisor Express:
Tasting Note: What can $5 deliver?


How much of a wine can you get for $5 or so, or 5 pounds sterling or your local equivalent?

It would be naive to expect great wine at this bargain-basement price, but if you believe, as I do, that life's too short to drink poor wine, can you find wine that's worth drinking in such a low-rent neighborhood?

Many cheap wines, sadly, fall into one of two broad categories: They're sound but boring, short on the complexity or flavor interest that makes wine special. Or they're frankly flawed, afflicted with unpleasant aromas that don't invite a taste.

But here and there you'll find an occasional niche of sound wines that simply sell cheap; wines that earn respect for what they are and have never sought higher status. One such realm is Montepulciano d'Abruzzo, a wine made from the Montepulciano grape in the Abruzzi, a Central Italian region on the Adriatic coast opposite Rome. Not to be confused with Vino Nobile di Montepulciano (which is not named after a grape but the town it's made in), this Montepulciano is a country cousin in an urbane world of wine: Simple but honest, capable of doing a day's work for a day's pay.

Here's one good example, found on sale locally for $5.49. If you've got others - not just "good enough for what it is" but good enough to put on your table and enjoy - let's hear about them! I hope you'll post a reply to this topic on our Wine Lovers' Discussion Group, http://www.wineloverspage.com/cgi-bin/sb/index.cgi?fn=1&tid=19338>, or send me E-mail at wine@wineloverspage.com.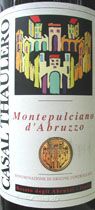 Casal Thaulero 1999 Montepulciano d'Abruzzo ($5.49)
This dark-ruby wine shows a distinctive amber-orange glint in the glass. Its aromas are full and warm, plummy, pruney and a little grapey, with an edge of spice. Its flavor is plummy and pruney, too, with bright and juicy fruit on an acidic backbone that's so tart it's almost sour. There's plenty of fruit here, and the acidity sings if you have tomatoes on your plate. Although it might be a bit "rustic" without food to tame its rough edges, it's about as good a value as I've found in this price range, without either the boredom or the serious flaws that afflict too many inexpensive wines. U.S. importer: Tyfiend Importers Inc., Troy, Mich. (Aug. 7, 2001)

FOOD MATCH: It was too hot to make a pizza, its natural companion, so I fashioned a "summer pizza" by making a pair of oversize pancakes with flour, egg and olive oil, topping them with a cool Greek salad of tomatoes, cucumbers, green peppers, black olives, feta cheese and fresh basil.

PRODUCER'S WEBSITE: http://isinet.it/abrunet/sapori/vino/thau/thau.htm (English)

Express Notes:
Administrivia


This is Wine Advisor Express, daily edition of The 30 Second Wine Advisor, distributed Tuesdays through Fridays. For archives of previous articles, and to read more about wine, visit Wine Lovers' Page, http://www.wineloverspage.com.

To subscribe, change your E-mail address, switch from daily to the weekly (Mondays only) distribution, or for any other administrative matters, E-mail wine@wineloverspage.com. Please be sure to include the exact E-mail address that you used when you subscribed, so we can find your record.

Wednesdabserug. 8, 2001
Copyright 2001 by Robin Garr. All rights reserved.

<!TODAY'S TEXT ENDS HERE!>

Subscribe (free) to The 30 Second Wine Advisor