<!TODAY'S TEXT STARTS HERE!>

Wine Advisor Express:
Italy's Collio: Head for the hills!


Collio (pronounced "Cole-yo," literally "the hills") may be one of Italy's least well-known wine regions, but ever since I had the joy of a visit there last spring, it has been one of my favorites. Crisp, dry, seafood-friendly whites like Pinot Grigio, Ribolla and Sauvignon Blanc dominate the wine scene in this pretty, hilly section of Friuli-Venezia Giulia that rises from the Adriatic near Venice and Trieste and folds into rolling hills along Northeastern Italy's border with Slovenia (former Yugoslavia).

Italian and Yugoslavian cultures meet and blend in this region, too, where family ties and friendships easily cross a border that was fortified as recently as Cold War days. Note the Slavic family name, Polencic, that's proudly borne on the label of this Pinot Grigio from Cormons, an attractive little town just a few kilometers east of Gorizia on the border.

Collio wines, sadly, are not easily found outside the region; so I was delighted to spot this import recently in a Louisville wine shop.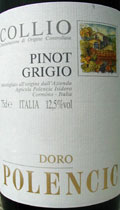 Doro Polencic 2000 Collio Pinot Grigio ($13.99)
This clear light-brass-colored wine offers fresh, clean and almost vibrant melon aromas. Full and ripe, its flavor is crisp and dry, so full of fresh fruit that it almost seems to add body to the wine, with hints of gentle mintiness and an elusive whiff of something like almonds. I doubt this is a wine to age, but should be enjoyed soon while this exuberant fruit is fresh. U.S. importer: Pellegrini Farm Vineyards, South San Francisco, Calif. (Aug. 2, 2001)

FOOD MATCH: A fine match with a light summer take on Cajun gumbo: Lemon sole fillets steamed on a slightly spicy bed of fresh chopped tomatoes and sliced okra with the Acadian "holy trinity" of green peppers, celery and onions.

WINERY WEBSITE: http://www.polencic.it/ (Italian, German and English).

Express Notes:
Administrivia


This is Wine Advisor Express, daily edition of The 30 Second Wine Advisor, distributed Tuesdays through Fridays. To subscribe, change your E-mail address, switch from daily to the weekly (Mondays only) distribution, or for any other administrative matters, E-mail wine@wineloverspage.com. Please be sure to include the exact E-mail address that you used when you subscribed, so we can find your record.

Friday, Aug. 3, 2001
Copyright 2001 by Robin Garr. All rights reserved.

<!TODAY'S TEXT ENDS HERE!>

Subscribe (free) to The 30 Second Wine Advisor