<!TODAY'S TEXT STARTS HERE!>

Wine Advisor Express:
"Classic" Italian


A couple of weeks ago, discussing the relatively new "IGT" category for Italian wines, a way to designate wines that show a characteristic "indication of geographical type" for the region from which they come, I reported on a good Tuscan red, Mazzei 1997 Poggio Alla Badiola Toscana.

Today, let's turn back to the "classics" with another wine from the same company, Mazzei's 1998 "Fonterutoli" Chianti Classico.

Chianti Classico, just as the name implies, is Chianti made from grapes grown in the central ("classic") part of the Chianti region, and it's made under somewhat stricter regulations than regular Chianti. But changes in the Italian wine regulations since 1985 have relaxed the rules. For centuries, in order to bear the name "Chianti," wines had to be made of a standard blend of grapes - two red (Sangiovese and Canaiolo) and, in small proportions, two WHITE grapes (Trebbiano and Malvasia). The new rules allow variations - wine makers must use at least 75 percent Sangiovese, but the rest may include the old varieties or even such "non-traditional" grapes as Cabernet Sauvignon or Merlot; or as Mazzei has done with this vintage, it may be 100 percent Sangiovese.

One thing remains constant - a quality Chianti (and the "Classico" all but ensures quality) will be an amiable wine, fruity yet tart, and it will go very well with food.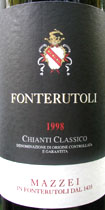 Mazzei 1998 "Fonterutoli" Chianti Classico ($21.99)
Very dark ruby color with a slight amber glint at the edge. Full, pleasant black-cherry aromas, typical of Chianti, gain texture and complexity from delicate, pleasantly earthy scents of leather and the barnyard. Ripe and plummy fruit flavors are well structured by lemon-tart acidity and soft tannins to make a wine that's enjoyable now but that will last in the cellar for years. A classic. U.S. importer: William Grant & Sons Inc., NYC. (July 31, 2001)

FOOD MATCH: Demonstrating Chianti's flexibility with Italian fare, it made a first-rate match with a meatless summer dinner of pasta with fresh basil pesto and a ration of caprese, fresh tomato slices topped with mozzarella, olive oil and basil.

WINERY WEBSITE: http://www.fonterutoli.it/index-en.html (English)

Express Notes:
Administrivia


This is Wine Advisor Express, daily edition of The 30 Second Wine Advisor, distributed Tuesdays through Fridays. To subscribe, change your E-mail address, switch from daily to the weekly (Mondays only) distribution, or for any other administrative matters, E-mail wine@wineloverspage.com. Please be sure to include the exact E-mail address that you used when you subscribed, so we can find your record.

Wednesday, Aug. 1, 2001
Copyright 2001 by Robin Garr. All rights reserved.

<!TODAY'S TEXT ENDS HERE!>

Subscribe (free) to The 30 Second Wine Advisor