<!TODAY'S TEXT STARTS HERE!>

Wine Advisor Express:
"Typical" Italian


Wine has been made in Italy for some 4,000 years, but it is only within living memory that there's been any real effort to categorize and classify the thousands of wines made from the top to the toe of the Italian "boot."

First, starting in the 1960s, came the "Denominazione di Origine Controllata" system ("D.O.C." or, in English, "Controlled denomination of origin"), which regulated some of the most traditional wine-producing regions (example: Chianti), and established specific rules about grape content and wine making that producers must follow in order to bear the regional name on the label. More regions were soon added, and a few gained the additional title "Denominazione di Origine Controllata e Garantita" ("D.O.C.G.", denomination of origin controlled and guaranteed").

The purpose behind this, simply enough, was to ensure the quality of Italy's top wines and to enforce adherence to tradition, requiring that Chianti, for example, be made in the same way as it had been since the 1300s. Wines unable to qualify for D.O.C. status are simply labeled "Vino da Tavola" ("table wine"), a catchall category that incorporates not only inexpensive everyday wine but also pricey mavericks (like the so-called "Super Tuscans") whose makers didn't care to be bound by the old ways.

Within the past decade, another category has been added, and it's a useful one for wine lovers who seek quality and value. "Indicazione Geografica Tipica" ("I.G.T."), as you've probably guessed from the lookalike words, means "indication of geographical type." This classification, less strict than the D.O.C. rules, applies to wines made in the general style of specific Italian regions. For a more detailed examination of Italian wine rules, you may enjoy the Italian Trade Commission's "Classifying Italian Wine," http://www.italianmade.com/wine/docdocg/default.htm.

Today's tasting features a Tuscan I.G.T. from a well-known Chianti maker. It very much resembles a Chianti, but it's made from 100 percent Sangiovese grapes rather than the traditional Chianti blend.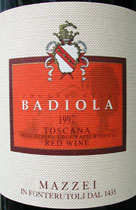 Mazzei 1997 Poggio Alla Badiola Toscana I.G.T. ($12.99)
Dark ruby with an amber glint, this wine offers forward fruit aromas, black cherries and a whiff of licorice. Full and ripe flavors, tart cherries with a whiff of pleasant bitter almond, are mouth-filling and long. U.S. importer: Empson (U.S.A.) Inc., Alexandria, Va. (July 9, 2001)

FOOD MATCH: Fine with whimsical miniature "pizzas" made with caprese (mozzarella slices and basil on fresh tomato slices) on thin cornmeal pancakes.

WINERY WEBSITE: http://www.fonterutoli.it/index-en.html (English)

Announcing:
Wine 'Toon Calendar 2002!


Be among the first to order the Wine Lovers Page Wine 'Toon Calendar! Wine lovers won't want to miss our handy and chuckle-worthy collection of cartoonist Chuck Stoudt's zany wine 'toons ... plus dozens of favorite wine quotes for every season, AND a highlighted Wine Link of the Week! If you pre-order the Wine Toon Calendar before Sept. 1, 2001, it's only $9.99 plus shipping and handling. After Sept. 1, prices will go up. Order now, and you'll be all set for holiday giving! For the details, see: http://www.wineloverspage.com/calendar/2002toon.shtml.

Express Notes:
Administrivia


This is Wine Advisor Express, daily edition of The 30 Second Wine Advisor, distributed Tuesdays through Fridays. To change your E-mail address, switch from daily to the weekly (Mondays only) distribution, or for any other administrative matters, E-mail wine@wineloverspage.com. Please be sure to include the exact E-mail address that you used when you subscribed, so we can find your record.

Friday, July 20, 2001
Copyright 2001 by Robin Garr. All rights reserved.

<!TODAY'S TEXT ENDS HERE!>

Subscribe (free) to The 30 Second Wine Advisor