<!TODAY'S TEXT STARTS HERE!>

Wine Advisor Express:
Fresh tomatoes and Italian wine


One of the great joys of mid-July in these parts is the long-awaited arrival of fresh garden tomatoes, which finally start ripening all at once and turn up everywhere at produce stands and even in our own garden.

Fresh, juicy, ripe and sweet, they're so good that we often fashion dinners with tomatoes as the centerpiece during these first exciting summer harvest days. Last night, for instance, I chopped a couple of big ones (peeled) into chunks, tossed them with a little olive oil and finely chopped garlic, just warmed them through, and tossed them with hot penne pasta, salt and pepper, and bunches of finely chopped fresh basil and flatleaf parsley plus a few fresh mozzarella dice.

And when it's time to choose a wine to match, I generally look for a snappy red, and it's very likely to be Italian. Chianti works well because of its high acidity and fresh fruit, which seems to play well with the tangy sweetness of fresh tomatoes. Last night, though, I went a different direction with a Dolcetto d'Alba, a wine that's actually low in acid, but makes up for it with plummy fruit and a surprisingly astringent tannic character that also sings a happy Italian song with tomatoes.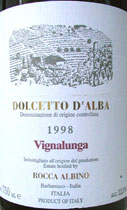 Rocca Albino 1998 Vignalunga Dolcetto d'Alba ($12.99)
Inky blackish-purple, almost opaque. Plummy and peppery aromas, with a whiff of the pleasant scent of violets that shows up in many Northwestern Italian reds. Round and full in flavor, plummy black fruit, soft but perceptible tannic astringency and crisp but not overbearing fresh-fruit acidity. Good, full-flavored red ... absolutely shatters the myth that Dolcetto is a light, "Beaujolais-style" wine. A Marc de Grazia selection, represented in the U.S. by Vintner Select, Cincinnati, and several other importers. (July 12, 2001)

FOOD MATCH: As noted, its fruit and astringency make it a natural with fresh tomatoes in a "salsa cruda" pasta with mozzarella.


Express Notes:
Administrivia


This is Wine Advisor Express, daily edition of The 30 Second Wine Advisor, distributed Tuesdays through Fridays. To change your E-mail address, switch from daily to the weekly (Mondays only) distribution, or for any other administrative matters, E-mail wine@wineloverspage.com. Please be sure to include the exact E-mail address that you used when you subscribed, so we can find your record.

Tuesday, July 17, 2001
Copyright 2001 by Robin Garr. All rights reserved.

<!TODAY'S TEXT ENDS HERE!>

Subscribe (free) to The 30 Second Wine Advisor