<!TODAY'S TEXT STARTS HERE!>

REMINDER: All editions in text format


As announced last week, because many subscribers have had persistent problems with the HTML edition of The 30 Second Wine Advisor, we are sending the plain-text edition to all subscribers for now. A hotlink is included with each week's tasting note for those who would like to see the formatted version of the wine report with label images.

30 Second Wine Tasting Tip:
Popping a cork for the New Year


The cork comes out with a festive pop, as much fun as a firecracker; and then the wine pours out with a prickly parade of tiny bubbles. It's no wonder that Champagne (and sparkling wines from around the world inspired by the French original) is the beverage of choice for most of us for New Year's Eve and other celebrations.

With my warmest holiday wishes for Christmas, Hanukkah, Kwanzaa, Ramadan, Winter Solstice or whatever seasonal festival you celebrate in your home, let's devote this week's short holiday edition to a quick pre-New Year's review of five assorted bubblies that I've tried recently. They range from a Champagne of real quality and value to decent bubblies from Italy and New Mexico, of all places; and a pair of very low-price "pop" sparklers that exceed the expections one might bring to sparkling wine in the $6 range. You'll find the reviews below.

Add in the outstanding Champagne Pol Roger that I reviewed in our Dec. 5 edition (http://www.wineloverspage.com/wines/wt120500.shtml), and you've got a half-dozen sparkling-wine recommendations covering every price range but the high-end luxury models that sell for $50 and up. If you want to splurge in that category, you're on your own ... but it's hard to go wrong.

Got any sparkling-wine recommendations that combine quality and value? I'd love to hear about them and hope you'll let me know, either by joining in the chat on our Wine Lovers' Discussion Group, or sending me a note by E-mail to wine@wineloverspage.com. I regret that the growing circulation of the "Wine Advisor" makes it difficult for me to reply individually to every note, and my travels this month will also limit my ability to respond; but I'll answer as many as I can; and please be assured that all your input helps me do a better job of writing about wine.

We hope you'll invite your wine-loving friends to register for their own free weekly copy at http://www.wineloverspage.com/wineadvisor.

30 Second Tasting Notes:
Five good sparkling wines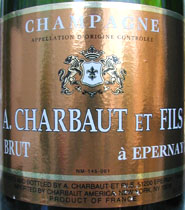 A. Charbaut et Fils non-vintage Champagne Brut ($24.99)
A relatively modern (1948) Champagne house, Charbaut devotes much of its production to special-label brands for restaurants and distributors. The wines bottled under its own name are a little harder to find but generally offer good value, as in this Brut. Clear pale gold in color with the requisite lasting pinpoint bubbles, it offers a fresh aroma with an odd but pleasant fresh-dairy scent that evokes peaches and cream. Its flavor is fresh and crisp, mouth-filling citric fruit and zippy acidy; flavors follow the nose in a long, clean finish. U.S. importer: Charbaut America, NYC. (Dec. 24, 2000)


FOOD MATCH: An exceptional partner with a light pre-holiday dinner of potato-and-leek soup with a dash of truffle oil and hot onion-potato bread with a bit of mild Corsican goat cheese on the side.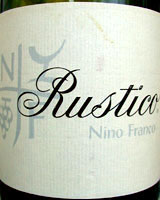 Nino Franco non-vintage "Rustico" Prosecco di Valdobbiadene ($13.99)
This interesting Italian sparkler is a clear straw color, with persistent pinpoint bubbles. Yeasty, cheesy, earthy white fruit aromas feature apples and rising bread dough. Bone-dry and fresh flavor, cooking apples and yeast, earthy and surprisingly complex. U.S. importer: Vin DiVino Ltd., Chicago. (Dec. 20, 2000)
FOOD MATCH: Aperitif.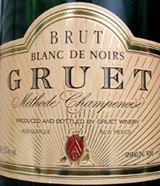 Gruet non-vintage Brut Blanc de Noirs ($14.99)
Despite the French-sounding name, this is a New Mexico winery that has established a sound national reputation for quality sparkling wine. Pale gold, with a frothy mousse and a lasting stream of bubbles, it's appley and yeasty, with pleasant aromas and a frothy mouthfeel, clean and fresh, simple fruit and tart acidity. More than competitive at this midrange price. (Dec. 19, 2000)
FOOD MATCH: Thick bean-with-ham-hock soup and fresh-baked Italian bread.

Motif "Classic" California Sparkling Wine ($5.99)
Although sweet and simple for my taste, this "pop" sparkler from the giant Canandaigua Wine Co. is really a credible bubbly without the nasty chemical flavors and sour twang that afflicts many of the sparkling wines at this bottom-end price point. Pale straw in color, with surprisingly persistent bubbles, it offers fresh white-fruit aromas with a slight peachy scent; crisp and quite sweet in flavor, it's clean, not cloying. If you need to bring a bottle to an office party that's not populated by serious wine enthusiasts, this offers a decent, affordable option. (Dec. 20, 2000)
FOOD MATCH: Aperitif.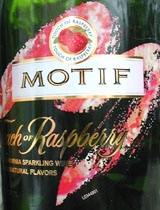 Motif "Touch of Raspberry" California Sparkling Wine ($5.99)
The distinct raspberry aroma of this inexpensive wine signals that it's another "pop" wine, sweet and fruity, a soft-drink for adults. Like Cananduigua's "Classic" sparkler above, though, it rises above the competition by virtue of being pleasant and lacking obvious flaws. Citric and snappy, its sweet raspberry flavor is fresh and clean, and stays that way even when the wine warms in the glass. (Dec. 19, 2000)

FOOD MATCH: Aperitif.


30 Second Advertising Partner:
Winetasting.com

Where do you go to find those special wines you like? A warehouse store? A specialty retailer? The former offers great values and the latter broad selection; but to buy those hard-to-find special "nuggets," until now you had to go right to the winery. Canít get to Napa Valley? Now you can visit your favorite wineryís online tasting room at Winetasting.com!

Winetasting.com is an online cooperative of Californiaís leading wineries selling directly to wine lovers. This gives customers like you unique access to limited-release wines not available outside the tasting room. For full information, visit http://www.winetasting.com/hub/landing.asp?wlpgid=WLPG001LA. I have known these folks for a long time and can confidently recommend them.

30 Second Administrivia

This free weekly E-mail publication is distributed to subscribers every Monday. Previous editions are archived on The Wine Lovers' Page. See http://www.wineloverspage.com/wineadvisor/thelist.shtml.

You are on the subscription list because you registered during a visit to Robin Garr's Wine Lovers' Page. If for any reason you no longer want to receive this publication, simply send a short E-mail to 'wine@wineloverspage.com' asking to be unsubscribed (and, if you wish, offering us any suggestions you may have as to how we could have served you better), and we'll remove your name from the list. We do not use this list for any other purpose and will never give or sell your name or E-mail to anyone.

If your E-mail program is having trouble handling the images in this edition, feel free to request that we switch you from the HTML to TEXT edition ... or vice versa. Please contact us in the same way if your E-mail address changes. And of course we welcome feedback, suggestions, and ideas for future columns. Send us E-mail at wine@wineloverspage.com.

All the wine-tasting reports posted here are consumer-oriented. In order to maintain objectivity and avoid conflicts of interest, I purchase all the wines I rate at my own expense in retail stores and accept no samples, gifts or other gratuities from the wine industry.

More time for wine?

You don't need to wait for Mondays to read about wine! Drop in any time on Robin Garr's Wine Lovers' Page, where we add new tasting notes several times each week and frequently expand our selection of wine-appreciation articles, tips and tutorials.

If you'd like to talk about wine online with fellow wine enthusiasts around the world, we'd be delighted to have you join the interactive, international forums in our Wine Lovers' Discussion Group.

Vol. 2, No. 49, Dec. 25, 2000

<!TODAY'S TEXT ENDS HERE!>

Subscribe (free) to The 30 Second Wine Advisor