<!TODAY'S TEXT STARTS HERE!>

30 Second Wine Tasting Tip:
Let's get the wine on the road!

Over the river and through the woods, to Grandmother's house we go ...

You're headed home for the holidays, and you'd like to take along a bottle or two of fine wine. Does this plan make sense? Will your delicate wines survive the trip? Will you run into trouble at the airport?

As a fairly frequent business traveler, I've often packed wine to share with friends in distant cities. For this week's discussion, let's take a quick look at some of the considerations involved.

AIR TRAVEL: I never put wine in checked baggage. The risks of breakage or pilferage are simply too great. A full case will fit in the standard overhead compartment; three or four bottles go in my carry-on bag with room to spare for my shirts and toiletries. If I can't carry it on, I don't take it.

AIRLINE SECURITY: There is no security issue with sealed, labeled wine bottles. The inspectors may ask to hand-inspect your bag to check that the bottles are clearly labeled and unopened. Airline regulations may forbid opening the bottles in flight - they would rather sell you their mini-bottles (and have control over your consumption) - but there's no rule against taking the wine with you.

AUTO AND GROUND TRAVEL: If you're driving on vacation (or taking the train or bus), similar considerations apply: Pack your wine with care. Wrap each bottle separately in paper bags or even towels, and avoid shaking them up any more than necessary during travel.

TRAVEL SHOCK: Fine wines - older reds in particular - may go into a temporary condition in which they don't show their best during the first few days to weeks after shipment. This shouldn't be a serious concern for wines hand-carried with care, but it might make sense to save your oldest and most fragile wines for an occasion when you can enjoy them at home. (Some friends have shipped older wines in advance of their trip, to give the wine time to "rest" at its destination before serving.)

BE PREPARED: You might tuck a corkscrew into your travel kit. It would be a shame to get ready to open that prized bottle with the holiday dinner only to discover that your host doesn't have the tools to pull the cork!

Have you traveled with wine? Share your experiences in a note to wine@wine-lovers-page.com. I regret that the growing circulation of the "Wine Advisor" makes it difficult for me to reply individually to every note, but I'll answer as many as I can; and please be assured that all your input helps me do a better job of writing about wine. Please feel free to get in touch if you'd like to comment on our topics and tasting notes, suggest a topic for a future bulletin, or just talk about wine.

If you're enjoying The 30 Second Wine Advisor, we hope you'll tell your wine-loving friends to register for their own free weekly copy at http://www.wine-lovers-page.com/wineadvisor.

30 Second Tasting Notes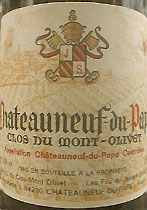 Clos du Mont-Olivet 1997 Chateauneuf-du-Pape ($22.99)
Clear ruby in color, this delicious red Rhône wine breathes red-fruit and herbal aromas that lead into a full-bodied, juicy fruit flavor with lots of fragrant black-pepper. Although it's not an inexpensive wine, at this price it's well below the median for Chateauneuf and represents good value. It would make a good holiday gift, although note that it should either be drunk up within the next year or so, while it's still fruity and fresh; or cellared for several years until it matures. Assuming it follows the usual aging pattern for Chateauneuf, it will start "closing down" in coming months, after which it should be held until around 2004, when its complex flavors of maturity will start to show. U.S. importer: Vintner Select, Cincinnati. (Dec. 18, 1999)

FOOD MATCH: The "red wine with beef" formula works here: It's excellent with pot roast.


30 Second Wine Link

Under pressure from the wine and liquor distribution industry, many states in the U.S. have made it a criminal offense for consumers to purchase wine direct from out-of-state wineries and wine merchants via mail, phone or the Internet. Free the Grapes, a non-profit advocacy organization established by a consortium of wineries and wine organizations, has a comprehensive website detailing this situation and suggesting ways consumers can oppose it. If you live in Kentucky (hi, neighbors!), we've set up a Web form for a new petition drive aimed at overturning the state law here. See www.wine-lovers-page.com/ky.shtml.

Wine Lovers' Voting Booth

We expect that many of the world's wine lovers will be enjoying wine on this very special New Year's Eve, as we celebrate the calendar rolling over to a number that doesn't begin with "1" for the first time in a thousand years. So, in a spirit of fun, we're curious to know where you will be when the horns blow at midnight Dec. 31. I hope you'll drop by our Wine Lovers' Voting Booth and let us know.

Meanwhile, if you haven't settled on a suitable sparkling wine for the occasion, I've assembled some tasting notes and other resources into a simple, non-commercial New Year's Guide to bubbly.

30 Second Advertising Partners

California Wine Club, www.cawineclub.com, is the perfect, affordable way to get two different bottles of excellent wine every month, along with its fun and fact-filled newsletter Uncorked. Commercially unavailable, these wines are like secret treasures we hand-select from California's small, award-winning wineries. Join for as many months as you like, or use The California Wine Club as a special, unique gift for friends, family, customers and colleagues. You can reach the Club at the link above or, in the U.S., by calling 1-800-777-4443.

YOU HAVEN'T YET BOUGHT CHAMPAGNE FOR Y2K?
Don't panic! Ambrosia has 20 outstanding Champagnes and Sparkling Wines priced from $15 for your Millennium celebration. Go to www.ambrosiawine.com/ambrosia2/products/preview.asp?CatID=8&all=1 to see our complete list.
We have hundreds of wines priced from $10 to $300. Just go to www.ambrosiawine.com/ambrosia2/finewines/gateway.asp and select your price category. Can't decide which wines to send? Why not send a subscription to one of our wine clubs? We have seven clubs priced from $25 to $139 per shipment. Go to www.ambrosiawine.com/ambrosia2/wineclubs/gateway.asp for complete descriptions of each club. Can't get online right now? Call us at 1-800-435-2225 or email us at service@ambrosiawine.com to place your order.

30 Second Administrivia

This free weekly E-mail publication is distributed to subscribers every Monday. Previous editions are archived on The Wine Lovers' Page. See www.wine-lovers-page.com/wineadvisor/thelist.shtml.

You are on the subscription list because our records indicate that you registered during a visit to Robin Garr's Wine Lovers' Page. If for any reason you don't want to receive this publication, simply send E-mail to 'wine@wine-lovers-page.com' and we'll remove your name from the list. We do not use this list for any other purpose and will never give or sell your name or E-mail to anyone.

If your E-mail program is having trouble handling the images in this edition, feel free to request that we switch you from the HTML to TEXT edition ... or vice versa. We welcome feedback, suggestions, and ideas for future columns. Send us E-mail at wine@wine-lovers-page.com.

All the wine-tasting reports posted here are consumer-oriented. In order to maintain objectivity and avoid conflicts of interest, I purchase all the wines I rate at my own expense in retail stores and accept no samples, gifts or other gratuities from the wine industry.

More time for wine?

You don't need to wait for Mondays to read about wine! Drop in any time on Robin Garr's Wine Lovers' Page, where we add new tasting notes several times each week and frequently expand our selection of wine-appreciation articles, tips and tutorials.

If you'd like to talk about wine online with fellow wine enthusiasts around the world, we'd be delighted to have you visit the interactive forums in our Wine Lovers' Discussion Group. If you're from another part of the world and don't feel entirely comfortable chatting in English, visit our International Forum and introduce yourself in the language of your choice.

Vol. 1, No. 48, Dec. 20, 1999

<!TODAY'S TEXT ENDS HERE!>

Subscribe (free) to The 30 Second Wine Advisor