<!TODAY'S TEXT STARTS HERE!>

30 Second Wine Tasting Tip:
Gifts for the wine lover

Christmas, Hanukkah, Kwanzaa, Winter Solstice - whatever your holiday of choice, this is the gift-giving season - and with the excitement surrounding the imminent arrival of the Year 2000, this year's holiday season seems extra special.

If you're a procrastinator like me, you probably still have shopping to do. But happily, it's easy to choose gifts for the wine lovers on your list. To make things easy, I'm devoting this week's edition to a survey of wine and wine-related gifts. I'll include some Web links for your convenience. With the understanding that I don't want to make this bulletin overly commerical, I'm including both some of our advertising partners and some quality merchants who have no connection with The Wine Lovers' Page.

WINE ACCESSORIES: Most wine lovers would welcome another corkscrew, whether it's a fancy French Laguiole model, a sleek Screwpull or even just a sturdy waiter's model. Artisans on the Web, http://aoweb.com/frameset.html, is an excellent source for corkscrews, including the Laguiole.

WINE GLASSES: If price isn't an object, many wine enthusiasts consider Riedel glasses, made in Austria, among the finest available. Riedel's website, www.riedel.com, tells about the glasses and where to buy them around the world. Looking for budget wine glasses? The large glasses available at Mikasa outlet stores, www.mikasa.com, are often sold for under $5 a glass, an amazing price for quality glassware.

WINE SOFTWARE: For the computer-using wine lover, software programs abound. Wine Technologies, www.winetech.com, one of our advertising partners, offers the popular Robert Parker's Wine Advisor and Cellar Manager on CD-ROM. Developed in conjunction with the wine critic Robert M. Parker Jr. and derived from his newsletter, The Wine Advocate, it combines an extensive database of wine information with a Visual Cellar Manager for keeping track of your own wines.

WINE BOOKS: We're proud to host Jeff Kellgren's respected wine-book catalog on The Wine Lovers' Page. It now features secure online ordering for "New and Noteworthy" books, which you'll find at www.wine-lovers-page.com/kellgren/new.shtml.

WINE ITSELF: Finally, it goes without saying that any wine lover will be pleased with a gift of wine. See "30 Second Advertising Partners" below for links to the California Wine Club and Ambrosia Wines, both California-based firms offering online retail sales and monthly "wine club" shipments wherever the law allows. And of course, for last-minute shopping, your local wine store is likely to be less crowded than the mall!

What's your idea of a perfect wine-related gift? Tell me your thoughts at wine@wine-lovers-page.com. I regret that the growing circulation of the "Wine Advisor" makes it difficult for me to reply individually to every note, but I'll answer as many as I can; and please be assured that all your input helps me do a better job of writing about wine. Please feel free to get in touch if you'd like to comment on our topics and tasting notes, suggest a topic for a future bulletin, or just talk about wine.

If you're enjoying The 30 Second Wine Advisor, we hope you'll tell your wine-loving friends to register for their own free weekly copy at http://www.wine-lovers-page.com/wineadvisor.

30 Second Tasting Notes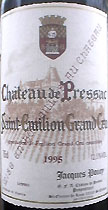 Chateau de Pressac 1995 Saint-Emilion Grand Cru ($15.99)
Here's a decent Bordeaux at a midrange price that wouldn't make a bad "stocking-stuffer" for a wine lover on your gift list. Dark ruby in color, it offers ripe cherry-berry aromas, a bit shy at first but opens up with a little time in the glass. Tart, clean fruit flavors, a bit austere and softly tannic, but like the aroma, rewards a little time spent swirling, sniffing and contemplating. Youthful but approachable, this - and other similarly priced 1995 Saint-Emilions - makes a good gift choice because it can be enjoyed now (especially with appropriate food on the table) but would also reward a little cellar time. U.S. importer: H. Dennert Distributing Corp., Cincinnati. (Dec. 14, 1999)

FOOD MATCH: Bordeaux shows an affinity with lamb, and this one is no exception, pairing well with a boneless leg of lamb braised with aromatic spices.


30 Second Wine Link

If you're interested in wine-and-health issues and information about the healthy enjoyment of wine in moderation, you'll find a series of interesting essays by a physician on the Hawthorne Mountain Vineyards (British Columbia, Canada) Website, http://www.hmvineyard.com/wine_and_health.html.

Follow-up on images in 'Wine Advisor'

Thanks to all of you who sent me troubleshooting reports on the images and formatting in our HTML edition. As we had feared, it appears that Outlook Express and Netscape mail usually work as expected (although a few Netscape 4.7 users reported problems), but many other E-mail software packages, including Eudora and Lotus Notes, most versions of AOL and most free, Web-based E-mail programs do not. If you are signed up for the HTML version but aren't getting the pictures, please feel free to drop me a note at wine@wine-lovers-page.com and ask to be switched to the plain-text version. Or vice-versa, of course!

30 Second Advertising Partners

SEND WINE - IT MAKES A GREAT GIFT!
Even here in wine country, the gift of wine is the ultimate gesture of friendship. At Ambrosia, we think there is no gift that says the things you want to say better than wine. We have hundreds of wines priced from $10 to $300. Just go to www.ambrosiawine.com/ambrosia2/finewines/gateway.asp and select your price category. Can't decide which wines to send? Why not send a subscription to one of our wine clubs? We have seven clubs priced from $25 to $139 per shipment. Go to www.ambrosiawine.com/ambrosia2/wineclubs/gateway.asp for complete descriptions of each club. Can't get online right now? Call us at 1-800-435-2225 or email us at service@ambrosiawine.com to place your order.

California Wine Club, www.cawineclub.com, is the perfect, affordable way to get two different bottles of excellent wine every month, along with its fun and fact-filled newsletter Uncorked. Commercially unavailable, these wines are like secret treasures we hand-select from California's small, award-winning wineries. Join for as many months as you like, or use The California Wine Club as a special, unique gift for friends, family, customers and colleagues. You can reach the Club at the link above or, in the U.S., by calling 1-800-777-4443.

30 Second Administrivia

This free weekly E-mail publication is distributed to subscribers every Monday. Previous editions are archived on The Wine Lovers' Page. See www.wine-lovers-page.com/wineadvisor/thelist.shtml.

You are on the subscription list because our records indicate that you registered during a visit to Robin Garr's Wine Lovers' Page. If for any reason you don't want to receive this publication, simply send E-mail to 'wine@wine-lovers-page.com' and we'll remove your name from the list. We do not use this list for any other purpose and will never give or sell your name or E-mail to anyone.

If your E-mail program is having trouble handling the images in this edition, feel free to request that we switch you from the HTML to TEXT edition ... or vice versa. We welcome feedback, suggestions, and ideas for future columns. Send us E-mail at wine@wine-lovers-page.com.

All the wine-tasting reports posted here are consumer-oriented. In order to maintain objectivity and avoid conflicts of interest, I purchase all the wines I rate at my own expense in retail stores and accept no samples, gifts or other gratuities from the wine industry.

More time for wine?

You don't need to wait for Mondays to read about wine! Drop in any time on Robin Garr's Wine Lovers' Page, where we add new tasting notes several times each week and frequently expand our selection of wine-appreciation articles, tips and tutorials.

If you'd like to talk about wine online with fellow wine enthusiasts around the world, we'd be delighted to have you visit the interactive forums in our Wine Lovers' Discussion Group. If you're from another part of the world and don't feel entirely comfortable chatting in English, visit our International Forum and introduce yourself in the language of your choice.

Vol. 1, No. 47, Dec. 13, 1999

<!TODAY'S TEXT ENDS HERE!>

Subscribe (free) to The 30 Second Wine Advisor