<!TODAY'S TEXT STARTS HERE!>

30 Second Wine Tasting Tip:
Champagne: No shortage now!


Remember last year around this time, when the media was full of reports that the world supply of Champagne might run short in the face of a huge demand for pricey bubbly to welcome the 2000s? Sparkling wine prices went up, and although serious shortages never materialized, some of the big-name Champagnes like Dom Perignon became hard to find in some markets.

It's a year later, and a few voices crying in the wilderness are still out there trying to explain to the rest of us that the real Millennium doesn't start until Jan. 1, 2001.

But the hype has ended, the world's supply of Champagne is secure, and the excellent news for wine lovers is that sparkling wine prices in many parts of the world are surprisingly low as the holiday season approaches.

That's apparently because distributors and retailers in many cities overbought for the rush that never happened, resulting in a glut for 2001. Accordingly, high-end sparkling wine prices are dropping around the world.

Last week, correspondents in our Wine Lovers' Discussion Group report, government-run shops in British Columbia, Canada, reduced many sparkling wine prices 50 percent to "blow out" the excess; at the same time, the Liquor Control Board of Ontario had 1989 Heidsieck Monopole marked down from last year's CDN$90 to $60. Prices of luxury New Zealand sparklers were lower than last year at shops in Wellington and Auckland, and in the UK, reported Peter May, "Retailers massively overstocked, which means that all this year Champagne has been sold at huge discounts. Supermarkets were shifting the stuff at half price. ... And I'm still getting mailers and seeing adverts for 20 percent off, buy one get one free etc."

Similar reports of inventory excess and fire-sale pricing came in from many parts of the U.S. "Sparkling wine sales are off, deals are to be had," observed Chuck Smith, a wine retailer in Lexington, Va.

Local pricing may vary - some retailers report having no reason to cut prices this year. But so many shops have surpluses that it shouldn't be hard to find a good deal, like the $25 Pol Roger I enjoyed in Louisville last week. So if you want to celebrate New Year's with something special in the way of a bubbly, you may be in luck this year.

For more information on Champagne, click to Champagnes.com, the official site of the Champagne Wines Information Bureau, which offers basic information in English with a bit of a marketing spin. For more detailed information on Champagne, try the Comité Interprofessionel du Vin de Champagne site, which may be read in French, English and German.

Have you run into good bargains or interesting marketing approaches for bubbly this year? Tell me about it by sending E-mail to wine@wineloverspage.com. I regret that the growing circulation of the "Wine Advisor" makes it difficult for me to reply individually to every note, and my travels this month will also limit my ability to respond; but I'll answer as many as I can; and please be assured that all your input helps me do a better job of writing about wine.

We hope you'll invite your wine-loving friends to register for their own free weekly copy at http://www.wineloverspage.com/wineadvisor.

30 Second Tasting Notes:
Full-bodied Champagne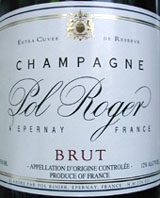 Champagne Pol Roger non-vintage Brut ($24.99)
Pale gold, with a frothy mousse that subsides to a persistent fountain of tiny bubbles. Fresh, juicy apples in the aroma, framed by an appetizing whiff of milk chocolate that I often note in sparkling wines made with Pinot Noir in the blend. Full-bodied and toasty, as I expect of Pol Roger, finishing crisp, fresh and clean. A very fine Champagne at a price that, by the lofty standard of the genre, is more than reasonable for a celebratory occasion. U.S. importer: Frederick Wildman and Sons Ltd., NYC. (Dec. 5, 2000)

FOOD MATCH: Fine Champagne complements a wide variety of foods, and in this case made an amiable match with a meatless casserole of cardoons (a celery-like Mediterranean vegetable) baked with potatoes and Gruyere cheese.


Wine Lovers' Voting Booth:
Are you adventurous?


Some wine lovers find the excitement of discovery part of the fun of wine. These adventurers like to take risks with their wine budget as they find new grapes or regional wines. But other equally passionate wine lovers are vinous conservatives who avoid risks when wine is at stake: They won't waste money on an unknown wine that they might not like.

For this week's Wine Lovers' Voting Booth we would like to know where you stand, asking you to tell us, "On a scale of 1 to 10, how adventurous is your wine buying?" I hope you'll drop by the Voting Booth, http://www.wineloverspage.com/votebooth, and cast your just-for-fun ballot.

30 Second Advertising Partner:
Winetasting.com

Where do you go to find those special wines you like? A warehouse store? A specialty retailer? The former offers great values and the latter broad selection; but to buy those hard-to-find special "nuggets," until now you had to go right to the winery. Canít get to Napa Valley? Now you can visit your favorite wineryís online tasting room at Winetasting.com!

Winetasting.com is an online cooperative of Californiaís leading wineries selling directly to wine lovers. This gives customers like you unique access to limited-release wines not available outside the tasting room. For full information, visit http://www.winetasting.com. I have known these folks for a long time and can confidently recommend them.

30 Second Administrivia

This free weekly E-mail publication is distributed to subscribers every Monday. Previous editions are archived on The Wine Lovers' Page. See http://www.wineloverspage.com/wineadvisor/thelist.shtml.

You are on the subscription list because you registered during a visit to Robin Garr's Wine Lovers' Page. If for any reason you no longer want to receive this publication, simply send a short E-mail to 'wine@wineloverspage.com' asking to be unsubscribed (and, if you wish, offering us any suggestions you may have as to how we could have served you better), and we'll remove your name from the list. We do not use this list for any other purpose and will never give or sell your name or E-mail to anyone.

If your E-mail program is having trouble handling the images in this edition, feel free to request that we switch you from the HTML to TEXT edition ... or vice versa. Please contact us in the same way if your E-mail address changes. And of course we welcome feedback, suggestions, and ideas for future columns. Send us E-mail at wine@wineloverspage.com.

All the wine-tasting reports posted here are consumer-oriented. In order to maintain objectivity and avoid conflicts of interest, I purchase all the wines I rate at my own expense in retail stores and accept no samples, gifts or other gratuities from the wine industry.

More time for wine?

You don't need to wait for Mondays to read about wine! Drop in any time on Robin Garr's Wine Lovers' Page, where we add new tasting notes several times each week and frequently expand our selection of wine-appreciation articles, tips and tutorials.

If you'd like to talk about wine online with fellow wine enthusiasts around the world, we'd be delighted to have you join the interactive, international forums in our Wine Lovers' Discussion Group.

Vol. 2, No. 47, Dec. 11, 2000

<!TODAY'S TEXT ENDS HERE!>

Subscribe (free) to The 30 Second Wine Advisor