<!TODAY'S TEXT STARTS HERE!>

Important: Administrative notes

• Next week's issue delayed: I'll be traveling over the weekend, so look for The 30 Second Wine Advisor on Wednesday or Thursday of next week.

• Are your pictures coming through? I've had a disturbing number of E-mail notes from subscribers to our HTML edition who say the images aren't showing. If this applies to you, please drop me a note at wine@wine-lovers-page.com and let me know what E-mail software you're using.

• Thanks for the flood of E-mail! This is a little embarrassing, but as our readership passes the 10,000 mark, it's increasingly difficult for me to respond quickly to every E-mail note I receive. I'm not happy about this, because no matter how large we grow, I consider this group a community and want to communicate with you. But I ask your understanding if I can't respond to your mail promptly, or if I'm not always able to acknowledge notes that don't ask a specific question.

And now, back to our regular bulletin ...

30 Second Wine Tasting Tip:
Counting calories: Diets and wine

You don't have to be a dietitian to understand that the traditional "beer belly" didn't get its name from carrot sticks and dry toast. But how about wine? If you're trying to shed pounds, is total abstinence necessary?

Well, maybe not total abstinence. But moderation and good judgement certainly apply. Although wine contains no fat or cholesterol, you can't drink a lot of it without showing the results on your waistline. The exact calorie content of wine varies depending on both its alcohol and sugar content, so a strong, sweet wine like Port will deliver a substantially larger calorie count than a dry table wine of normal strength.

Based on nutritional data from the U.S. Department of Agriculture, a 5-ounce glass of dry red or white table wine will pack around 125 calories - not much less than the 150 calories in a 12-ounce bottle of beer or even the 160 calories in an 8-ounce glass of whole milk. A 5-ounce ration of rich dessert wine can go up to 225 calories or even more ... in the same caloric territory as a 2-inch wedge of cheesecake.

If you're following one of the currently faddish low-carbohydrate diets, moreover, you may want take wine off your bill of fare for the duration. A five-ounce glass of dry white table wine may have 1.25 grams of carbohydrates, while a similar portion of red may go up to 2.5 grams; sweet wines will have substantially more.

But for most of us, it's certainly practical to include wine in a good moderate lifestyle of sensible eating and exercise. Cut back on sweet drinks and fatty snacks, and you'll have plenty of room in your diet for a little wine; and if you think you need to diet seriously, consult your physician for advice.

Have you dealt with working wine into a diet regimen? If you'd like to talk about it, send me E-mail at wine@wine-lovers-page.com. I regret that the growing circulation of the "Wine Advisor" makes it difficult for me to reply individually to every note, but I'll answer as many as I can; and please be assured that all your input helps me do a better job of writing about wine. Please feel free to get in touch if you'd like to comment on our topics and tasting notes, suggest a topic for a future bulletin, or just talk about wine.

If you're enjoying The 30 Second Wine Advisor, we hope you'll tell your wine-loving friends to register for their own free weekly copy at http://www.wine-lovers-page.com/wineadvisor.

30 Second Tasting Notes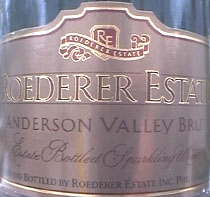 Roederer Estate non-vintage Anderson Valley (California) Sparkling Wine ($18.99)
Another candidate for New Year's Eve toasting (or enjoyment at any time of year), Roederer Estate, the U.S. property of the historic Champagne house of the same name, is widely recognized as one of the best California sparkling wines. Pale straw color, it shows unusually high carbonation even for a sparkler, with a persistent foamy mousse that froths up like the head on a beer and hits the nose with a bit of a prickle. Past that, it offers good fresh-apple and milk-chocolate aromas, with good fresh fruit flavors, crisp and very tangy acidity. (Dec. 3, 1999)

FOOD MATCH: Demonstrating the versatility of good sparkling wine at the table, it marries well with roast Cornish hens.


30 Second Wine Link

In one of our early editions, I recommended the excellent website run by my pal Tom Cannavan, a wine lover and educator who lives in Scotland. Now Tom has given his pages a thorough renovation, and they're even better than before! I'd encourage you to visit, and bookmark, www.wine-pages.com.

Wine Lovers' Voting Booth

Following up on last week's opinion survey on dessert wines, the new topic in our Wine Lovers' Voting Booth asks a simple question: When do you drink sweet wines? After dinner, with dinner, as an aperitif? Please drop in and cast your vote; then see how your answer compares with those from fellow wine lovers around the world.

30 Second Advertising Partner

California Wine Club, this quarter's sponsor of The 30 Second Wine Advisor, offers members two different bottles of excellent, affordable wine every month (available where permitted by law), along with its monthly newsletter "Uncorked." You can reach the Club at the link above or, in the U.S., by calling 1-800-777-4443.

30 Second Administrivia

This free weekly E-mail publication is distributed to subscribers every Monday. Previous editions are archived on The Wine Lovers' Page. See www.wine-lovers-page.com/wineadvisor/thelist.shtml.

You are on the subscription list because our records indicate that you registered during a visit to Robin Garr's Wine Lovers' Page. If for any reason you don't want to receive this publication, simply send E-mail to 'wine@wine-lovers-page.com' and we'll remove your name from the list. We do not use this list for any other purpose and will never give or sell your name or E-mail to anyone.

If your E-mail program is having trouble handling the images in this edition, feel free to request that we switch you from the HTML to TEXT edition ... or vice versa. We welcome feedback, suggestions, and ideas for future columns. Send us E-mail at wine@wine-lovers-page.com.

All the wine-tasting reports posted here are consumer-oriented. In order to maintain objectivity and avoid conflicts of interest, I purchase all the wines I rate at my own expense in retail stores and accept no samples, gifts or other gratuities from the wine industry.

More time for wine?

You don't need to wait for Mondays to read about wine! Drop in any time on Robin Garr's Wine Lovers' Page, where we add new tasting notes several times each week and frequently expand our selection of wine-appreciation articles, tips and tutorials.

If you'd like to talk about wine online with fellow wine enthusiasts around the world, we'd be delighted to have you visit the interactive forums in our Wine Lovers' Discussion Group. If you're from another part of the world and don't feel entirely comfortable chatting in English, visit our International Forum and introduce yourself in the language of your choice.

Vol. 1, No. 46, Dec. 6, 1999

<!TODAY'S TEXT ENDS HERE!>

Subscribe (free) to The 30 Second Wine Advisor