<!TODAY'S TEXT STARTS HERE!>

30 Second Wine Tasting Tip:
Wine for the Holidays


Nothing makes holiday shopping easier than having a wine lover on your gift list. Itís a breeze to shop for a friend or relative who has a hobby interest in wine, not only because gift options abound at all ranges of price, but also because you can skip crowded malls and head straight for the relatively calm ambience of the wine shop.

Letís take a look at a Santaís list of suitable gifts for a wine fancier, starting at the low end with a few inexpensive trinkets.

Corkscrews: OXO Good Grips, manufacturer of those kitchen tools with fat, black handles intended for easy gripping, has a new line of wine-cork removers in many styles. My favorite is the standard "waiterís style" corkscrew, shaped like a pocketknife with a sturdy screw and pry lever. Iíve seen them for as little as $5.99 at wine shops.

Available at the same price is the new Boomerang corkscrew, a sturdy waiter-style model with a "foil cutter" device built into the handle. Squeeze it around the bottle neck and twist, and it neatly removes the tip of the foil or plastic capsule that protects the bottleís business end.

If you want something a little fancier, consider the Rabbit cork extractor, a gizmo with pliers-like handles that resemble, well, rabbit ears. Squeeze the "ears" around the bottle neck, then pull a sturdy lever down over the cork to run in the screw; pull the lever back and out comes the cork, no muss and no fuss. At $60 or so, itís heavy going for a corkscrew, but a recipient of this gift may be the only oenophile on his block to have one.

For true ostentation in the realm of corkscrews, though, nothing will do but La Laguiole, a truly fine instrument made by traditional Basque artisans in southern France. Combining a quality pocketknife and powerful corkscrew in one, it comes with a variety of fine wood or bone handles attached to shiny stainless-steel working parts and a presentation certificate that reads, "Someday you will present this corkscrew to your grandchildren." Laguioles range from around $80 to $150 or more.

Words About Wine: Two new editions of wine book standards lead my recommendations for this holiday season:

The Oxford Companion to Wine (Second Edition), edited by Jancis Robinson, may be the most comprehensive single reference book about wine. This 800-page volume isnít for light bedside reading. But its $65 list price comes into perspective for serious wine enthusiasts when you figure that this is just over 2 cents for each of its 3,000 entries, from "abboccato" (sweet Italian wine) to "Zweigelt" (a red Austrian grape).

Hugh Johnsonís World Atlas of Wine (Fourth Edition), is the next best thing to a trip to the wine country. Loaded with detailed topographical maps of the worldís wine regions, plus color photos and articles, itís another must-have book for anyone whoís even slightly geeky about vino.

Wine, Wine, Wine: Last but far from least, thereís no better gift for the wine fancier than the fruit of the vine itself. A bottle of bubbly is always in good taste, and prices range from less than $10 for domestic and Spanish sparklers up to more than $100 for the leading French vintage Champagnes.

Finally, if youíve got a lot of folks who enjoy wine on your holiday list and youíre running out of time, hereís a canny strategy: Buy 12 bottles of a popular wine, taking advantage of the volume discount that many wine shops offer if you buy by the case. Wrap them individually, and youíve taken care of a dozen friends.

Happy Holidays!

Do you have gift-buying tips for the wine lover on your list? Tell me about it by sending E-mail to wine@wineloverspage.com. I regret that the growing circulation of the "Wine Advisor" makes it difficult for me to reply individually to every note, and my travels this month will also limit my ability to respond; but I'll answer as many as I can; and please be assured that all your input helps me do a better job of writing about wine.

We hope you'll invite your wine-loving friends to register for their own free weekly copy at http://www.wineloverspage.com/wineadvisor.

Final Australia report


During most of November, it was my great pleasure to tour many of the wine regions of Australia and New Zealand, along with the honor of serving as an international wine judge at the Sydney International Wine Competition. My reports and photos of visits to some 45 wineries, with tasting notes on more than 400 wines, are now online as my Down Under Wine Diary 2000. I hope you enjoy them!

Speaking of Australia, I'd like to correct one error in last week's Wine Advisor, in which I spoke of Australia's Hunter Valley as being well-known for its Rieslings. In fact, as several readers pointed out, Hunter "Riesling" was an old marketing name for its Semillon, an entirely different wine.

30 Second Tasting Notes:
A tasty rarity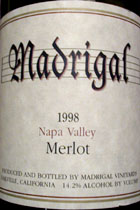 Madrigal 1998 Napa Valley Merlot ($24)
Very dark garnet, with cherry and vanilla scents, fruity and appealing. Full, juicy fruit flavor, ripe and structured; chocolate-covered cherries wiht a fresh, dry finish. Approachable Merlot, but watch that second glass: It's powerful stuff at 14.2% alcohol. It's difficult to find, I'm afraid, with just a few hundred cases made. I purchased mine from the winery, and you might try their Website, http://www.madrigalvineyards.com. (Dec. 3, 2000)

FOOD MATCH: The wine's fruit and spice went well indeed with a pilaf of chicken and rice with almonds, pine nuts and a whiff of cinnamon.


30 Second Advertising Partner:
OnlineVines

OnlineVines specializes in rare, limited-production wines from the best vintages, including classified Bordeaux, limited-production Cabernet, "grand cru" Burgundy, vintage Port and many other special wines. All OnlineVines wines are individually selected and highly rated so their customers are assured of a first-rate bottle of wine. OnlineVines also provides special ordering services, personal shopping, as well as corporate and personal gift programs. For a closer look at this highly recommended online shop, click to http://www.onlinevines.com.

30 Second Advertising Partner:
Winetasting.com

Where do you go to find those special wines you like? A warehouse store? A specialty retailer? The former offers great values and the latter broad selection; but to buy those hard-to-find special "nuggets," until now you had to go right to the winery. Canít get to Napa Valley? Now you can visit your favorite wineryís online tasting room at Winetasting.com!

Winetasting.com is an online cooperative of Californiaís leading wineries selling directly to wine lovers. This gives customers like you unique access to limited-release wines not available outside the tasting room. For full information, visit http://www.winetasting.com. I have known these folks for a long time and can confidently recommend them.

30 Second Administrivia

This free weekly E-mail publication is distributed to subscribers every Monday. Previous editions are archived on The Wine Lovers' Page. See http://www.wineloverspage.com/wineadvisor/thelist.shtml.

You are on the subscription list because you registered during a visit to Robin Garr's Wine Lovers' Page. If for any reason you no longer want to receive this publication, simply send a short E-mail to 'wine@wineloverspage.com' asking to be unsubscribed (and, if you wish, offering us any suggestions you may have as to how we could have served you better), and we'll remove your name from the list. We do not use this list for any other purpose and will never give or sell your name or E-mail to anyone.

If your E-mail program is having trouble handling the images in this edition, feel free to request that we switch you from the HTML to TEXT edition ... or vice versa. Please contact us in the same way if your E-mail address changes. And of course we welcome feedback, suggestions, and ideas for future columns. Send us E-mail at wine@wineloverspage.com.

All the wine-tasting reports posted here are consumer-oriented. In order to maintain objectivity and avoid conflicts of interest, I purchase all the wines I rate at my own expense in retail stores and accept no samples, gifts or other gratuities from the wine industry.

More time for wine?

You don't need to wait for Mondays to read about wine! Drop in any time on Robin Garr's Wine Lovers' Page, where we add new tasting notes several times each week and frequently expand our selection of wine-appreciation articles, tips and tutorials.

If you'd like to talk about wine online with fellow wine enthusiasts around the world, we'd be delighted to have you join the interactive, international forums in our Wine Lovers' Discussion Group.

Vol. 2, No. 46, Dec. 4, 2000

<!TODAY'S TEXT ENDS HERE!>

Subscribe (free) to The 30 Second Wine Advisor