<!TODAY'S TEXT STARTS HERE!>

30 Second Wine Tasting Tip:
What to do with a leftover cork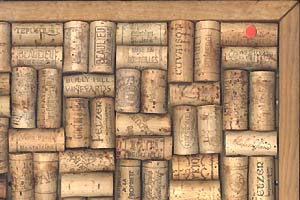 After you've pulled the cork out of the wine you enjoyed with dinner, do you throw it away?
If you're like me and a lot of my wine-loving friends, you probably feel just a little funny about this. For all their faults (as discussed in our Nov. 1 edition), there's something comforting about the cork. Its natural quality and simplicity seem reassuring, and it's just the right size to roll in your hand while the wine waiter goes through his ritual. And when it's imprinted with the winery name or logo, it can be an instant souvenir of a memorable occasion.
So, no, I don't throw away my wine corks, and I'll bet you don't, either. I toss mine into a plastic grocery bag that hangs on a nail, and from time to time I think about making something out of them.
The last time I actually did that was almost a decade ago, but the result still gets daily use in our household: Our wine-cork bulletin board (pictured above) not only holds telephone numbers and notes, it's a permanent reminder of some of the wines we enjoyed during the '80s; and I didn't have to be Martha Stewart to make it.
From a local home-supply store, I purchased a 16-by-24-inch sheet of particle board, an 8-foot length of 3/4-inch wood molding, and a large bottle of carpenter's wood glue. In the only difficult part of the process, I sawed the molding at 45-degree angles (as in the upper-right corner of the photo) and made a frame, which I glued to the board. Then it was just a matter of choosing corks of similar size and glueing them into the frame in alternating directions, as shown. I used carpenter's glue for this purpose because it's relatively slow to set, allowing plenty of time for corrections, but makes a tough and permanent seal after about 12 hours' drying time.
With a piece of wire nailed on the back for a hanger, the job was done ... and one of these days I'll take the thousands of corks I've been saving and make a few more bulletin boards as gifts.
What's your favorite use for a wine cork? Cat toys? Holiday wreaths? Send me E-mail at wine@wine-lovers-page.com. I regret that the growing circulation of the "Wine Advisor" makes it difficult for me to reply individually to every note, but I'll answer as many as I can; and please be assured that all your input helps me do a better job of writing about wine. Please feel free to get in touch if you'd like to comment on our topics and tasting notes, suggest a topic for a future bulletin, or just talk about wine.
If you're enjoying The 30 Second Wine Advisor, we hope you'll tell your wine-loving friends to register for their own free weekly copy at http://www.wine-lovers-page.com/wineadvisor.
30 Second Tasting Notes
A Classical Chianti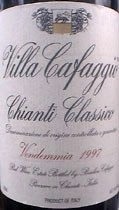 Villa Cafaggio 1997 Chianti Classico ($13.99)
Actually it's a Chianti Classico, but the principle is the same. In Chianti, as in many of the legally defined Italian wine regions, the vineyards that lie in the central portion - in this case, north of Siena and south of Florence in Tuscany - are believed to produce the most traditional examples of the wine of the country and thus add the adjective "Classico" to the regional name. It's a clear, dark ruby in color, with ripe black-cherry and spicy oak aromas, "classic" Chianti indeed. Full, fresh tart-cherry fruit flavors are framed with soft tannins and tart, lemony acidity. Black fruit and zingy acidity persist in a long finish. Clean and fresh, enjoyable now, but this is one Chianti that will reward time in the cellar. U.S. importer: F.W.I., Rutherford, N.J. (Nov. 26, 1999)

FOOD MATCH: Good match with an autumnal dinner of duck sausage with fennel tossed with brussels sprouts in a little butter.


30 Second Wine Link

To add a bit of background to this week's Chianti tasting, see Chianti ... Remembrance of Wines Past, an enjoyable essay about the topic on Roland Marandino's TableWine page. For more on the subject, see Chianti Net, "the short way to Chianti," a commercial site (in English) featuring information about both wine and tourism.

30 Second Advertising Partner

California Wine Club, this quarter's sponsor of The 30 Second Wine Advisor, offers members two different bottles of excellent, affordable wine every month (available where permitted by law), along with its monthly newsletter "Uncorked." You can reach the Club at the link above or, in the U.S., by calling 1-800-777-4443.

30 Second Administrivia

This free weekly E-mail publication is distributed to subscribers every Monday. Previous editions are archived on The Wine Lovers' Page. See www.wine-lovers-page.com/wineadvisor/thelist.shtml.

You are on the subscription list because our records indicate that you registered during a visit to Robin Garr's Wine Lovers' Page. If for any reason you don't want to receive this publication, simply send E-mail to 'wine@wine-lovers-page.com' and we'll remove your name from the list. We do not use this list for any other purpose and will never give or sell your name or E-mail to anyone.

If your E-mail program is having trouble handling the images in this edition, feel free to request that we switch you from the HTML to TEXT edition ... or vice versa. We welcome feedback, suggestions, and ideas for future columns. Send us E-mail at wine@wine-lovers-page.com.

All the wine-tasting reports posted here are consumer-oriented. In order to maintain objectivity and avoid conflicts of interest, I purchase all the wines I rate at my own expense in retail stores and accept no samples, gifts or other gratuities from the wine industry.

More time for wine?

You don't need to wait for Mondays to read about wine! Drop in any time on Robin Garr's Wine Lovers' Page, where we add new tasting notes several times each week and frequently expand our selection of wine-appreciation articles, tips and tutorials.

If you'd like to talk about wine online with fellow wine enthusiasts around the world, we'd be delighted to have you visit the interactive forums in our Wine Lovers' Discussion Group. If you're from another part of the world and don't feel entirely comfortable chatting in English, visit our International Forum and introduce yourself in the language of your choice.

Vol. 1, No. 45, Nov. 29, 1999

<!TODAY'S TEXT ENDS HERE!>

Subscribe (free) to The 30 Second Wine Advisor