<!TODAY'S TEXT STARTS HERE!>

Administrative note: We're still on the road


Hello again from Australia, where my travels continue this week. Because of this, The 30 Second Wine Advisor is coming to in in plain-text form only. Please note that I may not be able to respond quickly to E-mail, and I will not be able to accommodate administrative requests - including address changes, unsubscribe requests and the like - until I return home at the end of the month. I appreciate your patience.

30 Second Wine Tasting Tip:
Sitting in judgement on wine


When you're browsing in your favorite wine shop, you'll occasionally notice a bottle of wine adorned with a gold seal indicating that the wine was a medal winner in a wine competition.

Wine competitions are held in many of the world's wine producing areas. In California, for example, just about every state and county fair has one. But the most organized wine competition rounds of all may be held in Australia, where there's a recognized circuit of wine judges and a fairly accepted standard for judging and recognizing gold, silver and bronze medal awards.

I've just come from a week as a judge at one of Australia's respected contests - the Sydney International Wine Competition ("Top 1OO") - and I thought you might be interested in a quick overview of how this one works.

A total of 12 judges were invited to participate, and under the Sydney competition's specific rules - the point being to ensure an international point of view - at least half of them are non-Australian. The incoming judges met last Sunday at Sydney International Airport and merrily loaded onto a van for the two-hour drive up to the posh Lilianfels resort hotel in the Blue Mountains, where we would be housed for the weeklong duration of the event. (Thanks to low-hanging clouds and fog, we rarely got a glimpse of the scenic mountains, but as it turned out, we would be too busy to do much but work.)

More than 1,700 wines were entered in the competition, most of them from Australia and New Zealand but with a substantial number from the U.S., France, Italy, South America and even Greece. Happily, no one judge was required to taste them all, a task that would be daunting even for the most experienced taster. Rather, we broke into six teams of two, each with one non-Australian judge (I was teamed with Melbourne wine writer Max Allen, a jovial chap with a keen palate, the author of "Crush," a recent and excellent book about Australian wine).

On Monday and Tuesday, the group would divide the wines into style categories, each team taking its share. Max and I judged Year 2000 Rieslings, light Chardonnays and medium-bodied Shirazes and Cabernet-Merlots, among others. We faced down about 200 wines each day, taking them on in "flights" of 60 or so, with the goal of reaching agreement on approximately the 15 percent we thought worthy of sending forward to the finals for tasting by all 12 judges. This proved interesting, as Max and I could generally agree unerringly on the specific character of each wine but brought antipodally different opinions to some of the more extreme examples. I love herbal, lean, Bordeaux-style reds, while fat, oaky and monstrously big Ozzie reds leave me cold; Max's preferences ran almost directly opposite. With a little friendly negotiating, though, we managed to agree on all our finalists in terms of quality without having to bring in a referee.

For the rest of the week, we entered into a remarkable judging process in which the Sydney International stands alone: All the finalist wines - about 300 of them - were judged again by the full panel, each judge working independently, basing our conclusions not only on each wine's intrinsic quality but also on how well it goes with food.

To do this, senior judges sorted all the finalists into about 10 groups based on their weight and style (light dry whites, medium-bodied dry reds, fortified, and so on) without regard to their grape or place of origin. Then the judges were served the wines - one category at a time - with an accompanying dish fashioned by Jacqueline Mason, Warren's wife and a world-class cook. Some of the dishes were better than some of the wines, frankly: A tuna carpaccio, a veal kidney pie and an amazing dish of white fish rolled around crab stand out in my mind's eye as courses that would have done credit to any restaurant.

A culinary joy quickly turned into hard work, though, as we thoughfully examined each of the hundreds of finalists with its matching dish, jotting down our impressions of each and our thoughts on why it did or did not work with the food. We kept notes on both paper forms and dictated our comments into tape recorders, turning over all the reports in a growing stack that will take the competition staff weeks to sort and process.

The results will be announced later in the year on the competition's Website, http://www.top100wines.com. Nobody knows the results yet, even the judges. But based on the finalists I tasted last week, I can assure you this: Any of the wines that end up in the Top 1OO will be well worth seeking out.

The judges were mostly wine journalists, with a few wine-industry folks thrown in. It was a great pleasure working with Australian judges Huon Hooke, Max Allen, Nick Bulleid, Mary Ann Egan and Neil Hadley; New Zealanders Brent Marris, Paul White and John Belsham; Charlie Olken from the U.S.; Charles Metcalfe from Britain and Isabel Bachelar from France.

If you have a comment on this week's article, feel free send me E-mail at wine@wineloverspage.com. I regret that the growing circulation of the "Wine Advisor" makes it difficult for me to reply individually to every note, and my travels this month will also limit my ability to respond; but I'll answer as many as I can; and please be assured that all your input helps me do a better job of writing about wine.

We hope you'll invite your wine-loving friends to register for their own free weekly copy at http://www.wineloverspage.com/wineadvisor.

30 Second Tasting Notes:
Value "Port" from Australia

Hardy's non-vintage "Whiskers Blake" Australian Tawny Port ($14.99)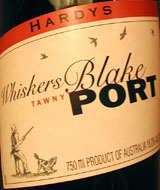 Clear dark amber with an orange glint. Plums, apricots, caramel and a whiff of orange peel on the nose and palate; sticky-sweet but with fresh, lemon-squirt acidity to provide structure and keep the sugar from cloying. Purists would note that this is not from Portugal and thus not a true Port. Those purists would miss the delights of a really excellent and affordable dessert wine. U.S. importer: International Cellars, Chantilly, Va. (Nov. 2, 2000)

FOOD MATCH: Served alone for after-dinner sipping.


30 Second Advertising Partner:
Winetasting.com

Where do you go to find those special wines you like? A warehouse store? A specialty retailer? The former offers great values and the latter broad selection; but to buy those hard-to-find special "nuggets," until now you had to go right to the winery. Canít get to Napa Valley? Now you can visit your favorite wineryís online tasting room at Winetasting.com!

Winetasting.com is an online cooperative of Californiaís leading wineries selling directly to wine lovers. This gives customers like you unique access to limited-release wines not available outside the tasting room. For full information, visit http://www.winetasting.com. I have known these folks for a long time and can confidently recommend them.

30 Second Administrivia

This free weekly E-mail publication is distributed to subscribers every Monday. Previous editions are archived on The Wine Lovers' Page. See http://www.wineloverspage.com/wineadvisor/thelist.shtml.

You are on the subscription list because you registered during a visit to Robin Garr's Wine Lovers' Page. If for any reason you no longer want to receive this publication, simply send a short E-mail to 'wine@wineloverspage.com' asking to be unsubscribed (and, if you wish, offering us any suggestions you may have as to how we could have served you better), and we'll remove your name from the list. We do not use this list for any other purpose and will never give or sell your name or E-mail to anyone.

If your E-mail program is having trouble handling the images in this edition, feel free to request that we switch you from the HTML to TEXT edition ... or vice versa. Please contact us in the same way if your E-mail address changes. And of course we welcome feedback, suggestions, and ideas for future columns. Send us E-mail at wine@wineloverspage.com.

All the wine-tasting reports posted here are consumer-oriented. In order to maintain objectivity and avoid conflicts of interest, I purchase all the wines I rate at my own expense in retail stores and accept no samples, gifts or other gratuities from the wine industry.

More time for wine?

You don't need to wait for Mondays to read about wine! Drop in any time on Robin Garr's Wine Lovers' Page, where we add new tasting notes several times each week and frequently expand our selection of wine-appreciation articles, tips and tutorials.

If you'd like to talk about wine online with fellow wine enthusiasts around the world, we'd be delighted to have you join the interactive, international forums in our Wine Lovers' Discussion Group.

Vol. 2, No. 44, Nov. 20, 2000

<!TODAY'S TEXT ENDS HERE!>

Subscribe (free) to The 30 Second Wine Advisor