<!TODAY'S TEXT STARTS HERE!>

30 Second Wine Tasting Tip:
Beaujolais for Turkey Day

If it's "red wine with red meat and white wine with white meat," what's a wine lover to do with turkey, a flavorful bird with both white meat and dark?

This is not a trivial issue in North America, where roast turkey is the entree of choice for the Thanksgiving Day feast on the fourth Thursday of November in the U.S. and the second Monday of October for our brothers and sisters in Canada. But it's also a good question around the world, because the big native American bird (which Benjamin Franklin suggested would be a better national symbol than the eagle) has become a popular festive dish just about everywhere.

Turkey makes a challenging wine match not only because it has both light and dark meat, but because its meat has an oily quality that's not always friendly to dry wines.

I call my solution "the cranberry sauce principle." Cranberry sauce is a traditional condiment with turkey because it's both fruity and tart; so choose a wine with similar characteristics -- Beaujolais or Zinfandel if you want a red, or Riesling, Gewurztraminer or Chenin Blanc if you're inclined to a white.

To test this theory further, we stole a march on the holiday season by roasting a turkey last week and trying it - both hot from the oven and as leftovers - with a variety of red and white wines. The results substantiated the theory - two Beaujolais, a Vouvray (Chenin Blanc) and an Australian Riesling all worked reasonably well. But the Beaujolais stood out, both a high-end French model and a modest American nouveau-style wine making tasty, synergistic matches that went beyond merely washing down the food.

What's your favorite Thanksgiving Day wine? Drop me a note at wine@wine-lovers-page.com. I regret that the growing circulation of the "Wine Advisor" makes it difficult for me to reply individually to every note - your response to last week's article about corks, for example (which I'll summarize in a future edition), was overwhelming. But I'll answer as many as I can; and please be assured that all your input helps me do a better job of writing about wine. Please feel free to get in touch if you'd like to comment on our topics and tasting notes, suggest a topic for a future bulletin, or just talk about wine.

If you're enjoying The 30 Second Wine Advisor, we hope you'll tell your wine-loving friends to register for their own free weekly copy at http://www.wine-lovers-page.com/wineadvisor.

30 Second Tasting Notes
Beaujolais for Turkey Day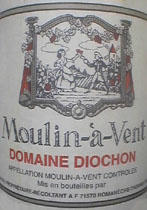 Domaine Diochon 1997 Moulin-à-Vent Cuvée Vieilles Vignes ($16.99)
Representing the luxury end of the Beaujolais scale, this fine red actually benefits from a bit of aging and is showing better now then when I last tasted it in January. Dark ruby in color, it breathes delicious blueberry and spice aromas and shows full, tart berry fruit and zippy acidity on the palate; dry and full, clean and lasting, it's a well structured and balanced wine. U.S. importer: Kermit Lynch Wine Merchant, Berkeley, Calif. (Nov. 12, 1999)

FOOD MATCH: Working exactly like cranberry sauce with roast turkey, its bright fruit and snappy acidity make it a perfect match with both light and dark meat.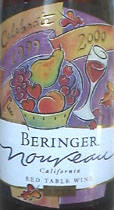 Beringer 1999 California "Nouveau" Red Table Wine ($7.59)
Clear reddish-purple, with forward aromas of candied strawberries and banana oil, leading into a very ripe berry and banana flavor, juicy and tart with a hint of sweetness. Bananas and a hint of bitter almond linger in the finish. Resembles the traditional Nouveau Beaujolais style of France, but more ripe, forward and grapey than most. (Nov. 14, 1999)

FOOD MATCH: The cranberry-sauce principle continues to hold; exuberant fruit and tart-sweet flavor improve our attitude toward leftover turkey, sliced and warmed in leftover gravy.


These reviews are archived, along with two whites that made slightly less memorable matches with turkey, in my online wine notes at www.wine-lovers-page.com/wines/wt111499.shtml.

More matching food and wine

My turkey-and-wine advice, and much more, are incorporated in a new feature on The Wine Lovers' Page, our Food and Wine Matching Engine, where you can click any food item or entree from a long and growing list and read a short article about wine matches for it. This is a work in progress, and we're eager to hear your suggestions about food-and-wine pairings that have worked well for you.

30 Second Wine Link

Whether you're thinking about Beaujolais for Thanksgiving or celebrating the annual arrival of the Nouveau Beaujolais on Thursday, Nov. 18, you'll enjoy Beaujolais, the official site of the Union Interprofessionnelle des Vins du Beaujolais (the Interprofessional Beaujolais Wine Union) and Le Pays Beaujolais (Association for the promotion of tourism in Beaujolais). The page is a little slow to load, at least from across the Atlantic, but it's worth the wait. Available in many languages (click the appropriate flag from the opening page), it contains substantial news and information about Beaujolais the wine and Beaujolais the region, with links to geography, history, economy, its wines, "gourmanderie," tourism and organizations.

30 Second Advertising Partner

California Wine Club, this quarter's sponsor of The 30 Second Wine Advisor, offers members two different bottles of excellent, affordable wine every month (available where permitted by law), along with its monthly newsletter "Uncorked." You can reach the Club at the link above or, in the U.S., by calling 1-800-777-4443.

30 Second Administrivia

This free weekly E-mail publication is distributed to subscribers every Monday. Previous editions are archived on The Wine Lovers' Page. See www.wine-lovers-page.com/wineadvisor/thelist.shtml.

You are on the subscription list because our records indicate that you registered during a visit to Robin Garr's Wine Lovers' Page. If for any reason you don't want to receive this publication, simply send E-mail to 'wine@wine-lovers-page.com' and we'll remove your name from the list. We do not use this list for any other purpose and will never give or sell your name or E-mail to anyone.

If your E-mail program is having trouble handling the images in this edition, feel free to request that we switch you from the HTML to TEXT edition ... or vice versa. We welcome feedback, suggestions, and ideas for future columns. Send us E-mail at wine@wine-lovers-page.com.

All the wine-tasting reports posted here are consumer-oriented. In order to maintain objectivity and avoid conflicts of interest, I purchase all the wines I rate at my own expense in retail stores and accept no samples, gifts or other gratuities from the wine industry.

More time for wine?

You don't need to wait for Mondays to read about wine! Drop in any time on Robin Garr's Wine Lovers' Page, where we add new tasting notes several times each week and frequently expand our selection of wine-appreciation articles, tips and tutorials.

If you'd like to talk about wine online with fellow wine enthusiasts around the world, we'd be delighted to have you visit the interactive forums in our Wine Lovers' Discussion Group. If you're from another part of the world and don't feel entirely comfortable chatting in English, visit our International Forum and introduce yourself in the language of your choice.

Vol. 1, No. 43, Nov. 15, 1999

<!TODAY'S TEXT ENDS HERE!>

Subscribe (free) to The 30 Second Wine Advisor