<!TODAY'S TEXT STARTS HERE!>

30 Second Wine Tasting Tip:
How big is a bottle?

Wine may go back many millennia to Bronze Age times, but the wine bottle as we know it today is only about three centuries old. It was only the development of the cork-stoppered, cylindrical glass bottle - which could be stacked on its side, keeping the cork airtight and wet - that permitted the development of ageworthy wines that improve with cellaring.

The "fifth" bottle, originally one-fifth of a gallon, now rounded off metrically to 750 ml., was said to be a suitable ration for one man with dinner, back in the days when men were men (and most wine was quite low in alcoholic strength). One theory holds that this size bottle was actually the largest that early glass-blowers could produce with one full breath.

But even in those early days, for very special occasions, wineries would put up their product in impressive, oversize bottles. For reasons lost to history, most of these bottles were given the names of Biblical figures like the evil king Nebuchadnezzar and the long-lived Methuselah.

The naming conventions varied somewhat among wine regions, with the two standards being Champagne and Bordeaux in France. In case you run into a big bottle during the coming holiday and New Year's season, here's a quick field guide to the larger bottle sizes:

CHAMPAGNE
Magnum: 1.5 liters (two bottles)
Jeroboam: 3 liters (four bottles)
Rehoboam: 4.5 liters (six bottles)
Methuselah: 6 liters (eight bottles)
Salmanazar: 9 liters (12 bottles)
Balthazar: 12 liters (16 bottles)
Nebuchadnezzar: 15 liters (20 bottles)

BORDEAUX
Magnum: 1.5 liters (two bottles)
Marie-Jeanne: 2.25 liters (three bottles)
Double Magnum: 3 liters (four bottles)
Jeroboam: 4.5 liters (six bottles)
Impèriale: 6 liters (eight bottles)

Have you had the experience of sharing an oversize bottle? Can any historians shed light on the origin of the practice of using Biblical names? Drop me a note at wine@wine-lovers-page.com. I regret that the growing circulation of the "Wine Advisor" makes it difficult for me to reply individually to every note - your response to last week's article about corks, for example (which I'll summarize in a future edition), was overwhelming. But I'll answer as many as I can; and please be assured that all your input helps me do a better job of writing about wine. Please feel free to get in touch if you'd like to comment on our topics and tasting notes, suggest a topic for a future bulletin, or just talk about wine.

If you're enjoying The 30 Second Wine Advisor, we hope you'll tell your wine-loving friends to register for their own free weekly copy at http://www.wine-lovers-page.com/wineadvisor.

30 Second Advertising Partner

Speaking of oversize bottles, if you want to get in the spirit of giving during the holidays, check out www.ambrosiawine.com and its Big Bottle Charity Auction through November. Ambrosia will donate net proceeds of the auction to help fund a very needy cause, farmworker housing for vineyard workers. Three separate "six pack" lots contain six magnums, six 3-liter bottles, and six 6-liter bottles including such noteworthy items as Phelps Insignia and Caymus Special Select.

Ambrosia was the first wine direct marketer to offer ultra-premium Napa and Sonoma Cabernet Sauvignon. Now, www.ambrosiawine.com brings the best of current releases and well-aged Cabs to web surfers, too.

30 Second Tasting Notes
A crisp, affordable French white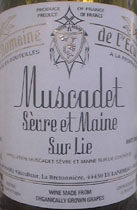 Domaine de l'Ecu 1998 Muscadet Sèvre et Maine Sur Lie ($9.99)
Pale brass color, with musky melon and crisp citric aromas and flavors, lemon-lime and a whiff of tangerine. Crisp, dry and very tart, it makes a fresh and palate-cleansing table wine. U.S. importer: Kysela Pere et Fils Ltd., Winchester, Va. (Nov. 7, 1999)

FOOD MATCH: Although traditionally a seafood wine, it made a perfect match with veal chops finished with a pan-reduction sauce with butter and lemon juice.


Wine Lovers' Voting Booth

Our new biweekly Wine Lovers' Voting Booth topic probes the phenomenon of "cult" wines, the growing and international niche of wines that are eagerly sought by collectors and investors and that increase in price vis-a-vis their peers because the market-driven demand exceeds the available supply. We'd rather not name specific examples, as one person's "cult" may be another's treasure; but we think most wine lovers who follow market trends will have a pretty good sense of what they are. I hope you'll drop by and add your opinion to those from fellow wine lovers around the world.

30 Second Wine Link

Chateau Musar, the most famous winery in Lebanon, produces world-class wines despite its vulnerability in one of the most war-torn nations of the decade. Musar's Website, available in both English and French, is somewhat slow to load, being graphics-heavy and located far down the Internet pipeline. But as a window into a very unusual byway of the world of wine, it's well worth the visit.

30 Second Advertising Partner

California Wine Club, this quarter's sponsor of The 30 Second Wine Advisor, offers members two different bottles of excellent, affordable wine every month (available where permitted by law), along with its monthly newsletter "Uncorked." You can reach the Club at the link above or, in the U.S., by calling 1-800-777-4443.

30 Second Administrivia

This free weekly E-mail publication is distributed to subscribers every Monday. Previous editions are archived on The Wine Lovers' Page. See www.wine-lovers-page.com/wineadvisor/thelist.shtml.

You are on the subscription list because our records indicate that you registered during a visit to Robin Garr's Wine Lovers' Page. If for any reason you don't want to receive this publication, simply send E-mail to 'wine@wine-lovers-page.com' and we'll remove your name from the list. We do not use this list for any other purpose and will never give or sell your name or E-mail to anyone.

If your E-mail program is having trouble handling the images in this edition, feel free to request that we switch you from the HTML to TEXT edition ... or vice versa. We welcome feedback, suggestions, and ideas for future columns. Send us E-mail at wine@wine-lovers-page.com.

All the wine-tasting reports posted here are consumer-oriented. In order to maintain objectivity and avoid conflicts of interest, I purchase all the wines I rate at my own expense in retail stores and accept no samples, gifts or other gratuities from the wine industry.

More time for wine?

You don't need to wait for Mondays to read about wine! Drop in any time on Robin Garr's Wine Lovers' Page, where we add new tasting notes several times each week and frequently expand our selection of wine-appreciation articles, tips and tutorials.

If you'd like to talk about wine online with fellow wine enthusiasts around the world, we'd be delighted to have you visit the interactive forums in our Wine Lovers' Discussion Group. If you're from another part of the world and don't feel entirely comfortable chatting in English, visit our International Forum and introduce yourself in the language of your choice.

Vol. 1, No. 42, Nov. 8, 1999

<!TODAY'S TEXT ENDS HERE!>

Subscribe (free) to The 30 Second Wine Advisor