<!TODAY'S TEXT STARTS HERE!>

Administrative note: November's editions


As noted last week, I will be traveling in Australia and New Zealand this month. Accordingly, I'm distributing The 30 Second Wine Advisor in text form only, and editions may be shorter than usual or off schedule, although I'll try to stick as close to our standard Monday distribution as I can. Please note that I may not be able to respond quickly to E-mail, and I will not be able to accommodate administrative requests - including address changes, unsubscribe requests and the like - until I return home at the end of the month. I appreciate your patience, and look forward to sending you reports on my wine-tasting adventures Down Under.

30 Second Wine Tasting Tip:
November and thoughts on Beaujolais


In less than two weeks, much of the wine-loving world will be inundated with the annual uproar about the arrival of the Nouveau Beaujolais, billed as the world's first wine made from the new year's vintage.

This isn't quite accurate - if nothing else, it ignores the Southern Hemisphere wines made from grapes harvested in March and April - but, as I've always said, if nothing else, the arrival of each year's Nouveau is as good an excuse as any for an autumn party.

Wine Lovers' Page columnist Sheral Schowe has written on Nouveau this week, so rather than go into detail here, I'll simply refer you to her article, http://www.wineloverspage.com/sheralschowe/beaujolais.shtml.

As the Thanksgiving Day holiday approaches in the U.S., however, I'd like to repeat a piece of advice I've given before: There's almost no better match for the traditional holiday turkey feast than Beaujolais! Even a grapey, fruity new Nouveau will do, but in my opinion it's better still to uncork a bottle of the region's finer stuff, one of the so-called Beaujolais "Grand Cru" wines.

Ten specific villages in the Beaujolais region are so well-regarded that their wines are sold under the village names rather than the generic "Beaujolais." Here's the roster: Brouilly, Chénas, Chiroubles, Côte de Brouilly, Fleurie, Juliénas, Morgon, Moulin-a-Vent, Régnié and Saint-Amour.

Like the Nouveau, the generic Beaujolais and somewhat more upscale Beaujolais-Villages, the "Grand Crus" are made from the Gamay grape and share Beaujolais's customary ripe, soft, and fruity character. But they add an intriguing complexity that you won't find in the simpler wines; and for a holiday dinner, that's well worth seeking out and paying a little extra to enjoy.

If you have a comment on this week's article, feel free send me E-mail at wine@wineloverspage.com. I regret that the growing circulation of the "Wine Advisor" makes it difficult for me to reply individually to every note, and my travels this month will also limit my ability to respond; but I'll answer as many as I can; and please be assured that all your input helps me do a better job of writing about wine.

We hope you'll invite your wine-loving friends to register for their own free weekly copy at http://www.wineloverspage.com/wineadvisor.

30 Second Tasting Notes:
A first-rate Beaujolais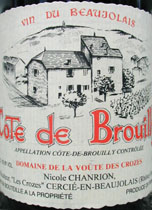 Nicole Chanrion 1997 Domaine de la Voûte des Crozes Cote du Brouilly ($13.99)
Dark garnet, with delicious, complex aromas of strawberries with earthy and herbal notes of tarragon. Bright, peppery fruit and herbs make a wine that's refreshing but worthy of more attention than just casual sipping. U.S. importer: Kermit Lynch Wine Merchant, Berkeley, Calif. (Oct. 28, 2000)

FOOD MATCH: Perfect with a quick cabbage-and-beef stir-fry tossed with pasta.


Favorite Wine Link:
"The Official Wino's Home Page"

"Distinctly different, not at all stuffy but full of complexity and a unique, enjoyable flavor" ... that's how I would describe "The Official Wino's Home Page," a wine-appreciation Website recently launched by a couple of wine-loving electronics engineers from New Jersey named Bob and John. They'd love to have you drop by at http://www.winostuff.com/. I think you'll enjoy it.

30 Second Advertising Partner:
Winetasting.com

Where do you go to find those special wines you like? A warehouse store? A specialty retailer? The former offers great values and the latter broad selection; but to buy those hard-to-find special "nuggets," until now you had to go right to the winery. Canít get to Napa Valley? Now you can visit your favorite wineryís online tasting room at Winetasting.com!

Winetasting.com is an online cooperative of Californiaís leading wineries selling directly to wine lovers. This gives customers like you unique access to limited-release wines not available outside the tasting room. For full information, visit http://www.winetasting.com. I have known these folks for a long time and can confidently recommend them.

30 Second Administrivia

This free weekly E-mail publication is distributed to subscribers every Monday. Previous editions are archived on The Wine Lovers' Page. See http://www.wineloverspage.com/wineadvisor/thelist.shtml.

You are on the subscription list because you registered during a visit to Robin Garr's Wine Lovers' Page. If for any reason you no longer want to receive this publication, simply send a short E-mail to 'wine@wineloverspage.com' asking to be unsubscribed (and, if you wish, offering us any suggestions you may have as to how we could have served you better), and we'll remove your name from the list. We do not use this list for any other purpose and will never give or sell your name or E-mail to anyone.

If your E-mail program is having trouble handling the images in this edition, feel free to request that we switch you from the HTML to TEXT edition ... or vice versa. Please contact us in the same way if your E-mail address changes. And of course we welcome feedback, suggestions, and ideas for future columns. Send us E-mail at wine@wineloverspage.com.

All the wine-tasting reports posted here are consumer-oriented. In order to maintain objectivity and avoid conflicts of interest, I purchase all the wines I rate at my own expense in retail stores and accept no samples, gifts or other gratuities from the wine industry.

More time for wine?

You don't need to wait for Mondays to read about wine! Drop in any time on Robin Garr's Wine Lovers' Page, where we add new tasting notes several times each week and frequently expand our selection of wine-appreciation articles, tips and tutorials.

If you'd like to talk about wine online with fellow wine enthusiasts around the world, we'd be delighted to have you join the interactive, international forums in our Wine Lovers' Discussion Group.

Vol. 2, No. 42, Nov. 6, 2000

<!TODAY'S TEXT ENDS HERE!>

Subscribe (free) to The 30 Second Wine Advisor