<!TODAY'S TEXT STARTS HERE!>

Quick administrative note
about November's editions


You will notice a few differences in The 30 Second Wine Advisor while I am traveling in Australia and New Zealand for most of the coming month: We will be distributing a plain-text edition only (no HTML version), and it's possible that the newsletter may be shorter than usual and may vary from its usual schedule of Monday publication. In the worst case, if I'm away from an Internet connection, we may have to skip a week; but I don't intend to do that. I may have to delay responding to E-mail; and please note that I probably will not be able to accommodate administrative requests - including address changes, unsubscribe requests and the like - until I return home at the end of the month. I appreciate your patience, and look forward to sending you reports on my wine-tasting adventures Down Under.

30 Second Wine Tasting Tip:
Wine serving temperature: A matter of degree


I'm generally skeptical about sticking slavishly to winedom's "official rules," simply because breaking with the conventional wisdom can sometimes lead us to happy new discoveries. Pinot Noir with salmon, for example, delightfully defies the seemingly stern rule about always serving white wine with fish.

But one rule that makes sense, most of the time, is the custom of serving red wines at room temperature and white wines cold. While this may sound like the ultimate in arbitrary advice, it's actually simple enough to test in the real world: If you doubt it, stick a bottle of Cabernet Sauvignon in the refrigerator for a few hours before dinner, or serve a rich, buttery Chardonnay straight off the wine rack. It probably won't take you more than one sip to decide that cold reds seem flavorless, almost dank, while warm whites come across as fat, even flabby, and lacking the refreshment that we crave.

But how precise do we need to be? This issue, like many others, seems to separate wine lovers into opposing camps. Many experts, including the prolific British wine writer Hugh Johnson, propose a careful, almost finicky calibration. In his Pocket Encyclopedia of Wine (which, by the way, is one of my most highly recommended wine-reference books), Johnson takes a stern position, stating, "No single aspect of serving wine makes or mars it so easily as getting the temperature right."

To guide us, or at least those who concur in this strict policy, Johnson provides a little chart with recommended serving temperatures ranging from 64F (18C) for "best red wines especially Bordeaux" down through 61F (16C) for red Burgundy to 54F (12C) for lighter reds like Beaujolais, 48F (9C) for dry whites, and a chilly 43F (6C) for most sweet whites and 41F (5C) for sparklers.

With all respect to Mr. Johnson, who's one of my favorite wine writers, this ultra-specific hierarchy would almost require the wine lover to carry a thermometer around. It's the kind of rule that makes me want to go get a cold (33F, 1C) beer.

In my opinion, it's as simple as this:
Put your white wines in the refrigerator. Serve them at refrigerator temperature. Pay attention as they warm in the glass, and decide for yourself the temperature that you prefer. Then let this be your guide for future serving. (I find that a half-hour out of the fridge or ice bucket makes most whites just right ... for me. Your mileage may vary.)
Keep and serve your red wines at room temperature, whatever that may be. But if it's very hot outside - or if you're choosing a light, fruity red like a Beaujolais - consider popping it in the fridge for a half-hour or so before dinner, to chill it just slightly. If you overshoot the mark, it's no disaster; just give it a few minutes to return to the temperature that you like.
Our Wine Lovers' Voting Booth this week takes on an aspect of this topic, focusing specifically on quality red table wines. I hope you'll drop by http://www.wineloverspage.com/votebooth to add your opinion to the question, "At about what temperature do you prefer to drink most red wines?"
If you have a comment or observation about wine serving temperature, feel free to chime in on our Wine Lovers' Discussion Group, where there's an active topic on this question at
http://www.wineloverspage.com/cgi-bin/sb/index.cgi?fn=1&tid=8580.
Or send me E-mail at wine@wineloverspage.com. I regret that the growing circulation of the "Wine Advisor" makes it difficult for me to reply individually to every note, but I'll answer as many as I can; and please be assured that all your input helps me do a better job of writing about wine.
We hope you'll invite your wine-loving friends to register for their own free weekly copy at http://www.wineloverspage.com/wineadvisor.
30 Second Tasting Notes:
Fresh young Vouvray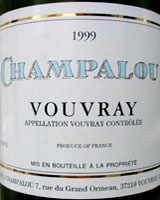 Champalou 1999 Vouvray ($11.99)
In a white-wine world where Chardonnay seems utterly dominant with Sauvignon Blanc, perhaps, in distant second place, it's an occasional pleasure to remember what a delight some of the less aggressively marketed varieties can be. This Vouvray, a Chenin Blanc from France's Loire Valley, is an excellent example. A very pale brass color, it offers fresh, light honeydew melon aromas and a crisp flavor with just a hint of fresh-fruit sweetness well balanced by lemony acidity. Delicious now, but unlike more fragile whites, will improve and gain complexity with a little cellar time. U.S. importer: Kermit Lynch Wine Merchant, Berkeley, Calif. (Oct. 29, 2000)

FOOD MATCH: Perfect with a simple, light autumn dinner of fettuccine tossed with butter and finely chopped fresh sage.


30 Second Advertising Partner:
OnLine Vines

OnLine Vines specializes in rare, limited-production wines from the best vintages, including classified Bordeaux, limited-production Cabernet, "grand cru" Burgundy, vintage Port and many other special wines. All OnLine Vines wines are individually selected and highly rated so their customers are assured of a first-rate bottle of wine. OnLine Vines also provides special ordering services, personal shopping, as well as corporate and personal gift programs. For a closer look at this highly recommended online shop, click to http://www.onlinevines.com.

30 Second Administrivia

This free weekly E-mail publication is distributed to subscribers every Monday. Previous editions are archived on The Wine Lovers' Page. See http://www.wineloverspage.com/wineadvisor/thelist.shtml.

You are on the subscription list because you registered during a visit to Robin Garr's Wine Lovers' Page. If for any reason you no longer want to receive this publication, simply send a short E-mail to 'wine@wineloverspage.com' asking to be unsubscribed (and, if you wish, offering us any suggestions you may have as to how we could have served you better), and we'll remove your name from the list. We do not use this list for any other purpose and will never give or sell your name or E-mail to anyone.

If your E-mail program is having trouble handling the images in this edition, feel free to request that we switch you from the HTML to TEXT edition ... or vice versa. Please contact us in the same way if your E-mail address changes. And of course we welcome feedback, suggestions, and ideas for future columns. Send us E-mail at wine@wineloverspage.com.

All the wine-tasting reports posted here are consumer-oriented. In order to maintain objectivity and avoid conflicts of interest, I purchase all the wines I rate at my own expense in retail stores and accept no samples, gifts or other gratuities from the wine industry.

More time for wine?

You don't need to wait for Mondays to read about wine! Drop in any time on Robin Garr's Wine Lovers' Page, where we add new tasting notes several times each week and frequently expand our selection of wine-appreciation articles, tips and tutorials.

If you'd like to talk about wine online with fellow wine enthusiasts around the world, we'd be delighted to have you join the interactive, international forums in our Wine Lovers' Discussion Group.

Vol. 2, No. 41, Oct. 30, 2000

<!TODAY'S TEXT ENDS HERE!>

Subscribe (free) to The 30 Second Wine Advisor