<!TODAY'S TEXT STARTS HERE!>

30 Second Wine Tasting Tip:
Champagne shortage revisited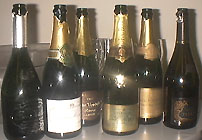 As the calendar winds down toward the most unusual New Year's in many a lifetime -- the first time in a thousand years that the calendar will begin with a digit other than "1" -- there's still talk of a possible Champagne shortage as millions of celebrants around the world uncork bottles of bubbly in celebration.

At this point, however, most of the evidence of a shortage seems to be found more at the distribution level than among retailers or consumers.

I spent Saturday at the huge Party Source store in Northern Kentucky, near Cincinnati, one of the largest and best stocked wine shops in the U.S., where wine managers Mary Dorr and Gary Boswell said some of the distributors of major Champagne labels have been able to deliver less product this autumn than the store had ordered -- in some cases cutting back orders from 180 twelve-bottle cases to as few as 110. In neighboring Ohio, they said, some shops reportedly weren't able to get some major Champagnes at all.

But on the consumer side, demand doesn't appear to be picking up yet. Dorr and Boswell have stocked their shelves with hundreds of bottles of Champagnes and other sparkling wines, at sale prices literally ranging from $5 to $1,500. In the opening days of the sale, however, crowds were sparse, leading to the reasonable conclusion that most people aren't going to start thinking about Champagne for New Year's until the last few days before the holiday.

My advice remains unchanged from the article I wrote on this topic back in February: Shortages of luxury Champagnes are possible, especially at individual wine shops in the last weeks before the New Year. The industry certainly shouldn't have any trouble supplying the demand for everyday bubbly, but if you want to celebrate with something special, I suggest stocking up now.

What are your sparkling-wine plans for New Year's? Drop me a note at wine@wine-lovers-page.com. I regret that the growing circulation of the "Wine Advisor" makes it difficult for me to reply individually to every note, but I'll answer as many as I can; and please be assured that all your input helps me do a better job of writing about wine. Please feel free to get in touch if you'd like to comment on our topics and tasting notes, suggest a topic for a future bulletin, or just talk about wine.

If you're enjoying The 30 Second Wine Advisor, we hope you'll tell your wine-loving friends to register for their own free weekly copy at http://www.wine-lovers-page.com/wineadvisor.

30 Second Tasting Notes
Outstanding Champagne bargain

Mary Dorr, Party Source's knowledgeable wine manager, opened a half-dozen bottles of relatively affordable Champagnes of particularly good value on Saturday; my tasting notes on the group are too long for this bulletin, but if you're interested, I'll archive them on The Wine Lovers' Page at www.wine-lovers-page.com/wines/wt102399.shtml.

If you're looking for a particularly good buy, however, for New Year's or any other occasion, here's one that Dorr strongly recommends; and I agree.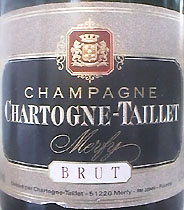 Champagne Chartogne-Taillet Cuvée Sainte-Anne Brut ($24.99)
Clear straw color, with a frothy mousse and abundant pinpoint bubbles that literally continue streaming for hours in the glass. Good toasty and apple aromas lead into a crisp, fruity-fresh flavor with a creamy mouthfeel, good body, and a pleasant nuance that's almost reminiscent of milk chocolate. A delicious Champagne, not an inexpensive wine by everyday standards but fully the equal of much more pricey cuvées. U.S. importer: Michael Skurnik Wines, Syosset, N.Y.; a Terry Theise Estate Selection. (Oct. 24, 1999)

FOOD MATCH: Demonstrating Champagne's versatility with food, a fine match with roast chicken.


30 Second Wine Link

Champagnes.com, the official site of the Champagne Wines Information Bureau, is a relentlessly positive marketing site, but there's plenty of good information here (in English) about the what, the where and the how of Champagne. It also links to the site of the Comité Interprofessionel du Vin de Champagne, with still more Champagne information available in French, English and German.

Wine Lovers' Voting Booth

Sticking to our sparkly theme this week, our new "ballot" topic in the Wine Lovers' Voting Booth seeks to determine whether most wine lovers reserve sparkling wine for special occasions or enjoy it regularly. Please drop by the link above to add your opinion!

More new wine-education features

I'm delighted to announce the addition of two wine-education features to The Wine Lovers' Page:

Our new Wine Questionary offers quick, simple answers to dozens of common wine questions, some of which have been the subject of previous editions of The 30 Second Wine Advisor.

Our new Wine Lexicon, an enhancement of our old Wine Pronouncing Glossary and Wine Tasting Dictionary, provides definitions of hundreds of wine words and phrases - and if you have MP3 sound software on your computer, you can hear me pronouncing many of the names of grapes and wine places.

If you're still new to wine, we hope you'll enjoy these new learning tools. If you're an expert yourself, I hope you'll drop by and offer me your thoughts and suggestions for improvements.

30 Second Advertising Partner

California Wine Club, this quarter's sponsor of The 30 Second Wine Advisor, offers members two different bottles of excellent, affordable wine every month (available where permitted by law), along with its monthly newsletter "Uncorked." You can reach the Club at the link above or, in the U.S., by calling 1-800-777-4443.

30 Second Administrivia

This free weekly E-mail publication is distributed to subscribers every Monday. Previous editions are archived on The Wine Lovers' Page. See www.wine-lovers-page.com/wineadvisor/thelist.shtml.

You are on the subscription list because our records indicate that you registered during a visit to Robin Garr's Wine Lovers' Page. If for any reason you don't want to receive this publication, simply send E-mail to 'wine@wine-lovers-page.com' and we'll remove your name from the list. We do not use this list for any other purpose and will never give or sell your name or E-mail to anyone.

If your E-mail program is having trouble handling the images in this edition, feel free to request that we switch you from the HTML to TEXT edition ... or vice versa. We welcome feedback, suggestions, and ideas for future columns. Send us E-mail at wine@wine-lovers-page.com.

All the wine-tasting reports posted here are consumer-oriented. In order to maintain objectivity and avoid conflicts of interest, I purchase all the wines I rate at my own expense in retail stores and accept no samples, gifts or other gratuities from the wine industry.

More time for wine?

You don't need to wait for Mondays to read about wine! Drop in any time on Robin Garr's Wine Lovers' Page, where we add new tasting notes several times each week and frequently expand our selection of wine-appreciation articles, tips and tutorials.

If you'd like to talk about wine online with fellow wine enthusiasts around the world, we'd be delighted to have you visit the interactive forums in our Wine Lovers' Discussion Group. If you're from another part of the world and don't feel entirely comfortable chatting in English, visit our International Forum and introduce yourself in the language of your choice.

Vol. 1, No. 40, Oct. 25, 1999

<!TODAY'S TEXT ENDS HERE!>

Subscribe (free) to The 30 Second Wine Advisor