<!TODAY'S TEXT STARTS HERE!>

30 Second Wine Tasting Tip:
How's your taste, bud?


When we talk about "tasting" wine, we're actually discussing a combination of senses. What we think of as taste is actually a much more complex sensory experience that combines the messages from our taste buds with our senses of smell and touch.

Most scientists assert that our taste buds can detect only four flavors: Salt, sour, sweet and bitter. Perhaps 95 percent of what we consider taste is really what we smell, as you'll quickly discover if you try to taste wine or anything else when you have a bad head cold.

In contrast with our limited taste perceptions, humans can sense literally millions of smells, and it's really the combination of these perceptions with the more limited palette of flavors that we call "taste." (And by the way, don't confuse "palette," an artist's selection of colors, with "palate," the roof of the mouth or, figuratively, the sense of taste ... but that's a topic for another day.)

Not only do smells influence what we taste, but the feel of the wine in the mouth is important as we gauge its sense of lightness or weight. This textural quality, which may range from watery-thin to viscous and oily, is very much a part of the experience of tasting wine.

For many years, theorists have added that taste buds for each flavor tend to cluster on different parts of the tongue: Sweet at the tip, bitter in the back, and salty and sour along the sides.

Some scientists dismiss this, noting that all tastes are actually sensed in all parts of the palate; but I'm not totally convinced, as this simple test may demonstrate: Think of sucking a lemon, and feel the sides of your tongue twinge. Think of tasting strong black coffee or a peach pit, and - if you're like me - you'll feel a bitter sensation in the back of your throat. The pricey Riedel wine glasses (http://www.riedelcrystal.com/index.htm) play off this theory by offering an array of sizes and shapes purportedly designed to deliver different kinds of wine to just the right spot on the tongue: Burgundy here, Bordeaux over there. I'm not convinced ... but they are classy glasses.

You may have seen recent publicity about a fifth taste, one called "umami," a Japanese word that's untranslatable but means something like "meaty," and that's associated with the taste of monosodium glutamate (MSG). To read a little more about this, see our columnist Randy Caparoso's article on Wine Lovers' Page, "The Umami Way of Food and Wine Matching," http://www.wineloverspage.com/randysworld/umami.shtml.

A few other quick notes on taste: Science believes that a few people are "supertasters," endowed with far more taste buds than the average. And it's pretty much a foregone conclusion that most humans lose some of our taste perception with age, although many older wine and food enthusiasts (not least such well-known culinary octogenarians as Robert Mondavi and Julia Child) offer hope to the rest of us.

If you would like to read more about the physiology of taste, you might enjoy an article on the Mayo Clinic's "Health Oasis" site, "Taste & smell," http://www.mayohealth.org/mayo/9707/htm/taste.htm.

If you have thoughts or comments on taste that you'd like to share, send me E-mail at wine@wineloverspage.com. I regret that the growing circulation of the "Wine Advisor" makes it difficult for me to reply individually to every note, but I'll answer as many as I can; and please be assured that all your input helps me do a better job of writing about wine.

We hope you'll invite your wine-loving friends to register for their own free weekly copy at http://www.wineloverspage.com/wineadvisor.

30 Second Tasting Notes:
Fine New Zealand white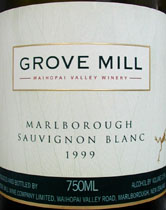 Grove Mill 1999 Marlborough Sauvignon Blanc ($14.99)
Clear, pale straw color, with ripe grapefruit and distinct green chile-pepper aromas. Full and bright flavors fill the mouth with crisp citric flavors, hints of green chilies and zingy acidity. A fine demonstration of the New Zealand Sauvignon style. U.S. importer: Appellation Imports, Annapolis Junction, Md. (Oct. 22, 2000)

FOOD MATCH: An appealing match with a bowl of Shanghai-style noodles with beef and bok choy cabbage.


Wine news fresh daily
from Enews Monitor

Crave wine intelligence? Napa-based Benson Marketing Group's Enews Monitor is the first, free Internet news retrieval service that delivers wine news from over 250 worldwide newspaper, magazine, Internet news, press agency, wine, and gourmet food and wine sites. At no charge, you receive a daily e-mail that includes headlines that link directly to the full story at the original news source: Scan the headlines, and click through to read stories of interest.

To subscribe, click http://www.bensonmarketing.com/forms/enews_signup.html and indicate which Enews Monitor module(s) you want to receive: General Wine News, Wine Ecommerce news, and/or Direct Shipping news.

30 Second Advertising Partner:
Wine Update

Please welcome Wine Update, http://www.wineupdate.com, as another advertising partner of Wine Lovers' Page. This handy Website pulls together all that's best about wine on the Web daily and presents links to the latest news, reviews, tasting notes and more. If you're like us and can't get enough about wine, this site is one you'll want to bookmark.

30 Second Administrivia

This free weekly E-mail publication is distributed to subscribers every Monday. Previous editions are archived on The Wine Lovers' Page. See www.wineloverspage.com/wineadvisor/thelist.shtml.

You are on the subscription list because you registered during a visit to Robin Garr's Wine Lovers' Page. If for any reason you no longer want to receive this publication, simply send a short E-mail to 'wine@wineloverspage.com' asking to be unsubscribed (and, if you wish, offering us any suggestions you may have as to how we could have served you better), and we'll remove your name from the list. We do not use this list for any other purpose and will never give or sell your name or E-mail to anyone.

If your E-mail program is having trouble handling the images in this edition, feel free to request that we switch you from the HTML to TEXT edition ... or vice versa. Please contact us in the same way if your E-mail address changes. And of course we welcome feedback, suggestions, and ideas for future columns. Send us E-mail at wine@wineloverspage.com.

All the wine-tasting reports posted here are consumer-oriented. In order to maintain objectivity and avoid conflicts of interest, I purchase all the wines I rate at my own expense in retail stores and accept no samples, gifts or other gratuities from the wine industry.

More time for wine?

You don't need to wait for Mondays to read about wine! Drop in any time on Robin Garr's Wine Lovers' Page, where we add new tasting notes several times each week and frequently expand our selection of wine-appreciation articles, tips and tutorials.

If you'd like to talk about wine online with fellow wine enthusiasts around the world, we'd be delighted to have you join the interactive, international forums in our Wine Lovers' Discussion Group.

Vol. 2, No. 40, Oct. 23, 2000

<!TODAY'S TEXT ENDS HERE!>

Subscribe (free) to The 30 Second Wine Advisor