<!TODAY'S TEXT STARTS HERE!>

30 Second Wine Tasting Tip:
Tasting wine from a tastevin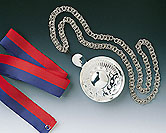 Have you ever wondered why the sommelier in a fancy restaurant often wears what appears to be a silver ashtray around his neck?
In fact, it's a wine-tasting cup, an ancient tasting tool called a "Tastevin," which is pronounced "Taht-vahN" with a nasal French ending and means, well, "taste wine."
It's actually quite a historic item. Two hundred years or more ago, cellarmasters in Burgundy in France (where a very high-level wine society is called the Confrérie des Chevaliers du Tastevin) developed this cup to sample wine down in the cellar where it was dark, lit only by candles. The angular nooks and crannies in the shiny silver cup are designed to catch and reflect the light to make it easier to check the color and clarity of the wine.
In these days of electric light, it's no longer necessary to do this, and the tastevin has very little practical purpose any more. But it remains in use as a traditional "badge" for the sommelier, and a number of wine-accessory shops actually sell them for wine lovers who want a little piece of history for their own collection.
I doubt that anybody uses them to drink out of any more, although I did visit a winery in Georgia a few years ago that used an aluminum version for guests in the tasting room. I didn't like it at all ... too small and shallow, and the metallic cup made the wine seem to taste funny.
If you've just got to have one, though, I found three online shops that sell them to wine lovers. Artisans on the Web wine accessories, http://aoweb.com/frameset.html, has three, ranging from $17.99 for a plain silver cup to $20.99 for a tastevin with ribbon set and $22.50 for a tastevin with chain set (pictured). Wine Enthusiast, http://www.wineenthusiast.com, offers a cup and chain for $24.95. And in the UK, Waiter's Friend, http://www.waitersfriend.co.uk/gift.htm offers a tastevin for £9.50.
Have you sipped from a tastevin? Tell me about your experience at wine@wine-lovers-page.com. I regret that the growing circulation of the "Wine Advisor" makes it difficult for me to reply individually to every note, but I'll answer as many as I can; and please be assured that all your input helps me do a better job of writing about wine. Please feel free to get in touch if you'd like to comment on our topics and tasting notes, suggest a topic for a future bulletin, or just talk about wine.
If you're enjoying The 30 Second Wine Advisor, we hope you'll tell your wine-loving friends to register for their own free weekly copy at http://www.wine-lovers-page.com/wineadvisor.
30 Second Tasting Notes
"Bearitage"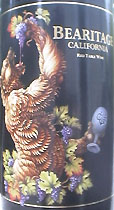 Bearitage non-vintage California Red Table Wine ($8.99)
Made by the Sonoma firm Gundlach-Bundschu, this simple table wine demonstrates the fine quality that California wineries can achieve, when they make the effort, with relatively simple fruit and inexpensive wines. Dark ruby in color, it shows good dark fruit aromas defined by juicy black raisins. Tart-cherry and lemon-squirt flavors are structured and ripe, clean and consistent in a long finish. Remarkably good for an inexpensive, non-vintage table wine; it's a blend of Cabernet Sauvignon, Merlot and Zinfandel. (Oct. 17, 1999)

FOOD MATCH: Makes a good match with a ham-and-Cheddar frittata.


30 Second Wine Link

About Wines, www.aboutwines.com, is a new Website sponsored by the Seagram Chateau & Estate Wines Company, a major U.S. importer. Along with information about the firm's product portfolio, it is an ambitious online resource offering in-depth region guides, varietal information, wine terminology, and more.

30 Second Advertising Partner

California Wine Club, this quarter's sponsor of The 30 Second Wine Advisor, offers members two different bottles of excellent, affordable wine every month (available where permitted by law), along with its monthly newsletter "Uncorked." You can reach the Club at the link above or, in the U.S., by calling 1-800-777-4443.

30 Second Administrivia

This free weekly E-mail publication is distributed to subscribers every Monday. Previous editions are archived on The Wine Lovers' Page. See www.wine-lovers-page.com/wineadvisor/thelist.shtml.

You are on the subscription list because our records indicate that you registered during a visit to Robin Garr's Wine Lovers' Page. If for any reason you don't want to receive this publication, simply send E-mail to 'wine@wine-lovers-page.com' and we'll remove your name from the list. We do not use this list for any other purpose and will never give or sell your name or E-mail to anyone.

If your E-mail program is having trouble handling the images in this edition, feel free to request that we switch you from the HTML to TEXT edition ... or vice versa. We welcome feedback, suggestions, and ideas for future columns. Send us E-mail at wine@wine-lovers-page.com.

All the wine-tasting reports posted here are consumer-oriented. In order to maintain objectivity and avoid conflicts of interest, I purchase all the wines I rate at my own expense in retail stores and accept no samples, gifts or other gratuities from the wine industry.

More time for wine?

You don't need to wait for Mondays to read about wine! Drop in any time on Robin Garr's Wine Lovers' Page, where we add new tasting notes several times each week and frequently expand our selection of wine-appreciation articles, tips and tutorials.

If you'd like to talk about wine online with fellow wine enthusiasts around the world, we'd be delighted to have you visit the interactive forums in our Wine Lovers' Discussion Group. If you're from another part of the world and don't feel entirely comfortable chatting in English, visit our International Forum and introduce yourself in the language of your choice.

Vol. 1, No. 39, Oct. 18, 1999

<!TODAY'S TEXT ENDS HERE!>

Subscribe (free) to The 30 Second Wine Advisor