<!TODAY'S TEXT STARTS HERE!>

30 Second Wine Tasting Tip:
Wine and art in Napa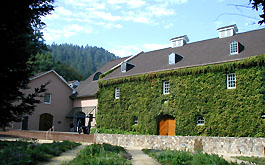 Whenever I visit the Northern California wine country, I enjoy starting my day with a quick trip to The Hess Collection.

Well away from the hustle, bustle and traffic of the broad and busy valley floor, this lovely winery is a short and scenic trip up the side of Mount Veeder from the town of Napa. From the valley's main north-south road, Highway 29, simply turn west on Redwood Road and follow it up an increasingly steep and winding two-lane road for about six miles until you see the winery sign.

Not just an excellent winery, Hess Collection is also a very fine modern art gallery in a historic building in a spectacularly scenic setting. Here's what you'll find when you get there.
A winery building of ivy-covered limestone, built as a winery in 1903.
A short but interesting multimedia presentation (shown every 30 minutes) that provides a quick but useful introduction to vine growing and wine making.
A self-guided winery tour that you can take at your own pace.
A remarkable collection of modern art, assembled over 30 years by winery owners Donald and Joanna Hess.
A quiet and attractive tasting room and gift shop where you can sample several of the Hess wines for a $3 tasting fee ... and, if you wish, buy more to take home, including older vintages from the winery's "library."
Although Hess Collection doesn't rank among the sought-after (and expensive) "cult" wines of the region, I have found these wines consistently affordable and of very good value. The wines offered for tasting during my visit last week consistently met that criterion. The widely available 1998 Napa Valley Chardonnay ($18.50) and 1996 Napa Valley Cabernet Sauvignon ($28.50) showed typical ripe Napa fruit with the firm acidic structure that mountain vineyards seem to impart.
Two other excellent wines offered in the tasting room are available only at the winery because of extremely limited production (only a few hundred cases of each): 1997 Napa Valley Zinfandel ($20) displayed the variety's expected mixed-berry fruit in a style more elegant and restrained than many Zins; and 1996 Napa Valley Merlot ($24) offered good cherry and chocolate aromas and the firm acidic structure needed to make it a good companion with food.
If you can't make it in person, you can visit The Hess Collection online at http://www.hesscollection.com/. And, reaching the moral of today's story, if you enjoy wine, a visit to any winery is a worthwhile experience. Even if you don't live in a famous wine region, you probably have small-farm wineries closer to home than you think. The next time you're in the mood for a day trip, you might want to consider a winery tour.
If you would like to comment about The Hess Collection - or about visiting wineries in general - please drop me a note at wine@wineloverspage.com. I regret that the growing circulation of the "Wine Advisor" makes it difficult for me to reply individually to every note, but I'll answer as many as I can; and please be assured that all your input helps me do a better job of writing about wine.
We hope you'll invite your wine-loving friends to register for their own free weekly copy at http://www.wineloverspage.com/wineadvisor.
30 Second Tasting Notes:
Excellent Languedoc red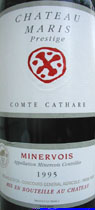 Chateau Maris 1995 "Prestige Comte Cathare" Minervois ($12.99)
From the Minervois wine region of Languedoc in Southern France, this dark-garnet wine is pleasant and complex, with fragrant black-pepper, leather and spice aromas over ripe black fruit. Full and juicy fruit flavors are consistent with the nose, mouth-filling and long. While it's fully ready to drink, there's no hurry to enjoy this one. U.S. importer: Langdon Shiverick Inc., Cleveland. (Oct. 4, 2000)

FOOD MATCH: A natural with red meat, but its earthy fruit also made a fine cross-cultural match with Szechwan-style noodles in peanut sauce.


Wine Lovers' Live "Chat"
now scheduled for all continents

Last week I mentioned our Wine Lovers' Discussion Groups, http://www.wineloverspage.com/forum, which are interactive "bulletin-board" features where wine lovers around the world gather to discuss wine and related topics in a civil, moderated community.

Since then, several of you have asked if we have "live" chat sessions on Wine Lovers' Page. In fact, three weekly moderated sessions are scheduled for the convenience of participants in different parts of the world. For access to the Chat Room, click http://www.wineloverspage.com/chat. Here's the weekly schedule:
WEDNESDAY: This session begins at 10 p.m. U.S. Eastern Time (currently 0200 Thursday GMT), 7 p.m. Pacific Time, and is most convenient for participants in the Western Hemisphere, although folks in Asia and Down Under have been known to join in - for them it's daylight Thursday.
WEDNESDAY: This session is intended for participants in Australia, New Zealand and Asia, and begins at 0900 GMT Wednesdays - that's currently 10 p.m. Wednesday in New Zealand, 7 p.m. in Sydney and Melbourne, 6 p.m. in Tokyo and 5 p.m. in Singapore and Hong Kong.
SUNDAY: Primarily for participants in the Western Hemisphere, Europe and the UK, this session begins at 4 p.m. U.S. Eastern Time, 1 p.m. Pacific, which is 2000 GMT (9 p.m. in the UK, 20:00 in Western Europe and Monday morning in Australasia).
As with our interactive forums, we welcome new participants regardless of your level of expertise, asking only that participants use their own real names, avoid commercial or off-topic subjects, and refrain from personal attacks or "flaming."

30 Second Advertising Partner:
California Wine Club

California Wine Club, http://www.cawineclub.com, is the perfect, affordable way to get two different bottles of excellent wine every month, along with its fun and fact-filled newsletter Uncorked. Commercially unavailable, these wines are like secret treasures hand-selected from California's small, award-winning wineries. Join for as many months as you like, or use The California Wine Club as a special, unique gift for friends, family, customers and colleagues. You can reach the Club at the link above or, in the U.S., by calling 1-800-777-4443.

30 Second Administrivia

This free weekly E-mail publication is distributed to subscribers every Monday. Previous editions are archived on The Wine Lovers' Page. See www.wineloverspage.com/wineadvisor/thelist.shtml.

You are on the subscription list because you registered during a visit to Robin Garr's Wine Lovers' Page. If for any reason you no longer want to receive this publication, simply send a short E-mail to 'wine@wineloverspage.com' asking to be unsubscribed (and, if you wish, offering us any suggestions you may have as to how we could have served you better), and we'll remove your name from the list. We do not use this list for any other purpose and will never give or sell your name or E-mail to anyone.

If your E-mail program is having trouble handling the images in this edition, feel free to request that we switch you from the HTML to TEXT edition ... or vice versa. Please contact us in the same way if your E-mail address changes. And of course we welcome feedback, suggestions, and ideas for future columns. Send us E-mail at wine@wineloverspage.com.

All the wine-tasting reports posted here are consumer-oriented. In order to maintain objectivity and avoid conflicts of interest, I purchase all the wines I rate at my own expense in retail stores and accept no samples, gifts or other gratuities from the wine industry.

More time for wine?

You don't need to wait for Mondays to read about wine! Drop in any time on Robin Garr's Wine Lovers' Page, where we add new tasting notes several times each week and frequently expand our selection of wine-appreciation articles, tips and tutorials.

If you'd like to talk about wine online with fellow wine enthusiasts around the world, we'd be delighted to have you join the interactive, international forums in our Wine Lovers' Discussion Group.

Vol. 2, No. 38, Oct. 9, 2000

<!TODAY'S TEXT ENDS HERE!>

Subscribe (free) to The 30 Second Wine Advisor