<!TODAY'S TEXT STARTS HERE!>

30 Second Wine Tasting Tip:
Focus on New Zealand

Please welcome Sue Courtney, who hosts the excellent Wine of the Week New Zealand wines Website, as guest writer for this week's edition!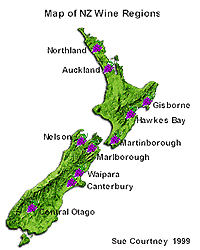 New Zealand, a country in the Southern Pacific ocean with just 3.8 million people and about 50 million sheep, once had an economy that relied heavily on the export of dairy and sheep products to International markets. Now the farmers, who just ten years ago laughed at the people who wanted to purchase grazing land in order to plant grape vines, are rubbing their hands in glee as some near-worthless, rabbit-riven land is selling for many times more than they'd ever dreamed. And during this time, traditional exports fell while wine exports increased tenfold.
Look at Central Otago, New Zealand's most southerly wine producing region at a latitude of 45 south. Here the scenery is amazing. Clear blue skies, snow capped mountains, expansive lakes and green trees. In an area initially occupied by the gold miners 130 years ago, the second gold rush is on and vineyards are popping up everywhere.
But I've jumped to recent events. Let go back to 1986 when a New Zealand wine won the "best wine" three days in a row at the Sunday Times Vintage Festival in the UK. What was this wine with its fresh, crisp, vibrant and herbaceous flavours that made the judges sit up and notice? The answer - Hunters Sauvignon Blanc. And where did it come from? The answer - Marlborough, New Zealand.
With an increasing demand, Sauvignon Blanc produces more wine in New Zealand than any other variety. Although grown throughout the country, Marlborough at the top of the South Island is the area that's most well known and productive.
Chardonnay is the second most prolific and offers a wine that can be made in a number of styles. Regional characters are thought of as citrus from Marlborough, stone fruit from Hawkes Bay and tropical fruit from Gisborne - the chardonnay capital of New Zealand. It's starting to be internationally recognised but it has taken time.
Pinot Noir is the country's most planted red wine grape, though much of it goes into bubbly. New Burgundy clones are coming into the country and the results to date are stunning. Wines from Ata Rangi and Martinborough Vineyards are already well known internationally but watch out for new names from Central Otago. The hills of wild thyme influence the flavour of the wine to give it an interesting and pleasing floral herbal character.
Merlot is showing what a good wine it can make, especially the Hawkes Bay merlots from 1998. The long hot summer produced fruit of fabulous ripeness and the wines have great flavour and concentration.
Riesling is the up and coming variety in my opinion. Already from the newly released 1999 vintage I've seen crisp wines with racy acidity cutting through the sugar to produce refreshing wines of perfect balance and harmony. Not much is grown in the north and the best wines come from Martinborough at the bottom of the North Island and throughout the South Island.
While there is plenty of Cabernet Sauvignon and other Bordeaux varieties, there's also a little bit of Syrah. The wines are like those of the Rhone rather than Australia. I tasted my first New Zealand zinfandel this year too and this particular wine from Stonecroft in Hawkes Bay definitely has potential.
With 334 wineries registered in the New Zealand Wine Institute 1999 Annual Report and many more growers who don't have to register, the wine industry is set to play an important part in New Zealand's economic future.
Thanks to Sue for the article above. What's your take on New Zealand wines? Send me your comments by E-mail at wine@wine-lovers-page.com. If you'd like to contact Sue directly, her E-mail address is s.courtney@clear.net.nz. I regret that the growing circulation of the "Wine Advisor" makes it difficult for me to reply individually to every note, but I'll answer as many as I can; and please be assured that all your input helps me do a better job of writing about wine. Please feel free to get in touch if you'd like to comment on our topics and tasting notes, suggest a topic for a future bulletin, or just talk about wine.
If you're enjoying The 30 Second Wine Advisor, we hope you'll tell your wine-loving friends to register for their own free weekly copy at http://www.wine-lovers-page.com/wineadvisor.
30 Second Tasting Notes
A ripe New Zealand Sauvignon Blanc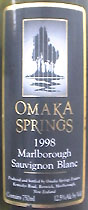 Omaka Springs 1998 Marlborough Sauvignon Blanc ($10.99)
This pale straw-colored wine shows good citric aromas of grapefruit and lemon-lime. Very full and bright in flavor, it's dry and crisp, a real mouthful of wine focused on tart-sweet and juicy grapefruit. Like many of the Marlborough Sauvignon Blancs of the warm 1998 vintage, it's more citric and not as herbaceous as is typical of the region, but that's no flaw in a wine as full of flavor as this. U.S. importer: T.G.I.C. Imports Inc., Encino, Calif. (Oct. 1, 1999)

FOOD MATCH: The wine's abundant fruit and zippy acidity worked very well with an Italian zuppa vognole, a light soup of fresh clams swimming in an herbal and garlicky tomato-and-white-wine broth.


For a listing of my other recent New Zealand tastings, see my online Tasting Notes Index.

30 Second Wine Link

In addition to Sue Courtney's own Wine of the Week, a first-rate source of information and notes about New Zealand and its wines, the Wine Institute of New Zealand has an official site at http://www.nzwine.com. For general information about New Zealand and tourism, see New Zealand on the Web.

Wine Lovers' Voting Booth

There's still time to cast your ballot in the current topic on our Wine Lovers' Voting Booth, where we're surveying what kind of wine glasses our readers prefer. Thanks to a software upgrade, the Voting Booth now supports multiple responses and a fill-in-the-blank feature. Give it a try!

30 Second Advertising Partner

California Wine Club, this quarter's sponsor of The 30 Second Wine Advisor, offers members two different bottles of excellent, affordable wine every month (available where permitted by law), along with its monthly newsletter "Uncorked." You can reach the Club at the link above or, in the U.S., by calling 1-800-777-4443.

30 Second Administrivia

This free weekly E-mail publication is distributed to subscribers every Monday. Previous editions are archived on The Wine Lovers' Page. See www.wine-lovers-page.com/wineadvisor/thelist.shtml.

You are on the subscription list because our records indicate that you registered during a visit to Robin Garr's Wine Lovers' Page. If for any reason you don't want to receive this publication, simply send E-mail to 'wine@wine-lovers-page.com' and we'll remove your name from the list. We do not use this list for any other purpose and will never give or sell your name or E-mail to anyone.

If your E-mail program is having trouble handling the images in this edition, feel free to request that we switch you from the HTML to TEXT edition ... or vice versa. We welcome feedback, suggestions, and ideas for future columns. Send us E-mail at wine@wine-lovers-page.com.

All the wine-tasting reports posted here are consumer-oriented. In order to maintain objectivity and avoid conflicts of interest, I purchase all the wines I rate at my own expense in retail stores and accept no samples, gifts or other gratuities from the wine industry.

More time for wine?

You don't need to wait for Mondays to read about wine! Drop in any time on Robin Garr's Wine Lovers' Page, where we add new tasting notes several times each week and frequently expand our selection of wine-appreciation articles, tips and tutorials.

If you'd like to talk about wine online with fellow wine enthusiasts around the world, we'd be delighted to have you visit the interactive forums in our Wine Lovers' Discussion Group. If you're from another part of the world and don't feel entirely comfortable chatting in English, visit our International Forum and introduce yourself in the language of your choice.

Vol. 1, No. 37, Oct. 4, 1999

<!TODAY'S TEXT ENDS HERE!>

Subscribe (free) to The 30 Second Wine Advisor