<!TODAY'S TEXT STARTS HERE!>

30 Second Wine Tasting Tip:
What's next in Australia?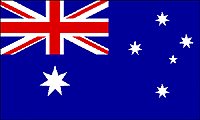 The Olympic Games are over, and they leave all of us who watched even a bit of the spectacle feeling that Australia isn't quite as far away as we might have thought.

And for those of us who love wine, the end of the Olympics isn't so much a farewell to the land Down Under as it is a beginning, for this autumn (spring in the Southern Hemisphere) brings two major wine-related events that will keep Australia very much on the wine map: The "Top 100" Sydney International Wine Competition from Nov. 13-17; and Wine Australia 2000 in Melbourne, Nov. 23-28.

I have the great honor to be a judge at this year's Sydney competition, and will be traveling to Australia for the first time to take part. While I'm there, I hope to spend a little extra time visiting wineries and meeting online friends in Australia and New Zealand, finishing up at Wine Australia.

The Sydney International Wine Competition, http://www.top100wines.com.au/, takes several unusual approaches to judging wine that appeal to me and that, I believe, make its results more meaningful to wine consumers. It solicits entries from all over the world (more than 1,200 wines were entered last year), and it selects an international panel of judges to critique them. It requires that the wines entered be made in sufficient quantity that wine lovers will stand a chance at finding them on the open market after the results are announced. It categorizes its divisions not by grape or country but by the style of the wine - "lighter-bodied white," "fuller-bodied red" and the like - and perhaps most intriguing of all, the finalists are judged not only in isolation but also on the basis of their ability to match with appropriate food. I'm looking forward to the weeklong judging marathon - and to reporting back to you from the Australia and New Zealand wine country.

(By the way, there's still time for wine producers to enter the competition: Entries are open until Oct. 15. For more information, click to the competition's Website or contact top100wines@optusnet.com.au by E-mail.)

Wine Australia 2000, meanwhile, is said to be the world's largest and most comprehensive exhibition of Australian wines, with some 8,000 wines from 350 wine companies presented under one roof at the Melbourne Convention and Exhibition Centre. For more information visit the Victorian Wineries and Tourism Website, http://www.visitvictoria.com/wineries/index1.html and click on the "Wine Australia" link.

Australia's wines are well represented in the rest of the world nowadays, a marked change from as recently as 10 to 15 years ago, and they show a breadth and variety that offers something for just about everyone, from big, fruity Cabernets, Shirazes and Grenaches to fat Chardonnays, delicate Rieslings, festive sparkling wines and maybe most noteworthy, world-class dessert wines. New Zealand, long best known for its white wines, is now beginning to show serious strides in reds as well.

I'll be writing more (although certainly not exclusively) about the wines and wine lore of this region in the next couple of months. If any of you who live Down Under or who have particular affection for its wines would like to get in touch to offer your advice, I'd be happy to hear from you by E-mail at wine@wineloverspage.com. I regret that the growing circulation of the "Wine Advisor" makes it difficult for me to reply individually to every note, but I'll answer as many as I can; and please be assured that all your input helps me do a better job of writing about wine.

We hope you'll invite your wine-loving friends to register for their own free weekly copy at http://www.wineloverspage.com/wineadvisor.

30 Second Tasting Notes:
Full-bodied Australian Chardonnay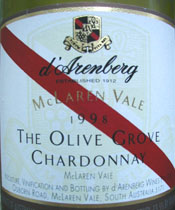 D'Arenberg 1998 McLaren Vale "The Olive Grove" Chardonnay ($14.99)
Clear light-gold in color with a greenish hue. Butter and pineapple aromas, very ripe tropical fruit. Mouth-filling and rich, more structured than the nose might suggest. Definitely more New World than Burgundian in style, but to its credit, it keeps its oaky qualities in balance with fresh, ripe fruit. U.S. importer: Old Bridge Cellars, San Francisco. (Sept. 27, 2000)

FOOD MATCH: John Dory fillets sauteed in butter with lemon.


New online discussion forum:
Spirits, beers and other libations

Recognizing that wine lovers sometimes enjoy other beverages as a change of pace, we recently added a new discussion forum to our Wine Lovers' Discussion Groups. The "Spirits, Beers and Other Libations" Forum is a gathering place for civil and intelligent online conversation in a "bulletin board" setting. As with our original Wine Lovers' Discussion group and all our interactive forums, we welcome new participants regardless of your level of expertise, asking only that participants use their own real names, avoid commercial or off-topic subjects, and refrain from personal attacks or "flaming." If these simple restrictions suit you and you'd like to take part in our discussions, I invite you to join us at http://www.wineloverspage.com/forum.

Wine Lovers' Voting Booth
Wine country dreaming

This week's Wine Lovers' Voting Booth topic invites us to spin a wine lover's fantasy about the possibility that we might someday be able to enjoy a home and a life within sight of one of the world's great wine regions. The question is simple, but it asks you to dream: "If cost and work and family obligations were not a consideration, and you could make your home in any wine region on earth, which one would you choose?" To join in this all-in-fun survey, please drop by the Voting Booth, http://www.wineloverspage.com/votebooth.

30 Second Advertising Partner:
California Wine Club

California Wine Club, http://www.cawineclub.com, is the perfect, affordable way to get two different bottles of excellent wine every month, along with its fun and fact-filled newsletter Uncorked. Commercially unavailable, these wines are like secret treasures hand-selected from California's small, award-winning wineries. Join for as many months as you like, or use The California Wine Club as a special, unique gift for friends, family, customers and colleagues. You can reach the Club at the link above or, in the U.S., by calling 1-800-777-4443.

30 Second Administrivia

This free weekly E-mail publication is distributed to subscribers every Monday. Previous editions are archived on The Wine Lovers' Page. See www.wineloverspage.com/wineadvisor/thelist.shtml.

You are on the subscription list because you registered during a visit to Robin Garr's Wine Lovers' Page. If for any reason you no longer want to receive this publication, simply send a short E-mail to 'wine@wineloverspage.com' asking to be unsubscribed (and, if you wish, offering us any suggestions you may have as to how we could have served you better), and we'll remove your name from the list. We do not use this list for any other purpose and will never give or sell your name or E-mail to anyone.

If your E-mail program is having trouble handling the images in this edition, feel free to request that we switch you from the HTML to TEXT edition ... or vice versa. Please contact us in the same way if your E-mail address changes. And of course we welcome feedback, suggestions, and ideas for future columns. Send us E-mail at wine@wineloverspage.com.

All the wine-tasting reports posted here are consumer-oriented. In order to maintain objectivity and avoid conflicts of interest, I purchase all the wines I rate at my own expense in retail stores and accept no samples, gifts or other gratuities from the wine industry.

More time for wine?

You don't need to wait for Mondays to read about wine! Drop in any time on Robin Garr's Wine Lovers' Page, where we add new tasting notes several times each week and frequently expand our selection of wine-appreciation articles, tips and tutorials.

If you'd like to talk about wine online with fellow wine enthusiasts around the world, we'd be delighted to have you join the interactive, international forums in our Wine Lovers' Discussion Group.

Vol. 2, No. 37, Oct. 2, 2000

<!TODAY'S TEXT ENDS HERE!>

Subscribe (free) to The 30 Second Wine Advisor