<!TODAY'S TEXT STARTS HERE!>

No issue next week!

Since I enjoy writing The 30 Second Wine Advisor as much as I hope you enjoy reading it, I almost hate to do this. But I'm afraid there's no practical way I can distribute an issue on Monday, Sept. 27, as I'll be traveling in the California wine country, Napa and Sonoma. We'll be back on Monday, Oct. 4, and I hope to have lots of good photos, interviews and tasting notes to share with you.

30 Second Wine Tasting Tip:
Shopping for wine bargains

Everybody loves a bargain, but no one likes to get the short end of the deal. So, when you're digging merrily through the cut-rate bin at your favorite wine shop and spot a price tag that seems too good to be true ... is it?

As a regular customer of the bargain bins, I'd say my record is about 50 percent: Half of the "great buys" turn out to be treasures but the other half are disappointing. Is there any way to tell? Not really, but here are a few things to watch for, based on my years of experience looking for the good deal.

Old inventory: Often a wine shop will put a sale price on an item that's been taking up space on the shelves without moving. You'll never see this with a highly rated, popular label, but if the marked-down wine comes from a less than "trendy" region -- Greece, say, or Switzerland, or even parts of France that lack the cachet of Bordeaux or Burgundy -- then there's a good chance that you've got a legitimate value for your sale price. Ditto if the wine appears to be the previous year's vintage, being "dumped" to make room for the new release.

Damaged wine: A reputable shopkeeper won't knowingly sell wine for full price if it has been through accidental harsh treatment such as being left on a loading dock in summer sun. Into the marked-down bin it goes, waiting for the unwary customer. A wine that's been "cooked," unfortunately, will be diminished in enjoyment at the least and possibly rendered undrinkable. On the other hand, if the problem is merely the formation of innocuous tartrate crystals in the bottle, an alarming-looking condition that doesn't significantly affect the wine, you may have a bargain on your hands. If you know the store's staff and feel they can be trusted, it's never inappropriate to ask. Otherwise all you can do is take the risk if the price seems right.

Loss leaders: Local laws permitting, now and then a shop will offer a few wines at a very good price, hoping to lure customers into the store for the bargain and then sell them a few more bottles while they're in. This is perfectly legitimate marketing, and wise consumers will keep an eye out for such sales.

Do you have bargain-hunting tricks and tips? Share them with me by E-mail at wine@wine-lovers-page.com. I regret that the growing circulation of the "Wine Advisor" makes it difficult for me to reply individually to every note, but I'll answer as many as I can; and please be assured that all your input helps me do a better job of writing about wine. Please feel free to get in touch if you'd like to comment on our topics and tasting notes, suggest a topic for a future bulletin, or just talk about wine.

If you're enjoying The 30 Second Wine Advisor, we hope you'll tell your wine-loving friends to register for their own free weekly copy at http://www.wine-lovers-page.com/wineadvisor.

30 Second Tasting Notes
Three cut-rate Barolos

I picked up all three of these Barolos in bargain bins for $20 each, a price tag that's approaching the high end for most wines but is scraping the bottom of the barrel for Barolo. Two proved disappointing for different reasons, as noted below. One was fine ... and hey, a .333 batting average isn't bad for baseball or Barolo.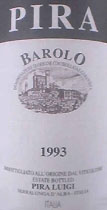 Pira 1993 Barolo ($19.99)
Very dark ruby, with classic Barolo aromas of tar and smoke, violets and a whiff of licorice playing counterpoint to deep black fruit. Black-cherry fruit shows in a full-bodied flavor framed by lemony acidity and firm tannins, with subtleties that echo the nose. Fine Barolo, will continue to improve with cellar time. U.S. importer: Vintner Select, Cincinnati; a Marc de Grazia Selection (Sept. 18, 1999)

FOOD MATCH: Perfect with "tannin-wiping" beef in the form of a medium-rare pan-grilled T-bone.


Ceretto 1994 Barolo Zonchera ($19.99)
Given that 1994 was such an off vintage for Barolo that most references don't even list it, and that Ceretto's "Zonchera" bottling is explicitly produced as "softer, rounder and more supple than traditional Barolos," there was no reason to expect classic structure or style from this bottle. But it's pleasant enough, clear ruby in color with red-fruit and floral scents, and a fresh, bright cherry-berry flavor, fruity and tart. A fair wine, but not competitive at this price, even with the name "Barolo" on the label. U.S. importer: Palace Brands Co., Hartford, Ct. (Sept. 14, 1999)

FOOD MATCH: Good match for pork loin braised with onions, probably a better match than a more robust Barolo would have made.

Fontanafredda 1993 "Galarey" Barolo ($19.99)
This wine shows a brownish-amber glint in its dark ruby color, a worrisome sign in a wine so young. Black fruit and violets and characteristic Barolo "tar" show up in the aroma, but there's a nutty edge of oxidation there; and a whiff of the same in a warm, plummy and surprisingly one-dimensional flavor suggest that this wine has been "cooked," subjected to excess heat or other ill treatment along the way. It's not ruined, but certainly falls short of expectations, demonstrating one not-so-good reason for a wine to turn up in the bargain bin. U.S. importer: Brown-Forman Beverages Worldwide, Louisville. (Sept. 13, 1999)

FOOD MATCH: A little too plummy and ripe to be a perfect match with an Arabian-style chicken and rice pilaf.

30 Second Wine Link

Marcel Lachenmann is an enthusiastic Boston wine lover with a very fine palate. His personal Website, Marcel's Wine Page, bills itself quite honestly as, "No bells, no whistles, just wine." Updated often, it's well worth regular visits.

30 Second Advertising Partner

California Wine Club, this quarter's sponsor of The 30 Second Wine Advisor, offers members two different bottles of excellent, affordable wine every month (available where permitted by law), along with its monthly newsletter "Uncorked." You can reach the Club at the link above or, in the U.S., by calling 1-800-777-4443.

30 Second Administrivia

This free weekly E-mail publication is distributed to subscribers every Monday. Previous editions are archived on The Wine Lovers' Page. See www.wine-lovers-page.com/wineadvisor/thelist.shtml.

You are on the subscription list because our records indicate that you registered during a visit to Robin Garr's Wine Lovers' Page. If for any reason you don't want to receive this publication, simply send E-mail to 'wine@wine-lovers-page.com' and we'll remove your name from the list. We do not use this list for any other purpose and will never give or sell your name or E-mail to anyone.

If your E-mail program is having trouble handling the images in this edition, feel free to request that we switch you from the HTML to TEXT edition ... or vice versa. We welcome feedback, suggestions, and ideas for future columns. Send us E-mail at wine@wine-lovers-page.com.

All the wine-tasting reports posted here are consumer-oriented. In order to maintain objectivity and avoid conflicts of interest, I purchase all the wines I rate at my own expense in retail stores and accept no samples, gifts or other gratuities from the wine industry.

More time for wine?

You don't need to wait for Mondays to read about wine! Drop in any time on Robin Garr's Wine Lovers' Page, where we add new tasting notes several times each week and frequently expand our selection of wine-appreciation articles, tips and tutorials.

If you'd like to talk about wine online with fellow wine enthusiasts around the world, we'd be delighted to have you visit the interactive forums in our Wine Lovers' Discussion Group. If you're from another part of the world and don't feel entirely comfortable chatting in English, visit our International Forum and introduce yourself in the language of your choice.

Sept. 20, 1999

<!TODAY'S TEXT ENDS HERE!>

Subscribe (free) to The 30 Second Wine Advisor