<!TODAY'S TEXT STARTS HERE!>

30 Second Wine Tasting Tip:
The heritage of "Meritage"


One of the newest words in the dusty old wine dictionary is "Meritage." It may also be among the most misunderstood, in its use and even in its pronunciation: It's not French, and you don't say it "Mehr-uh-TAGE," even though the spelling so strongly suggests this option that it's hard to ignore. It's American English, pronounced to rhyme with "Heritage," coined by a Californian in a contest in 1988, with a cellar full of California wines as the prize.

It's a word worth getting to know, though, as the story behind "Meritage" gives us a quick overview of the modern development of California wine.

For centuries, wines were routinely named and labeled on the basis of geography. Consumers purchased Bordeaux, or Burgundy, or Chablis or Chianti because they knew and loved the styles of those wines, and nobody thought much about the specific grapes that went into the press.

When American wineries returned to production with the repeal of Prohibition in 1933, many of them casually borrowed the famous European place names. To the horror of the French (and of serious wine fanciers around the world), cheap red domestic wine came to be known generically as "burgundy" and inexpensive white as "chablis."

During the 1950s and '60s, as the American market became a little more sophisticated in the booming postwar economy, the more ambitious wineries - spurred by the wine merchant and writer Frank Schoonmaker and others - started labeling their best wines by "varietal" - the name of the wine grape predominant in the bottle - as a way to distinguish their specialty wines from the mass market. Wine lovers soon learned to ask for "Chardonnay" or "Cabernet Sauvignon" or "Merlot" if they wanted better wines; and it wasn't long before "100 percent varietal" came to represent the best on the American market.

But this otherwise happy trend overlooked a simple reality: Many of the top European wines used blends of many grapes (Cabernet Sauvignon, Cabernet Franc, Merlot and others in Bordeaux being perhaps the most obvious example), and they did this for a good reason: Each component of the blend contributed its own special elements, making a whole greater than the sum of its parts.

Many California wineries continued making such blended wines, but under U.S. law, they could only label them "red table wine" ... or market them under trademarked proprietary names, some of which (like Phelps "Insignia" or the Justin "Isosceles" featured below) became sought-after in their own right.

And in 1988, a group of California wine makers formed a non-profit consortium, The Meritage Society (now called the Meritage Association, with a Website at www.meritagewine.org), to encourage - and trademark - the development of California blended wines made in the fashion of Bordeaux.

U.S. wineries that wish to use the proprietary name "Meritage" must obtain a license from the association (for an annual charge of $1 for every case of Meritage wine they produce), and may use it only on wines that meet these criteria:
A red Meritage is made from a blend of two or more of the following varieties: Cabernet Sauvignon, Merlot, Cabernet Franc, Malbec, Petit Verdot, St. Macaire, Gros Verdot, and Carmenere. No single variety may make up more than 90 percent of the blend.
A white Meritage is made from a blend of two or more of the following varieties: Sauvignon Blanc, Semillon, and Sauvignon Vert. No single variety may make up more than 90 percent of the blend.
In my experience, borne out in the brief sample featured in this week's tasting (below), Meritage wines may bow to France in their blending tradition but typically represent California in their big, fruity (and often oaky) style. Be that as it may, they're typically very fine California wines, well worth seeking out with the understanding that they are often the winery's most expensive product.
What's your take on Meritage? If you have comments that you'd like to share, please write me at wine@wineloverspage.com. I regret that the growing circulation of the "Wine Advisor" makes it difficult for me to reply individually to every note, but I'll answer as many as I can; and please be assured that all your input helps me do a better job of writing about wine.
We hope you'll invite your wine-loving friends to register for their own free weekly copy at http://www.wineloverspage.com/wineadvisor.
30 Second Tasting Notes:
Two Bordeaux-style California reds

Today we sample two pricey (and similarly priced) California red blends made from Bordeaux-style grapes. St. Supéry is a member of the Meritage Association and uses the trademarked name on its label. Justin chooses to go its own way with a proprietary name for its blend.

St. Supéry 1996 Meritage Napa Valley Red Wine ($35)
Blackish-garnet color, opaque. Black-cherry and dark-chocolate aromas and flavors, ripe and full, structured with crisp acidity and firm tannins. Much more obviously California than French in style, but loses no points for that; it's tasty and appealing. Good now, shows considerable potential for improvement over time. With 87% Cabernet Sauvignon, 9% Cabernet Franc, 4% Merlot, this wine qualifies for labeling as Cabernet Sauvignon, but the winery chooses to use the Meritage label. (Sept. 6, 2000)

FOOD MATCH: Fine with char-grilled lamb steaks.


WEBSITE: www.stsupery.com. There's lots of information about the winery and its wines on this stylish site, but its extensive video features, animations and graphics make it a bit frustrating to view if you have a slow dial-up connection.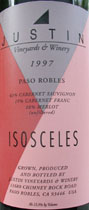 Justin Vineyards & Winery 1997 Paso Robles Isosceles ($34.99)
Inky dark ruby in color, almost black. Blackberry fruit and spicy oak aromas with hints of blueberries and vanilla. Mouth-filling and tart, dark fruit flavors follow the nose, structured with lemony acidity and astringent tannins. A big wine, full and complex, oak present but not dominating; definitely needs cellar time. "Isosceles," the triangle, alludes to its three-part Bordeaux-style blend of 63% Cabernet Sauvignon, 19% Cabernet Franc and 18% Merlot. (Sept. 9, 2000)

FOOD MATCH: Calls for a rare steak, but serves surprisingly well with a summer veggie meal of caprese (tomatoes and fresh mozzarella) with a tomato-basil risotto.


WEBSITE: www.justinwine.com.

30 Second Advertising Partner:
eVINEYARD

In the land Down Under one can find kangaroos, wallabies, and didgeridoos ... and don't overlook great wine. This month, eVineyard is highlighting Australian wine: learn about Shiraz, Australia's highest profile wine, their delicious reds, and abundant Chardonnays. Go on, give it a burl. Point, click www.evineyard.com/offer.asp?ID=loverse10 , and sip because there are no worries at eVineyard.

30 Second Administrivia

This free weekly E-mail publication is distributed to subscribers every Monday. Previous editions are archived on The Wine Lovers' Page. See www.wineloverspage.com/wineadvisor/thelist.shtml.

You are on the subscription list because you registered during a visit to Robin Garr's Wine Lovers' Page. If for any reason you no longer want to receive this publication, simply send a short E-mail to 'wine@wineloverspage.com' asking to be unsubscribed (and, if you wish, offering us any suggestions you may have as to how we could have served you better), and we'll remove your name from the list. We do not use this list for any other purpose and will never give or sell your name or E-mail to anyone.

If your E-mail program is having trouble handling the images in this edition, feel free to request that we switch you from the HTML to TEXT edition ... or vice versa. Please contact us in the same way if your E-mail address changes. And of course we welcome feedback, suggestions, and ideas for future columns. Send us E-mail at wine@wineloverspage.com.

All the wine-tasting reports posted here are consumer-oriented. In order to maintain objectivity and avoid conflicts of interest, I purchase all the wines I rate at my own expense in retail stores and accept no samples, gifts or other gratuities from the wine industry.

More time for wine?

You don't need to wait for Mondays to read about wine! Drop in any time on Robin Garr's Wine Lovers' Page, where we add new tasting notes several times each week and frequently expand our selection of wine-appreciation articles, tips and tutorials.

If you'd like to talk about wine online with fellow wine enthusiasts around the world, we'd be delighted to have you join the interactive, international forums in our Wine Lovers' Discussion Group.

Vol. 2, No. 34, Sept. 11, 2000

<!TODAY'S TEXT ENDS HERE!>

Subscribe (free) to The 30 Second Wine Advisor