<!TODAY'S TEXT STARTS HERE!>

30 Second Wine Tasting Tip:
Que Syrah, (Petite) Sirah

The conventional wisdom holds that Petite Sirah is a coarse, "lesser" grape, without the style or the class or the noble heritage of the unrelated grape with which it shares a similar name: Syrah.

Indeed, there's little question that Syrah (or as the Australians call it, Shiraz) is a grape with a longer and more impressive history. It was allegedly brought back to France's Rhone Valley from the Crusades by a medieval knight named Gaspar de Sterimberg, who is said to have hung up his sword and shield, announced that he would study war no more, and planted a vineyard in the estate he called his Hermitage. Syrah (with a "y") makes a robust wine with a characteristic black-pepper fragrance that makes it fairly easy to pick out in a blind tasting. With a little age, it develops "gamey," "meaty" notes of considerable complexity.

Petite Sirah (witn an "i") makes a full-bodied wine with lots of black fruit and sometimes pepper. It will age for many years without changing at all - I had a 1957 from Inglenook in 1992 that tasted as if it was just bottled. I've heard tales that it eventually matures into something more complex, but this process may take decades. Petite Sirah is a modern American moniker for a workmanlike French grape called Durif, experts say; historically used as a blending grape to add its inky color and full body to lighter wines, it's widely dismissed as boring and of little interest on its own.

But the conventional wisdom only works when all other things are equal. I wouldn't be so bold as to declare Petite Sirah a likely competitor against the top Shiraz-based wines of the Rhone or Australia. But in recent tastings comparing California Petite Sirahs against California Syrahs of similar vintage and price, I've found little consistency, and would be hard pressed to argue that one or the other is better. Much depends on the quality of the fruit, the wine maker's decisions (including, specifically, the use of oak), and perhaps on the taster's mood on any given day.

The lesson here is simple: Don't be too quick to pass a wine by because the conventional wisdom scorns it ... at least not without taking all the variables into consideration.

What's your opinion? If you feel strongly pro or con about Petite Sirah, drop me a note at wine@wine-lovers-page.com. I regret that the growing circulation of the "Wine Advisor" makes it difficult for me to reply individually to every note, but I'll answer as many as I can; and please be assured that all your input helps me do a better job of writing about wine. Please feel free to get in touch if you'd like to comment on our topics and tasting notes, suggest a topic for a future bulletin, or just talk about wine.

If you're enjoying The 30 Second Wine Advisor, we hope you'll tell your wine-loving friends to register for their own free weekly copy at http://www.wine-lovers-page.com/wineadvisor.

30 Second Tasting Notes
A set of Si/yrahs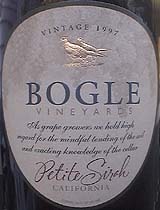 Bogle Vineyards 1997 California Petite Sirah ($8.99)
Inky dark reddish-purple, with pleasant, mellow black-fruit, green bell pepper and fragrant black-pepper aromas. Flavors follow the nose, appetizing fruit, pepper and lemon-squirt acidity. A surprisingly stylish Petite Sirah at a low-end price. (Aug. 15, 1999)
FOOD MATCH: Excellent with pollo al diablo, grilled chicken breasts with a lemon marinade and a sprinkle of red-pepper flakes.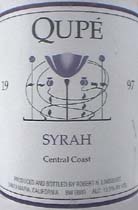 Qupe 1997 Central Coast Syrah ($13.99)
Very dark ruby, with a forward scent of almost over-ripe plummy fruit and an odd, anise-like aromatic. Full, rich and almost sweet, jammy black fruit is balanced by tart acidity. (Sept. 3, 1999)

FOOD MATCH: Fine with a simple chicken sautee finished with a lemon-butter pan sauce.


T-Vine 1997 Contra Costa County Syrah ($19.99)
Very dark garnet in color, with a disconcerting blast of oaky vanilla overpowering the aroma at first, ripe blueberry fruit peeking out shyly from behind it. Big, warm and strong, oak and fruit contend for the lead in its mouth-filling flavor. (Aug. 15, 1999)

FOOD MATCH: A little too much wood and power for the pollo al diablo.


David Bruce 1997 Central Coast Petite Sirah ($15.99)
Inky dark reddish-purple. Oak dominates the aroma and flavor. Woody, aromatic oak, like the smell of a power saw buzzing through planks. Some ripe, juicy fruit punches through the oaky vanillins on the palate, but it's tough going. (Sept. 3, 1999)

FOOD MATCH: Washes down the chicken sautee mentioned above, but the oak makes it an iffy food wine.


30 Second Wine Link

How much wine does your nation drink? If you like wine statistics, you'll enjoy studying the California Wine Institute's Per Capita Wine Consumption by Country chart at http://www.wineinstitute.org/communications/statistics/keyfacts_ worldpercapitaconsumption.htm.

30 Second Advertising Partner

California Wine Club, this quarter's sponsor of The 30 Second Wine Advisor, offers members two different bottles of excellent, affordable wine every month (available where permitted by law), along with its monthly newsletter "Uncorked." You can reach the Club at the link above or, in the U.S., by calling 1-800-777-4443.

30 Second Administrivia

This free weekly E-mail publication is distributed to subscribers every Monday. Previous editions are archived on The Wine Lovers' Page. See www.wine-lovers-page.com/wineadvisor/thelist.shtml.

You are on the subscription list because our records indicate that you registered during a visit to Robin Garr's Wine Lovers' Page. If for any reason you don't want to receive this publication, simply send E-mail to 'wine@wine-lovers-page.com' and we'll remove your name from the list. We do not use this list for any other purpose and will never give or sell your name or E-mail to anyone.

If your E-mail program is having trouble handling the images in this edition, feel free to request that we switch you from the HTML to TEXT edition ... or vice versa. We welcome feedback, suggestions, and ideas for future columns. Send us E-mail at wine@wine-lovers-page.com.

All the wine-tasting reports posted here are consumer-oriented. In order to maintain objectivity and avoid conflicts of interest, I purchase all the wines I rate at my own expense in retail stores and accept no samples, gifts or other gratuities from the wine industry.

More time for wine?

You don't need to wait for Mondays to read about wine! Drop in any time on Robin Garr's Wine Lovers' Page, where we add new tasting notes several times each week and frequently expand our selection of wine-appreciation articles, tips and tutorials.

If you'd like to talk about wine online with fellow wine enthusiasts around the world, we'd be delighted to have you visit the interactive forums in our Wine Lovers' Discussion Group. If you're from another part of the world and don't feel entirely comfortable chatting in English, visit our International Forum and introduce yourself in the language of your choice. <!TODAY'S TEXT ENDS HERE!>

Subscribe (free) to The 30 Second Wine Advisor