<!TODAY'S TEXT STARTS HERE!>

30 Second Wine Tasting Tip:
Vintage charts: Useful or useless?


Fine wine may end up in fancy tasting rooms and formal dining rooms, but it starts with serious, hands-in-the-dirt farming. No one concept demonstrates this simple reality more clearly than that of vintage.

Consider what the British wine expert Michael Broadbent had to say about the 1965 growing season in Bordeaux: "One of the four worst postwar vintages ... Whose fault? The weather's. Uneven and protracted flowering after a long winter; heavy rains throughout the summer; September wet and humid, causing rot. The remaining grapes ripened late and irregularly. Weather improved for a late harvest, 15 October. Smallish crop of very light and thin wines."

Almost nothing has more influence on agriculture than weather, and vineyards are no exception. Late frost, damaging hail and wind, a cool summer, rain at harvest: All these unpredictable effects of weather can make the difference between grapes that will make great wine, or underripe grapes that will make poor wine, or in the worst case, no harvest at all.

So it makes simple sense that wine lovers ought to consider vintage in making wine-buying decisions. Was the vintage good? Buy this wine. Was the weather as bad as, say, Broadbent's '65? Avoid that wine. Accordingly, vintage charts abound. Every major wine publication and wine encyclopedia offers them; wine shops give them away on pocket cards. Our version, graphical charts compiled and designed by Dutch wine merchant Pim van Ravesteijn, is online at http://wineloverspage.com/vintage.

But how much attention do the charts deserve? Weather varies widely around the world, so no two wine regions fare exactly alike. In 1989, record heat produced large, ripe harvests throughout much of Europe, resulting in vintages generally considered fine. But the same year brought rains at harvest in California's North Coast wine country, causing a vintage that many buyers avoid. And even there, much depended on whether individual producers picked early, bringing in grapes before the rains came.

Vintage charts also depend on the knowledge and skill of the author, and opinions may vary widely. (Remember, for instance, that the U.S. critic Robert M. Parker Jr. first attracted broad attention among wine enthusiasts when he spoke against the conventional wisdom by being among the first to praise the 1982 Bordeaux.)

Some vintages are simply hard to like. I've rarely met a 1984 Bordeaux that I enjoyed, and few enthusiasts would speak highly of 1991. But how about the 1987 Bordeaux, which were generally light and not for aging, but made pleasant early drinking? Or 1993 and 1994, which saw considerable variation from poor to excellent, depending on a combination of luck and the wine maker's skill?

In my opinion, vintage charts offer the consumer a helpful guide, but it's best not to rely on them slavishly. Remember that some producers make good wines in poor years; and the better wines of a mediocre vintage may represent real value because the market avoids the year entirely. Further, avoid charts that paint with too broad a brush. Listings that attempt to consolidate wide regions under a single rating - lumping all of France, for example, or the entire state of California under one score - are useless. But if you trust a particular critic's ratings, then it makes sense to note his comments on vintage. One reliable guide is the Hugh Johnson Pocket Encyclopedia of Wine, which rates thousands of specific wines, gauging the quality of the vintage for that wine and advising whether each year is ready to drink or requires more time. This modestly priced book is widely available in wine shops and bookstores; if you would like to buy it at a discount from Amazon.com through Wine Lovers' Page, feel free to use the following link:

http://www.amazon.com/exec/obidos/ISBN=0684867567/robingarrswineloA/.

Finally, I would like to know what you think about vintages and vintage charts. This week's Wine Lovers' Voting Booth seeks your response to the question, "In making your wine-buying decisions, how important do you consider published vintage charts?" I hope you'll stop by http://www.wineloverspage.com/votebooth and cast your ballot.

As always, if you have comments about this topic that you'd like to share, write me at wine@wineloverspage.com. I regret that the growing circulation of the "Wine Advisor" makes it difficult for me to reply individually to every note, but I'll answer as many as I can; and please be assured that all your input helps me do a better job of writing about wine.

We hope you'll invite your wine-loving friends to register for their own free weekly copy at http://www.wineloverspage.com/wineadvisor.

30 Second Tasting Notes:
An interesting Swiss red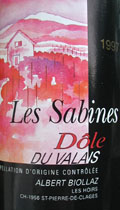 Albert Biollaz 1997 Dôle du Valais ($14.99)
Clear ruby in color, this Swiss red (a blend of Pinot Noir and the Gamay of Beaujolais, grown in the upper reaches of the Rhone valley) offers pleasant if light berrylike aromas and a fresh, dry cherry-berry flavor. Seemingly simple at first, it wakes up in the glass, as Pinot often does, to reveal more subtle fruit with pleasant smoky and gently bitter notes and a soft touch of tannin. Quite an interesting wine, on the light and fruity side. U.S. importer: Niche W & S, Morris Plains, N.J. (Sept. 1, 2000)

FOOD MATCH: Quenching but a bit light to stand up to a hearty, tangy German Sauerbraten with a traditional gingersnap sauce.


30 Second Advertising Partner:
eVINEYARD

As many of you know, Wine Lovers' Page focuses on wines of quality at prices that most of us can afford.

That's why I'm delighted to have eVineyard join us as a sponsor for this week's edition. eVineyard's new "Three-Fer Madness" program www.evineyard.com/offer.asp?ID=loverse08 offers wine values that are hard to resist. Order your choice of three wines for $21, $45, or $78, and you'll enjoy savings of up to 50 percent of retail. What's more, if your order total is over twenty-five bucks, eVineyard will pick up the shipping!

eVineyard promises "Service, Selection, and Speed." Point, click www.evineyard.com/offer.asp?ID=loverse08 and relax, and let eVineyard fill your wine rack with wines of real value.

30 Second Administrivia

This free weekly E-mail publication is distributed to subscribers every Monday. Previous editions are archived on The Wine Lovers' Page. See www.wineloverspage.com/wineadvisor/thelist.shtml.

You are on the subscription list because you registered during a visit to Robin Garr's Wine Lovers' Page. If for any reason you no longer want to receive this publication, simply send a short E-mail to 'wine@wineloverspage.com' asking to be unsubscribed (and, if you wish, offering us any suggestions you may have as to how we could have served you better), and we'll remove your name from the list. We do not use this list for any other purpose and will never give or sell your name or E-mail to anyone.

If your E-mail program is having trouble handling the images in this edition, feel free to request that we switch you from the HTML to TEXT edition ... or vice versa. Please contact us in the same way if your E-mail address changes. And of course we welcome feedback, suggestions, and ideas for future columns. Send us E-mail at wine@wineloverspage.com.

All the wine-tasting reports posted here are consumer-oriented. In order to maintain objectivity and avoid conflicts of interest, I purchase all the wines I rate at my own expense in retail stores and accept no samples, gifts or other gratuities from the wine industry.

More time for wine?

You don't need to wait for Mondays to read about wine! Drop in any time on Robin Garr's Wine Lovers' Page, where we add new tasting notes several times each week and frequently expand our selection of wine-appreciation articles, tips and tutorials.

If you'd like to talk about wine online with fellow wine enthusiasts around the world, we'd be delighted to have you join the interactive, international forums in our Wine Lovers' Discussion Group.

Vol. 2, No. 33, Sept. 4, 2000

<!TODAY'S TEXT ENDS HERE!>

Subscribe (free) to The 30 Second Wine Advisor