<!TODAY'S TEXT STARTS HERE!>

30 Second Wine Tasting Tip:
The taste of "Terroir"

The French have a name for it: "Gout de Terroir" or, more or less, "the taste of the soil;" and the most ardent advocates of this theory argue that the actual flavor of the soil in which the grapes are grown literally communicates itself to the wine. Chablis, by this line of thinking, gains a steely mineral character from the chalky soil of its Burgundian vineyards; the wines of Graves in Bordeaux acquire a "stony" quality from the region's gravelly plain.

Most of us find this a bit extreme, but there's ground for a more serious argument when we expand the definition of "terroir" to incorporate the overall effect on wines of the soil and microclimate in which the grapes are grown. Do Chardonnay grapes grown in Burgundy (for instance) produce wines with a consistent, identifiable character that distinguishes them from the same grapes grown in California, or those in turn from Australian Chardonnay? Does the vineyard matter, whether the grapes in question are grown on the other side of the road or the other side of the world?

This is material from which serious wine fanciers can build extended and joyous debates, and there's little question that the wines of specific regions - especially historic wine regions like Burgundy or Bordeaux - often show recognizable qualities that makes it possible (if not necessarily easy) to pick them out in a "blind" tasting, without the taster being aware of the specific wine being tasted.

But the wine maker's skills, and the decisions made between the grapevine and the bottle, are significant too. Should Chardonnay be aged in oak barrels, which impart strong and characteristic flavors, or in stainless steel, which is neutral? Should the wine maker put the wine through "malolactic fermentation," which reduces the wine's perceived acidity and typically adds rich and buttery flavors? These processes, commonplace in the New World but relatively rare in France, make a significant difference in the nature of the finished wine, but it's not "terroir."

As a case study, this week's tastings (see below) feature French and California Chardonnays of similar price and vintage but very different character. In my opinion, the differences are largely based on wine-making techniques, specifically oak. But I can't rule out a taste of "terroir"!

Does all this make any difference? Only for those of us who find that thinking about wine and learning about differences like these add to our enjoyment of this amazing beverage. What do you think? Do you find that you can detect consistent differences among wines from different regions? If you'd like to share your opinion, send me E-mail at wine@wine-lovers-page.com. I regret that the growing circulation of the "Wine Advisor" makes it difficult for me to reply individually to every note, but I'll answer as many as I can; and please be assured that all your input helps me do a better job of writing about wine. Please feel free to get in touch if you'd like to comment on our topics and tasting notes, suggest a topic for a future bulletin, or just talk about wine.

If you're enjoying The 30 Second Wine Advisor, we hope you'll tell your wine-loving friends to register for their own free weekly copy at http://www.wine-lovers-page.com/wineadvisor.

30 Second Tasting Notes
Comparing and contrasting Chardonnays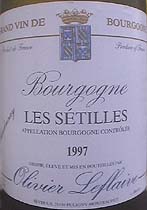 Olivier Leflaive 1997 Bourgogne Chardonnay "Les Setilles" ($14.99)
Light gold in color, with fresh, crisp apple scents and a tart, clean flavor, like biting into a fresh cooking apple. Simple and fresh, driven entirely by fruit and not by wood; characteristically French, although in my opinion the character comes as much from the wine maker's choices as the soil. U.S. importer: Frederick Wildman & Sons Ltd., NYC. (Aug. 27, 1999)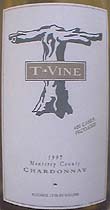 T-Vine 1997 Monterey County (California) Chardonnay ($16.99)
On the back label, wine maker Greg Brown jokes, "I like my wine the way I like my family and friends ... obnoxiously forward." This rare wine (only 480 cases made) isn't obnoxious, in my opinion, but it certainly is forward. Clear and straw-colored, its aroma is full of ripe tropical fruit: figs, dates, pineapples and most of all, papayas. Big, fat and off-dry, it's typically Californian and would never be mistaken for a white Burgundy; but to its credit, it marches to the tune of fruit and not of oak.

FOOD MATCH: Both wines worked well with a dinner entree explicitly fashioned to go with Chardonnay: Veal chops pan-grilled with a quick pan-reduction sauce of white wine, lemon and ginger and butter.


Wine Lovers' Voting Booth

Our biweekly poll turns to a lightweight but interesting topic this week as we invite wine lovers everywhere to tell us what kind of pet(s) they have. Are wine folks cat people, dog people, or something entirely different? I hope you'll stop by and cast your ballot for the companion animal of your choice in our Voting Booth, http://www.wine-lovers-page.com/vote.shtml.

30 Second Wine Link

I wouldn't normally repeat a wine link only a few weeks after mentioning it previously, but this, I think, is a justifiable exception: The Jordan & Jordan winery, our featured link in the Aug. 9 edition, has just opened its fourth annual daily online harvest news. Throughout the harvest season, with almost daily updates in both English and German, wine maker Peter Jordan will publish news and weather reports, crop expectations, the ripening situation, harvest figures and his diary revealing what it's like to work in a winery at harvest time. "Have fun and have a look," Peter says.

30 Second Advertising Partner

I'm pleased to announce that the California Wine Club has signed on as exclusive sponsor of The 30 Second Wine Advisor for the final quarter of 1999. Available wherever permitted by law, California Wine Club offers members two different bottles of excellent, affordable wine every month, along with its monthly newsletter "Uncorked." You can reach the Club at the link above or, in the U.S., by calling 1-800-777-4443.

30 Second Administrivia

This free weekly E-mail publication is distributed to subscribers every Monday. Previous editions are archived on The Wine Lovers' Page. See www.wine-lovers-page.com/wineadvisor/thelist.shtml.

You are on the subscription list because our records indicate that you registered during a visit to Robin Garr's Wine Lovers' Page. If for any reason you don't want to receive this publication, simply send E-mail to 'wine@wine-lovers-page.com' and we'll remove your name from the list. We do not use this list for any other purpose and will never give or sell your name or E-mail to anyone.

If your E-mail program is having trouble handling the images in this edition, feel free to request that we switch you from the HTML to TEXT edition ... or vice versa. We welcome feedback, suggestions, and ideas for future columns. Send us E-mail at wine@wine-lovers-page.com.

All the wine-tasting reports posted here are consumer-oriented. In order to maintain objectivity and avoid conflicts of interest, I purchase all the wines I rate at my own expense in retail stores and accept no samples, gifts or other gratuities from the wine industry.

More time for wine?

You don't need to wait for Mondays to read about wine! Drop in any time on Robin Garr's Wine Lovers' Page, where we add new tasting notes several times each week and frequently expand our selection of wine-appreciation articles, tips and tutorials.

If you'd like to talk about wine online with fellow wine enthusiasts around the world, we'd be delighted to have you visit the interactive forums in our Wine Lovers' Discussion Group. If you're from another part of the world and don't feel entirely comfortable chatting in English, visit our International Forum and introduce yourself in the language of your choice. <!TODAY'S TEXT ENDS HERE!>