<!TODAY'S TEXT STARTS HERE!>

30 Second Wine Tasting Tip:
Oh, Canada!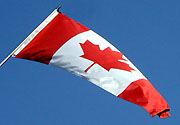 If a wine lover were asked to rank the world's top wine-producing nations, it's not likely that Canada would be among the first that came to mind. With our mental image of the Yukon and Hudson's Bay, I'm afraid most of us associate Canada with snow and ice, not vineyards and wine grapes.

But this vast nation that shares the world's longest unfortified border with the United States is much more diverse than that. As I discovered in a recent enjoyable if all-too-short visit, Canada quietly offers a small ration of excellent wines that can stand comparison with the world's best.

While I've made a mental note to check out the British Columbia wine regions in the mild far West of Canada on a future visit, this trip focused on Southern Ontario, the Canadian region southwest of Toronto.

Most of the region's vineyards and wineries are located on the Niagara Peninsula in a strip of land along the south shore of Lake Ontario, where a high, wooded bluff called the Niagara Escarpment - the geological feature that Niagara Falls tumbles down - provides a protected environment within which the thermal effects of the Great Lake protect against extreme winter cold, fostering the development of a thriving fruit-growing economy that includes grapevines. This region contains more than two dozen wineries in a relatively compact area that stretches about 60 kilometers (38 miles) along the Queen Elizabeth Way (QEW), an Interstate-type highway, all within an hour's drive or less from Niagara Falls and Buffalo, N.Y.

At the other end of Southern Ontario, you'll find a smaller number of wineries along the north shore of Lake Erie (within a short drive from Detroit), where the lake waters again provide a relatively protected grape-growing environment close to the shore. Or in the case of the Pelee Island Winery, offshore.

Like most cool-climate northern wine regions (Germany, for instance) Canada has long made white wines from the Riesling grape as well as "French-hybrid" whites like Vidal Blanc. More recently, noting a kinship in both latitude and climate conditions with Burgundy in France, many Canadian wineries have been enjoying increasing success with reds, not only the Burgundian Pinot Noir but Cabernet Franc, Cabernet Sauvignon and Merlot.

The product that has truly ensured Canada a place on the world wine scene, though, is ice wine. Based on a German tradition (there called "Eiswein"), ice wine is made by allowing very ripe grapes to hang on the vines for many weeks after the time that they would normally be harvested. When the first hard freeze comes, the wine maker picks and crushes the grapes while they are frozen, each grape yielding only a drop of nectar-like fluid that is rich and intensely sweet and that makes a wine to match.

Most often made from either Riesling or Vidal, Canadian ice wines are produced only in tiny quantities. They are hard to find and very expensive, sometimes ranging to $100 (Canadian) or more for a small bottle. If you love dessert wines, Canadian ice wine is well worth seeking out ... and if you can't find it anywhere else, there's no better way to taste it than in a visit to a Canadian winery.

If you would like to read my tasting notes on more than two dozen wines from five top Canadian wineries, I've placed them online (along with this article and some photos) at www.wineloverspage.com/wines/canada082400.shtml.

For more good online reading about Canadian wines and wineries, I suggest WineRoute, http://www.wineroute.com/, the official site of the Liquor Control Board of Ontario, which offers an online tour of the Ontario wine country and includes links to many of the wineries' Websites. For information on British Columbia wines, see http://www.bcwine.com/. Canada's top wine magazine is Wine Access, http://wineaccessmag.com/.

Have you tried Canadian wines? Drop me an E-mail note at wine@wineloverspage.com if you would like to talk about it. I regret that the growing circulation of the "Wine Advisor" makes it difficult for me to reply individually to every note, but I'll answer as many as I can; and please be assured that all your input helps me do a better job of writing about wine.

We hope you'll invite your wine-loving friends to register for their own free weekly copy at http://www.wineloverspage.com/wineadvisor.

30 Second Tasting Notes:
Another good '98 Chateauneuf-du-Pape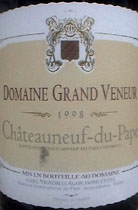 I've been raving since early this year about the consistently approachable and delicious quality of so many 1998 Chateauneuf-du-Papes. Here's another good one, and while the price of this wine has risen beyond budget levels, this one is in the low end of the range for '98s, and in my opinion well worth it.

Domaine Grand Veneur 1998 Chateauneuf-du-Pape ($21.99)
Very dark ruby color, with ripe aromas of black fruit, pepper and a pleasant mineral note. Full, textured black-fruit and fragrant pepper on the palate, mouth-filling and long. A big wine, acidic and lightly tannic, good now but with plenty of fruit and structure to carry it for aging. U.S. importer: Kysela Pere et Fils Ltd., Winchester, Va. (Aug. 22, 2000)

FOOD MATCH: A natural match with a grilled steak crusted with black peppercorns.


MoCool 2000 Report:
"Below the Belt"

It was my great pleasure to spend the weekend enjoying good wine, good food and good fellowship with more than 130 pals at "MoCool 2000" ("Motor City Cooperative OffLine"), a 10-year-old annual gathering of Internet-connected wine lovers, some of whom travel long distances to the Ann Arbor and Detroit area for a long weekend of wine tasting, food and fun. This year's theme was "Below the Belt, Wines of the Southern Hemisphere."

If you would like to read my tasting notes on more than 100 wines tasted over the weekend, or get information about registering for next year's event, visit the MoCool Page, http://www.wineloverspage.com/mocool.

30 Second Advertising Partner:
Burgundy Wine Company

Tickets are on sale now for the Burgundy Wine Company's annual "Burgundy in New York" Wine Weekend. The Burgundy Wine Company is a retail wine store located in New York's picturesque Greenwich Village, specializing only in the finest Burgundies and Rhones and wines made from the same grape varieties from California and Oregon. Join them Nov. 30-Dec. 2 to share France's greatest wines with some of Burgundy's most legendary winemakers. For more information and to receive their free client newsletter, click http://burgundywinecompany.com/binyrg.com now or call (212) 691-9092.

30 Second Administrivia

This free weekly E-mail publication is distributed to subscribers every Monday. Previous editions are archived on The Wine Lovers' Page. See www.wineloverspage.com/wineadvisor/thelist.shtml.

You are on the subscription list because you registered during a visit to Robin Garr's Wine Lovers' Page. If for any reason you no longer want to receive this publication, simply send a short E-mail to 'wine@wineloverspage.com' asking to be unsubscribed (and, if you wish, offering us any suggestions you may have as to how we could have served you better), and we'll remove your name from the list. We do not use this list for any other purpose and will never give or sell your name or E-mail to anyone.

If your E-mail program is having trouble handling the images in this edition, feel free to request that we switch you from the HTML to TEXT edition ... or vice versa. Please contact us in the same way if your E-mail address changes. And of course we welcome feedback, suggestions, and ideas for future columns. Send us E-mail at wine@wineloverspage.com.

All the wine-tasting reports posted here are consumer-oriented. In order to maintain objectivity and avoid conflicts of interest, I purchase all the wines I rate at my own expense in retail stores and accept no samples, gifts or other gratuities from the wine industry.

More time for wine?

You don't need to wait for Mondays to read about wine! Drop in any time on Robin Garr's Wine Lovers' Page, where we add new tasting notes several times each week and frequently expand our selection of wine-appreciation articles, tips and tutorials.

If you'd like to talk about wine online with fellow wine enthusiasts around the world, we'd be delighted to have you join the interactive, international forums in our Wine Lovers' Discussion Group.

Vol. 2, No. 32, Aug. 28, 2000

<!TODAY'S TEXT ENDS HERE!>

Subscribe (free) to The 30 Second Wine Advisor