<!TODAY'S TEXT STARTS HERE!>

30 Second Wine Tasting Tip:
Today's puzzle: Mad cows and French wines

"I just read an article about Mad Cow Disease and French wine," writes reader Chuck R. "It makes me nervous there is a tiny chance I could go mad from my 1991 Chateau Mouton Rothschild. Please comment on how safe French wines are."

With my apologies for taking on a rather unappetizing wine-related topic for a second week in a row, this is a fair question that deserves a straight answer. The short answer is, "Don't worry: The French wine you'll find on retail shelves around the world is safe." If this is sufficient reassurance, feel free to jump directly to my tasting note (A French Côtes-du-Rhôtes du Rhone!) below.

If you'd like a little more information about the possible connection between French wine and mad cows, stick with me for another 30 seconds or so.

The underlying issue involves a wine-making trick called "fining," in which a protein is mixed into wine in vats or barrels to attract colloidal materials that could make the wine cloudy or hazy. These proteins fall to the bottom of the vats and the wine is siphoned away from them; in theory, at least, none of the fining material remains in the clarified wine. Traditional fining agents include a variety of odd substances, including isinglass (made from fish bladders), egg whites and, in some parts of the Rhone Valley in France, dried oxblood or blood albumen.

These old-fashioned practices are somewhat dying out in any case; most modern wineries, including virtually all larger wineries, now pass wine through bentonite (clay) filters rather than using organic finings.

Because of legitimate concerns about the epedimic of bovine spongiform encephalopathy (BSE), popularly called "mad cow disease," which became epidemic among cattle in Britain during the 1990s and which has been associated with the human brain disorder Creutzfeldt-Jakob disease, the European Economic Community banned the use of oxblood for wine fining in 1997.

That's why a publicity storm arose earlier this year when French authorities "raided" 14 small wineries in the Rhone region near Avignon, seized several hundred pounds of dried oxblood and albumen, and confiscated 100,000 bottles of suspect wine.

The uproar prompted the Chinese government briefly to ban French-wine imports (the ban has since been lifted). Three United States senators also proposed a warning label be required on French wines, a proposal that apparently received no serious attention and promptly died.

In fact, experts offer the following reassurances:

* The only French wines implicated in the mini-scandal were made by tiny wineries whose products (labeled "VDQS" under the French wine regulations) are sold as generic table wine and rarely exported. None of the "better" wines labeled "appellation controllee" or "vin de pays" are believed to be affected.

* Even among the "suspect" wineries, no charges have been made that oxblood was actually used to make wine since the 1997 ban. What's more, only sporadic outbreaks of BSE - a reported 60 incidents in all French cattle since 1984 - have made it across the English Channel to the Continent. Quick action has apparently confined the epidemic to the United Kingdom.

* Finally, as noted above, "finings" don't remain in the finished wine, save perhaps in molecular quantities far below the level of tolerable risk.

Ultimately, every consumer must make his own choice about what's safe. But I can't see any imaginable risk, particularly to wine lovers buying from retail sources outside of France.

What's your opinion? Better safe than sorry, or drinking French and loving it? If you feel strongly on either side of this issue, send me E-mail at wine@wine-lovers-page.com. I regret that the growing circulation of the "Wine Advisor" makes it difficult for me to reply individually to every note, but I'll answer as many as I can; and please be assured that all your input helps me do a better job. Please feel free to get in touch if you'd like to comment on our topics and tasting notes, suggest a topic for a future bulletin, or just talk about wine.

If you're enjoying The 30 Second Wine Advisor, we hope you'll tell your wine-loving friends to register for their own free weekly copy at http://www.wine-lovers-page.com/wineadvisor.

30 Second Tasting Notes
Speaking of Southern France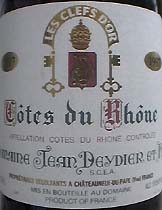 Domaine Jean Deydier et Fils 1997 "Les Clefs d'Or" Côtes du Rhône ($11.99)
Clear garnet. Warm, plummy red-fruit aromas; plums and fragrant black pepper and tart lemon-squirt acidity on the palate. Good food wine, but it would frankly be a better fit in the $8 range than the $12 range. U.S. importer: World Shippers & Importers Co., Philadelphia. (Aug. 18, 1999)

FOOD MATCH: Fine with a pan-grilled T-bone.


30 Second Wine Link

This one's definitely commercial, a slick advertising brochure on the Web; but if you've got questions about French food and wine, why not go to the source? Food and Wines From France.

30 Second Advertising Partner

Robert Parker's Wine Advisor & Cellar Manager is the first and only software developed in conjunction with Robert Parker and derived from his newsletter, The Wine Advocate. It combines an extensive database of wine information with a unique Visual Cellar Manager. You'll find it at http://www.winetech.com.

30 Second Administrivia

This free weekly E-mail publication is distributed to subscribers every Monday. Previous editions are archived on The Wine Lovers' Page. See www.wine-lovers-page.com/wineadvisor/thelist.shtml.

You are on the subscription list because our records indicate that you registered during a visit to Robin Garr's Wine Lovers' Page. If for any reason you don't want to receive this publication, simply send E-mail to 'wine@wine-lovers-page.com' and we'll remove your name from the list. We do not use this list for any other purpose and will never give or sell your name or E-mail to anyone.

If your E-mail program is having trouble handling the images in this edition, feel free to request that we switch you from the HTML to TEXT edition ... or vice versa. We welcome feedback, suggestions, and ideas for future columns. Send us E-mail at wine@wine-lovers-page.com.

All the wine-tasting reports posted here are consumer-oriented. In order to maintain objectivity and avoid conflicts of interest, I purchase all the wines I rate at my own expense in retail stores and accept no samples, gifts or other gratuities from the wine industry.

More time for wine?

You don't need to wait for Mondays to read about wine! Drop in any time on Robin Garr's Wine Lovers' Page, where we add new tasting notes several times each week and frequently expand our selection of wine-appreciation articles, tips and tutorials.

If you'd like to talk about wine online with fellow wine enthusiasts around the world, we'd be delighted to have you visit the interactive forums in our Wine Lovers' Discussion Group. If you're from another part of the world and don't feel entirely comfortable chatting in English, visit our International Forum and introduce yourself in the language of your choice. <!TODAY'S TEXT ENDS HERE!>